Feb 28, 2019


Featuring advanced, intuitive 3D controls, Zipwake Dynamic Trim Control Systems deliver a more comfortable ride, better performance and improved fuel consumption for any boat from 20 to 60 feet, regardless of the type of vessel or the sea conditions. Offering unmatched control of running trim, heel or heading, the system incorporates patented, durable fast-acting interceptors that provide efficient lift. Installation of the modular unit is simple with four different size blades allowing a near full beam arrangement.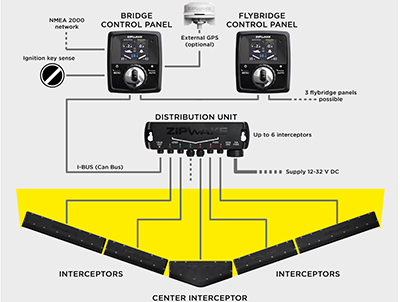 The key innovation of the Zipwake interceptor design is each blade extends just 30 mm – exactly where it is needed. Other trim tabs often project 150 mm into the water and create substantial drag. Zipwake's design allows for full blade deployment in 1.5 seconds – five times faster than conventional trim tabs and much more efficiently.


Each kit includes all the parts needed to install a Dynamic Trim Control System with one pair of fast-acting straight interceptors. Additional interceptors can be purchased and added depending on the shape of the hull. A base installation allows a total of six interceptors without the need for additional connectors or power supply.

Imtra, the Canadian distributor of the system is happy to work with any Marine dealer or installer.

Don Hood of Imtra notes that often customers have a favorite contractor.

"Last year we have installed Zipwake in as small as a 18'Stanley to a 52' Searay. I am pleased to report that all the owners were more than pleased with the increased performance."

Below is a list of some of the installers Imtra has worked with:

Any of the Maple leaf Marinas.

Bayland Enterprises, Brian Kelly

Queens Cove,

Hindson Marine,

Toronto yacht services, Toronto

Aslin Yachts, Toronto

Bristol Marine, port Credit

Genco Marine, Port Credit

BLD Marine, Brian Luckhurst Oakville

Pecks marine, 1000 islands

Hucks Marine,1000


For information on Zipwake Dynamic Trim Control Systems, visit www.imtra.com/zipwake.htm.