Author and Photography: Craig Ritchie
Yamaha targets the Canadian big-water market with its high-torque 425 horsepower V8 XTO outboard, innovative Helm Master digital control, and an all-new 25 horsepower kicker – creating what it says is "the ideal propulsion package for heavy, offshore powerboats."
As the first company to offer a V8 outboard with its ground-breaking F350 V8 launched in 2007, Yamaha has upped the ante in big-boat power with its all-new V8 powerhouse – the massive 425 V8 XTO. Designed for the biggest, heaviest offshore boats on the water, the new 425 four-stroke marks more than just an incremental jump in the continuing quest for more horsepower. Indeed, Yamaha views its 425 V8 XTO as the foundation of a new offshore power system that includes its joystick-based Helm Master digital control system and an all-new 25 horsepower kicker engine. Yamaha introduced all three products to Canadian boat builders and dealers at an invitation-only launch event held on Vancouver's waterfront in late September, and Canadian Yachting was there to experience it all first-hand.
The King of Torque
The heart of Yamaha's new offshore power package is its remarkable 425-horsepower V8 XTO Offshore outboard. Announced in May 2018, the 425 V8 XTO is an advanced, 32-valve, four-stroke V8 with an eyebrow-raising 12.2:1 compression ratio - the highest in any outboard engine today. It's the first four-stroke outboard with direct injection technology, which sprays fuel at high pressure and precision directly into each combustion chamber for greater power and torque. The big V8 is also the first outboard on the market with a fully integrated, fully electronic steering system, requiring no external hydraulic lines or linkages. The integrated system is said to respond more quickly to steering inputs, while reducing rigging requirements.
Fingertip Control
Those who select the 425 in twin engine applications can enjoy the added control available with Yamaha's Helm Master digital control system, which includes an enhanced binnacle control, a streamlined digital display, push-button start/stop switches, an RFID key fob, and a joystick for pinpoint docking control.
Helm Master takes the concept of joystick docking to another level with its innovative refinements. The system's SetPoint feature includes three operating modes which allow you to hold the boat's position, heading, or both – all at the push of a button. The first mode, Fish Point, functions like a virtual anchor to hold the boat in position. Drift Point mode maintains the boat's heading while allowing it to drift along with the wind or tide, always keeping the bow pointed at a set heading. In this mode, twisting the joystick will adjust the boat's heading in five-degree increments. Stay Point mode maintains both boat position and heading simultaneously, using Helm Master's dual antenna GPS. Bumping or twisting the joystick allows for minor position corrections, making this a useful setting when trying to temporarily hold the boat in a set position, such as when you're waiting for a lock or lift bridge.
Trolling Power for Heavy Boats
Offshore fishermen have historically used long-shaft 9.9 horsepower outboards as trolling engines and to provide an added margin of safety on single-engine boats, but the development of larger, heavier vessels over the years has fuelled a corresponding demand for more power in a kicker motor. Yamaha's new T-25C kicker, which made its global debut at the Vancouver launch event, is an all-new, two-cylinder design created with an equal emphasis on high torque and light weight. At just 145 pounds, the T-25C is 28 percent lighter than Yamaha's current, 201-pound F25 – a remarkable achievement and a critical consideration in a kicker engine. It will be offered in a choice of 20-inch and 25-inch shaft lengths to fit a variety of offshore fishing boat models.
Yamaha says that its 425 V8 XTO Offshore, Helm Master digital control, and T-25C high-thrust kicker provide big-water boaters with more power and more control than ever before. But words are one thing – actually experiencing the product on the water is another, and we were delighted to have the opportunity to do just that.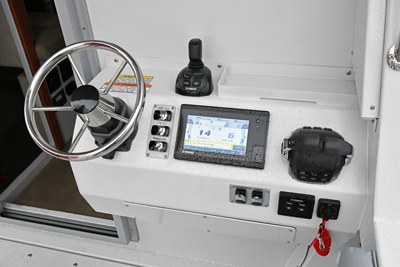 Play Time
Yamaha had four boats rigged with the new power systems at its Vancouver launch event, providing an opportunity to try the different components in a variety of configurations. The first boat we tried was a Kingfisher 3425 Destination, an all-new aluminum fishing platform that was rigged with twin 425s. Built in Vernon, British Columbia, the all-welded, heavy-duty Kingfisher weighs in at a hefty 13,000 pounds. Rated to handle up to 900 horsepower, it was a natural platform for showcasing the new 425s in a twin installation and a great opportunity to experiment with the Helm Master digital controls.
The numbers don't lie – those new 425s really do deliver a massive amount of torque, easily popping the big Kingfisher on plane and driving it to a top speed of over 45 mph. That's impressive enough, but the high torque is especially evident when you run the boat in reverse – hit the throttle too aggressively and you risk flooding the cockpit! The big 425 has more raw power than numbers alone might suggest, which will clearly endear it to Canadian boaters.
The twin engine set-up on the big Kingfisher also provided an opportunity to try the Helm Master system, and we spent quite a bit of time spinning the boat, crabbing it sideways and changing headings and positioning in small, measured increments – all against the flow of an outgoing Burrard Inlet tide. The hard part – at least for an experienced boater – is fighting the urge to reach for the wheel and throttle, and simply moving the little joystick to slide the boat wherever you want to go. It seems almost too easy, but the results speak for themselves and it performed flawlessly.
When the time came to try the new T-25C kicker, we jumped ship to a smaller Kingfisher model, the all-new 3125GFX. Looking positively dwarfed by the pair of Yamaha F300s hanging on the blue Kingfisher's transom, the little kicker soon proved that looks are deceiving, as it quietly pushed us along against the tide at an astounding eight knots! That's a far quicker clip than any angler would ever want for trolling, but the demonstration left no doubt that the new kicker could easily handle even the biggest offshore fishing boats, even when operating against strong currents.
With its new 425 V8 XTO Offshore, Helm Master control, and T-25C high-power kicker, Yamaha has set its sights on dominating the offshore boating market; not only among serious fishermen on Canada's Pacific coast, but everywhere. This new power trio will appeal to a lot of boaters, so watch for it on the water this year.