Feb 7, 2023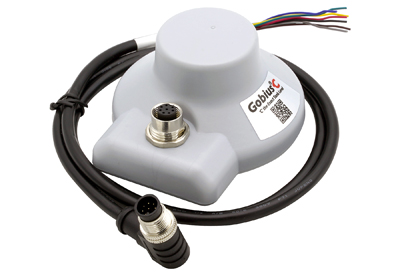 From cone to cube, the Gobius C from Albin Group Marine precisely measures the exact volume and fluid level in tanks of virtually any shape, no matter the number of sides or angles, or composition. Taking only 15 minutes to install and configure, the maintenance-free device mounts externally.
What separates the Gobius C from traditional internal mechanical sensors is the ability to provide stepless 1-100% measurements without the annoying needle jumping that boat owners are so used to. It's also more precise, providing readings within 3mm.
This is accomplished by an innovative micro radar built into each device. The sensor transmits electromagnetic waves through the metal, plastic or fiberglass tank wall, measures the reflected vibrations, then delivers a signal to the integrated processor that in turn sends to the display device.
Because the Gobius C is external, it's unaffected by the solids and slurries common in black water tanks that impede internal mechanical sensors. Nor do excessive temperatures, pressure and foam interfere with readings, all of which play havoc with an ultrasonic sensor. Plus, as contents move due to vessel motion, the processor automatically eliminates variances and displays an even reading.
The Gobius C measures 2.16" H x 3.74" dia. and requires no drilling, so it's simple to mount onto a preinstalled tank with the included 3M tape. It works on containers that are greater than 7.8" H, but less than 78" H. Consuming only 10mA, the device runs on 9–28V DC and has digital IP44 female 8-pin output connectors and an integrated 3.3' cable. A built-in LED glows to indicate it's running.
Once the Gobius C is installed, it's simple to monitor readings using the companion Android or iOS app or PC interface. The Globius C is available across Canada at US$390.