July 30, 2020
Hydrate your pet while traveling on-the-go with the Petkit Eversweet Travel Bottle. This unique bottle solves the inconvenience of having to use both hands to hydrate your pet or find water when you need it. Features a string located at the top for easier carrying. There's no need to worry about your pets becoming dehydrated out on the rocking boat or in the dinghy--wherever they go, the PetKit Eversweet Travel Bottle can follow.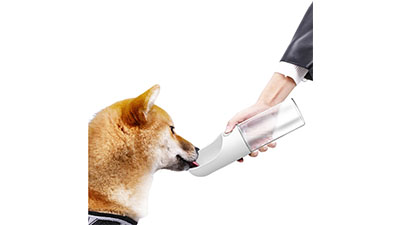 Features:
ONE-HAND OPERATION & EASY TO CARRY: 400ml/14 oz. PETKIT dog water bottle takes into account the owner's convenience and safety of dogs while walking. Quick and convenient to feed your dog outdoors
SAFE & DURABLE MATERIALS: High quality material: BPA free, FDA approved, lead-free. Never worry about dangerous toxins hurting your pets. Durable, while still easy to dismante and clean.
LEAK PROOF: Silica gel seal ring plus lock key design ensures this portable water bottle doesn't leak at all.
ONE-KEY OPEN/LOCK WATER: Single-hand press and hold water key to feed water, release to stop the water. Also allows you to draw back overpoured water back to the bottle for minimal waste.
Where to Buy: