May 13, 2021


First, two Canadian titles from Dominique F Prinet

Coastal Navigation: for Class and Home Study

by Prinet, Dominique

CAD $29.95

This book is based on the notes prepared for students by the author during 20 years of teaching navigation, initially to private or commercial pilots, and then to sailors and professional mariners. It is illustrated with graphics which explain chart projections, scales and symbols, and describe lights and other navigation aids. It demystifies the True, Magnetic and Compass Norths as well as problems of time, speed and distances, and explains how to plot courses and take bearings, or draw regular and advanced Lines of Position using the international system of labeling.
Celestial Navigation: With the Sight Reduction Tables from "Pub. No 249"

by Prinet, Dominique F.

CAD $29.95

This manual has grown out of all the courses given by Dominique Prinet, a certified Instructor-Evaluator for Sail Canada. The book starts with fundamentals and definitions, and proceeds to give readers a good grounding in the subject to determine position at sea using a sextant for fixes on the sun, moon, starts and planets. There are many illustrations, and a chapter with more than forty pages of review exercises.
How to Read a Nautical Chart

by Calder, Nigel

CAD $33.95

2nd ed. In 2000 the U.S. government ceased publication of Chart No. 1, the booklet that helped mariners make sense of the complex symbols and graphic elements used on charts. Calder has pulled together all the information contained in the original and presented it in a useful and intuitive format. He also covers electronic chart symbols and a thorough explanation of the practical aspects of reading a nautical chart.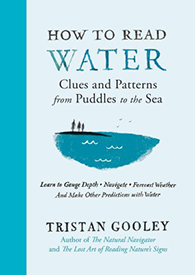 How to Read Water

by Gooley, Tristan

CAD $27.95

Tristan Gooley is an expert in navigating using only the natural world itself. In his latest book, he turns his attention to techniques to use on or near water–which he learned by sailing solo across the Atlantic, navigating with Omani tribespeople, canoeing in Borneo, and walking in his own backyard. Anglers, sailors, swimmers–all can learn how to find north using puddles, forecast the weather from waves, decode the colours of ponds, spot dangerous water in the dark, and more.

Illustrated Navigation

by Dedekam, Ivar

CAD $31.95

Today's new yachts carry radar, GPS, chart plotters, AIS, and other electronics that make long offshore passages possible for those without a deep knowledge of navigation. That's great–until they stop working. Dedekam's book covers all bases, teaching you to navigate with traditional tools–compass, log, and plotter–as well as GPS, radar, chart plotter, and even basic celestial navigation. Each method is explained using detailed illustrations and examples, making this a straightforward and easy-to-follow guide.

The Weekend Navigator: Simple Boat Navigation with GPS and Electronics

by Sweet, Bob

CAD $33.95

Sweet explains the basics of coastal navigation with clear step-by-step instructions. He covers the use of the latest onboard technologies, and adds a section of enlightening stories about e-navigation gone wrong in an "OOPS" section. The Coast Guard uses this text in its instructional courses.
The Book Locker is curated by:
Nautical Mind Bookstore
249 Queen's Quay West, Unit 108
Toronto, ON M5J 2N5 Canada
Phone: 416-203-1163
Canada/US: 1-800-463-9951
Email: This email address is being protected from spambots. You need JavaScript enabled to view it.
Web: www.nauticalmind.com