Aug 9, 2016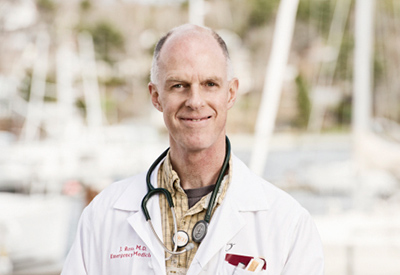 ClipperTelemd+ Medical Director, Doctor John Ross, will be sharing his dynamic telemedicine stories hosting "Medical Emergencies at Sea" on the recently launched and highly anticipated, Boat Radio. Ross will share the fascinating details of far-reaching telemedicine rescues and more with international listeners for this regularly scheduled program launched in July 2016. From impressive resolutions of medical incidents at sea to supporting researchers on expeditions in the world's most remote locations, Ross has a wide variety of fascinating stories to tell. According to Boat Radio Founder, Mike McDowall, Dr. Ross was the perfect choice to host "Medical Emergencies at Sea."
"Doctor John Ross has a lifetime of experience dealing with medical emergencies," says McDowall. "His particular area of expertise - emergencies in remote locations - makes him the ideal person to offer advice to sailors, boat owners and adventurers. Plus, his engaging manner, sharp wit and competence behind the microphone make for a terrific radio program."
About Boat Radio
July 1st 2016 was launch day for BOAT RADIO – the first talk station aimed at boat owners, world cruisers, sailing enthusiasts, professional yacht crews and armchair adventurers everywhere.

Boat Radio will feature interviews with prominent characters from the world of sailing, exploration and endurance sports. There'll be compelling tales and inspiring stories often from ordinary people who've done extraordinary things and plenty of practical advice and an indelible streak of marine conservation.
Presenters are a mixture of radio professionals, sailing journalists, scientific researchers, ocean ecologists and live-aboard bloggers. Every week there are programs from Florida, Missouri, Washington, The Bahamas, Canada, the Arctic Circle, the United Kingdom, Italy, Croatia, Australia, Mallorca and from boats all over the world's oceans.
BOAT RADIO's managing editor is Mike McDowall. Mike has been making radio and television programmes for more than twenty years, working at CNN, APTV, ITN and the BBC. For the past several years, he has produced The World Tonight for Radio 4 in the UK and Business Matters for BBC World Service.
"There are dozens of magazines for boating enthusiasts and a few attempts have been made to develop TV channels aimed at people who mess about in boats," says McDowall. "What the boating community has never had is a talk radio station. Boat Radio will be slick, professional and a real contender in the world of broadcasting."