Aug 9, 2016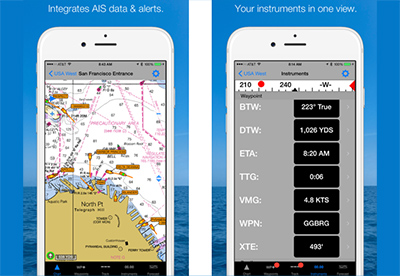 iNavX has announced the release of iNavX v4.7.4. The new iNavX release includes a full modernization of its back-end architecture. This streamlines the operation of the software for a more fluid and user-friendly presentation. Additionally, in response to customer feedback, X-Traverse chart lists update in real time, while background tracking and recording has been improved for better performance.
To support the launch of iNavX v4.7.4, NavX Studios is offering iNavX for $24.99, a 50% discount, as part of its Spring Promotion. Current users can download iNavX v4.7.4 free from the Apple App Store.
"We know how vital having instant access to the most up-to-date navigation information is," said Shaun Steingold, CEO, NavX Studios. "Being able to rely on your charting device is integral to safe boat operations. Information stream must be delivered faster than the speed on the boat, not slower than the speed of your internet connection. With the latest version of the app, we deliver and then some!"
iNavX is the leading marine navigation app and the only application that delivers hundreds of charts and features to sailors, boaters and anglers. The perfect marine navigation chartplotter for the palm of your hand, iNavX can be used as a primary chartplotter, a toolkit or as a redundancy system. The feature-rich app is capable of displaying current position in real-time using the mobile device's built-in GPS, as well as plotting course, bearing and waypoints. With its support of NMEA data over TCP/IP, iNavX also integrates with external GPS, AIS receivers and transponders, as well as networked instruments including depth, speed, wind, engine data, and battery voltage meters. Users can easily manipulate data by panning, zooming and rotating charts. GRIB weather forecasts can also be downloaded and displayed on the app.
iNavX is available for Apple iPhone, iPod Touch and iPads from the App Store.
www.inavx.com