July 26, 2016
The Blue Dream Project launched its 60 foot schooner in Lunenburg, NS on July 23rd. The vessel is being built by master shipwright David Westergard who has several traditional schooners under his belt. The wooden schooner was constructed in the same shed in Lunenburg where Smith and Rhuland built Bluenose in 1921 and Bluenose II in 1963. Construction of the vessel began in 2014 and plans are for completion by next spring.

Image credits: Glen Cairns

The traditionally rigged and outfitted schooner will be used to bring awareness to the damage done to the oceans by the proliferation of plastic waste. Here's how they organisers describe their goals:

"We know too little about what happens to plastics and their role in ecosystem dynamics to predict their future impacts on the oceans and on humans.

Our expeditions aim to develop a clear understanding of the impacts of plastic debris in our oceans.

Our crew, comprised of volunteer environmentalists and researchers, will be tracking the amount of plastic pollution in an attempt to determine its effect on the ocean.

We will collect, count and archive tiny pieces of plastic collected in plankton nets.

At each port along our sailing route, we will create a temporary exhibit with debris found during the voyage.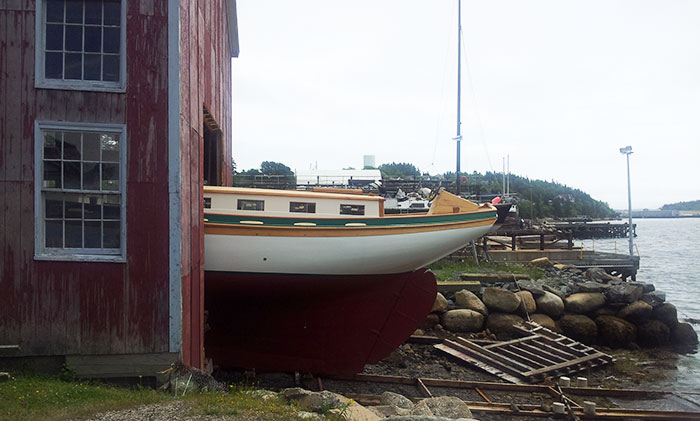 Our Goals:

• Measure the concentration and extent of plastic debris in the ocean, as well as to understand the effects of plastics on the marine ecosystem.

• Collaborate with global partners to restore the aquatic environment by reducing and ultimately eliminating plastic pollution.

• Inspire international cooperation studying whether humans are being harmed by eating fish that have ingested contaminated debris.

• Encourage people all over the world to take a stand against coastal plastic pollution.

• Encourage industrial innovation in developing new bio-degradable plastics.

• Produce a high production short form documentary on our expeditions focusing on solutions to plastic pollution.

• Raise funds for programs and partners."
THE BLUE DREAM PROJECT CANADIAN MARINE ENVIRONMENTAL ASSOCIATION wishes to advance education by providing expeditions, internships, workshops, seminars, lectures to the public, and artistic events, with a focus on youth, on the topic of plastic pollution and other forms of pollution of the oceans. We also wish to advance education by undertaking and publishing research on the current and future impact of plastic pollution and other forms of ocean pollution on marine ecosystems and humankind and to protect the environment for the benefit of the public by engaging in re-mediation activities to reduce plastic pollution and other forms of ocean pollution.