Oct 10, 2019

By Laura Briscoe-Schell


big brother Ryan with twins Remington and Colt

Laura and Royce live near Lake Nipissing but boat on Georgian Bay. This year we were out of Key River so sadly missed a month due to the big fire.
The pair has boats in their blood. Laura provided some background: "Some is from my time as a child on our 36 ft. Chris Craft. My husband grew up on Georgian Bay. We did take a couple of boating courses and I plan to take more. Most specifically navigating, as our dream is to do the loop one day. (Once we manage an upgrade!)"


St. Amants in Britt, Ontario.
New Marina

What an amazing summer the family of Boating with Kids had this summer. We had a new crew member this year with the addition of our grandson Baby Dayton. We moved to a new marina - St. Amants in Britt, Ontario. There may be nicer marinas out there but we couldn't be happier with our decision. The staff and management are wonderful. The food at the restaurant is amazing. The gas prices are street prices, which is a big bonus. We made some great new friends in our "boat" neighbours.

The location was perfect for us. Only an hour drive from home. An easy trip north to the French River and Killarney area, a nice days trip south to Parry Sound. We couldn't ask for better.

Our season started late this year, as we had to wait for the replacement canopy to be completed. But nonetheless it ended up being a great summer.
July: Britt to Moon River

Our main vacation this year started with a trip to Parry Sound for a family reunion. We arrived a couple of days early so we anchored on the North side of Huckleberry Island. Sheri and Patrick from SunTech Solar met up with us there for a night. The kids made friends with their son Alex. Parents got a chance to meet at chat in person instead of on Facebook. Facebook pages have been a great way of meeting new people and learning from others.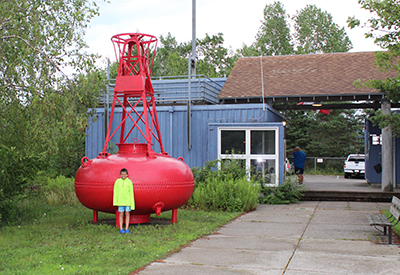 Remington at Big Sound Marina

We spent four days at Big Sound Marina. We were able to visit with my parents who had come home from Mexico for a visit. (They only come home in the summer now, winter is too cold!)


Lucky Me belongs to Susan and Greg Costa out of the States. They have a face book page Lucky Me Looping. Extraordinary couple that are willing to part with all they have learned themselves. They also have a thing called Loopers Care.

We were also able to meet up with some "Loopers". One couple is a couple we have been following on Facebook, Lucky Me Looping. What a wealth of information they are. I recommend talking to any Looper that you meet if doing the Loop is something that you have planned for the future. We hope to do the "Loop" in the next few years so all the information we can get from those already living their dream is greatly appreciated.


Remington watching the approach to the Wausaksing swing bridge.

On leaving Parry Sound we made our way south towards Moon River. Just north of Sans Souci and Henry's Restaurant we passed my cousin on the "Real Escape". What are the odds of running into family on Georgian Bay when you didn't even know they were on the water that week! After chatting for a while we carried on in our different directions. They were headed to Kill Bear Marina and we had that destination of Moon River in our heads. Royce wanted to show the boys where he spent his summers as kid.

We were hoping, with the water levels being so high that we would be able to get right up to the Moon River Falls. We only draw 4 feet so it was a possibility that became reality! The kids were amazed we were able to anchor right at the base of the falls. They were able to climb the rocks and swim in the same churning pools that their father swam in as a kid. What an amazing experience for them! Grandma and Baby Dayton were even able to sit and cool off in the shallow areas of the falls. If you can't make it all the way to the falls it is well worth anchoring and taking the dinghy in for a day trip. Pack a lunch and take the time to enjoy and explore.

After Moon Falls we headed around the corner into Blackstone Harbour. This is where Royce's parents had a cottage when he was a child. His sister Diane joined us for a night of reminiscing before we headed north again. They were both amazed with the changes they saw. Over the years the shoreline had changed, cottages were gone, new ones had been built. But the history was still there. As kids exploring the area they had found graves at the far end of the bay. Graves marked with old pieces of wood made into crosses. At the time they had no clue who they belonged to. Now, we know they are the graves of Thomas and Charles Baker, a father and son who were some of the early settlers to the area. Someone in the area has since replaced the old markers with strong painted crosses.

It was time to start making our way north again. Another night anchored at Huckleberry Island. This is a spot that the kids now ask to go to. We can anchor right near a sandy beach, complete with swim rafts. The beach is busy and allows the kids a chance to play with other kids. If you aren't sure where, leaving Parry Sound go through "Hole in the Wall" and turn starboard. You will find it easily!


Hole in the Wall. Parry Sound

It was time to make our way home. I had to return to work for a week. After that week we were back on the boat for the remainder of the summer. We relaxed at the marina and made some trips to nearby anchorages. We just love being on the water and enjoying time as a family.

Laura and Royce live near Lake Nipissing but boat on Georgian Bay. The pair has boats in their blood. Laura provided some background: "Some is from my time as a child on our 36 ft. Chris Craft. My husband grew up on Georgian Bay. We did take a couple of boating courses and I plan to take more. Most specifically navigating, as our dream is to do the loop one day. (Once we manage an upgrade!)"