Great things to check out at the boat shows this winter!

Although it's almost exclusively a powerboat show, Fort Lauderdale International Boat Show attracts the most impressive range of boats and yachts in North America…and probably worldwide!

From the smallest inflatable dinghy to the largest private superyacht that can float into the harbour, the Fort Lauderdale show brings boats from all over the globe. It's one of our favourite shows because it's so international and so diversified. It's a boat lover's paradise – but the people-watching is great, too!

Let's not get distracted though. We're here to see 2013's new models and great features; a preview of things you might well see at the boat shows across Canada this winter.

BOSTON WHALER 230 VANTAGE

Don't worry, it's still a great fishing boat with saltwater offshore qualities, but Boston Whaler has given their new 230 Vantage model just about every feature in the book. This is a 23-footer with a big 8' 6" beam that can handle up to a 300 hp Verado outboard. It has Boston Whaler's famous foam-cored unsinkable construction in a deep-vee design that has handsome lines, the protection of a full windshield, a generous bow seating area with an available filler cushion, and a whole host of fishing features, plus an enclosed head!

There is a swim platform at the stern with a walk-through into the cockpit, plenty of storage spaces and cubbies (including rod storage), and you can order a wakeboard tower on top of all that, so one boat can serve all the interests an active family might have. This is one to see at the shows for sure!

www.bostonwhaler.com


38 SABRE EXPRESS

The Sabre 38 Salon Express features lines that say "downeast" and she is built in the tradition of Maine boatbuilding: elegant, strong, steady and seaworthy. But then, Sabre Yachts employs the latest technology with resin-infused laminates, state-of-the-art mechanical systems and the latest pod propulsion drive train. We have driven several Sabre models and the performance is always impressive.

Equally impressive are the interior features. The 38 Salon Express is an open design which suits a day's outing with friends as easily as it does a longer cruise. Her cockpit is raised to a level just five inches below the main salon to connect these two important social spaces, and the aft end of the house opens with a drop-down window and a swing door. That opens up the interior to the exterior in a lovely way.

In the galley Sabre uses Corian countertops, lots of real cherry wood and a Vitrifrigo two-drawer refrigerator-freezer combination. The drawers give ample space yet preserve counter space and also facilitate an open pass-through to the forward stateroom. Love that open feel!

www.sabreyachts.com


GRAND BANKS 54 HERITAGE EU

The 54 EU is the newest "Europa-style" model in the Heritage Series of trawler motor yachts from Grand Banks. It features a compelling blend of luxury, seaworthiness and craftsmanship in a three-stateroom layout with optional crew's quarters, good fuel economy for long-range cruising capabilities and an extensive list of standard equipment.

This boat is much different from traditional trawlers and features a modified-V hull that delivers dry, seaworthy performance, solid tracking and confident handling. A large VIP cabin forward with queen island berth includes ensuite access to a head, which can also be entered via the companionway by guests using the third cabin to port. The large master stateroom is located amidships with a queen-size berth, abundant closet and drawer storage, and a head with twin sinks and separate shower.

While we liked numerous features on the 54 EU, as we first stepped aboard we were impressed with the transom door that is seamlessly integrated into the design and reveals entry stairs when opened. The door is secured with a neat electromagnetic latch system. Cool!

www.grandbanks.com


FOUR WINNS H190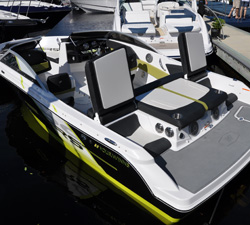 Here is an exciting new model from Four Winns that features wild colours and rear-facing seats that are unique. These are neatly integrated into sun pad /engine cover. The port and starboard sections flip up for a rear-facing seat and down to become a sun pad. The swim platform is covered with a safe no-slip cover and the interior upholstery features a remarkable new "deflective" black and coloured material that stays cool by reflecting away the sunlight. Does it work? Yes – my autofocus camera could not focus on it!

Keeping up the high style, the floor carpeting continues the hull graphics and colours. Four Winns sells this hot boat with a 4.3 L V-6 stern drive that will deliver stellar performance plus the power to pull skiers and wakeboarders. It's a bowrider design with such neat features as a sport steering wheel, great helm position, hinged seat sections that lift to reveal storage areas, and those wild transom seats for swimming!

www.fourwinns.com


CHRIS-CRAFT CORSAIR 32

What excited us when Chris-Craft launched their new Corsair 32 model at Fort Lauderdale was the newly expanded range of exterior options, including custom paint colours such as Cashmere Metallic (shown).

Chris-Craft Steve Heese told us about the amazing new paint booth and systems they had installed at the plant to be able to offer these new finishes. In their press release he said: "We are very excited about our new custom colour offerings for 2013, which include the ability to please the discerning Chris-Craft customer by building the boat to their exact specifications and we do this all in-house." The Corsair 32 is also available in three Heritage Edition Teak options with a choice of natural or varnished teak finishes as well as black or the new blonde, teak caulking.

The Corsair 32 is loaded with luxury appointments like a skylight that runs the entire length of the forward deck and is flanked by teak to allow for maximum natural light into the forward salon. The luxury interior cabin of the 32 comes with a choice of cherry or walnut cabinetry.

Check out the classic Chris-Craft tumblehome design and features like the large teak swim platform complete with hot and cold transom shower and easily accessible stowaway swim ladder when you get to the boat shows this winter.

www.chriscraft.com


SEA RAY 510 SUNDANCER

As popular as express models and coupes have become in recent years, the space below decks has usually been dark because there was no way to bring light into the boat. Now, builders are discovering that they can bond in special high-strength plastic hull-side windows.

The 510 Sundancer is one of Sea Ray's newest models and a great example of how big and bright these hull-side windows can be. During daylight hours, it's much brighter and more pleasant in the cabin and really opens up the interior spaces visually as well.

If you see this boat at the shows, take a few minutes to check it out!

www.searay.com


CRUISERS YACHTS CANTIUS 45

One of the biggest improvements in boating comfort in recent years is the electrically extendable sunshade for the cockpit. The Cruisers Yachts Cantius 45 (also reviewed in this issue of Canadian Yachting on page __) is one new design that offers this feature.

At the touch of a button, the sunshade glides out electrically to completely shade the cockpit area. You can deploy it partially or all the way, and typically these shades can be safely used when running, even at speed.

The obvious benefit is that everybody can get outside in the fresh air without having the level of sun exposure or heat that could otherwise spoil the day.

Look for this feature at the shows this winter.

www.cruisersyachts.com


FABDOCK

One of the best reasons for attending the boat shows is to find products or innovations that you wouldn't ever see without going. This one is actually a lot cooler than it looks. It's called the Fabdock and it's quite an amazing idea. You anchor it in your mooring space or at your cottage dock. When you deflate this, it floats underwater so you can drive the boat right in over top.

Once the boat is in position, press the button and the Fabdock electrically inflates all around your boat, even around rudders and propellers. It has a drain in the middle and effectively, your boat ends up sitting in its slip dry and protected by the ballistic-grade material of the Fabdock.

You will save money on maintenance by keeping your boat's legs, shafts and propellers dry, and your boat no longer requires antifouling paint, saving money there. With a fresh and clean bottom, your boat will go faster and you will save money on fuel. Best of all on new wake sports boats and valuable cruisers, keeping the bottom clean and free of algae and brown scum maintains the resale value of your boat. At about $6,000 it's a reasonable investment, too.

www.fabdock.com


JET LEV

You're looking at a man flying the R200 Jetlev just off the docks at the Fort Lauderdale International Boat Show. This is an amazing outfit that's ideally suited to somebody who's always dreamed of being able to fly.

The R200 Power Unit is like a small boat that includes a 250 hp Rotax marine engine controlled by the R200 Jet Pack worn by the pilot. The Power Unit is connected to the jet pack by a large high-volume line delivering water from the Power Unit that's delivered through nozzles on the Jet Pack and controlled by the pilot. More thrust takes you up, less brings you down… It's unbelievable!

For a quick look at the Jetlev in action, check out this YouTube video at: www.youtube.com/watch?v=7-KczCp0OQ4

Now, what will you be doing this summer?!!


Photo Captions
Photo 1 - The crowds were thick (record-breaking, in fact) on Saturday at Fort Lauderdale, with the temperature a perfect 22 degrees C and sunny skies.
Photo 2 – Boston Whaler 230 Vantage - This has to be the most versatile and family-friendly Boston Whaler ever!
Photo 3 - The Sabre 38 Salon Express is the smallest of the Sabre line of yachts but the wonderful cherry wood interior and luxurious finish are timeless hallmarks of elegance.
Photo 4 - The Grand Banks 54 Heritage EU is a real "54" that measures more like 62' in a nearly 18' beam, when you include the swim platform and pulpit.
Photo 5 – Four Winns H190 - What a clever idea! This is the first time we've seen rear-facing seats on a boat this size. Neatly integrated into the sun pad /engine cover, the port and starboard sections flip up for a rear-facing seat and flip down to be the sun pad.
Photo 6 - We shot the Chris-Craft Corsair 32 in the display at the Fort Lauderdale International Boat Show; stunning finish!
Photo 7 – Sea Ray 510 Sundancer - Let there be light! Inside the cabins that is...
Photo 8 - Cruisers Yachts Cantius 45 - the benefit of the electric sunshade becomes obvious the first time you use it.
Photo 9 - It's hard to believe that such a big boat could be completely floated up out of the water on a device like the Fabdock but there it is.
Photo 10 - Unbelievable! Look closely and you'll see a little boat behind the "pilot" who is showing off to the Fort Lauderdale crowds.