July 25, 2017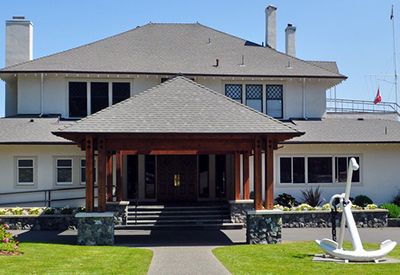 The Royal Victoria Yacht Club has been bestowed a great honour by the Canadian Society of Club Managers (CSCM). Royal Victoria Yacht Club was awarded "Club of the Year" in the medium club category. This award is presented to CSCM affiliated clubs who have shown significant impact in innovation, leadership, and social responsibility in the club industry. Out of the numerous applications, two Victoria businesses claimed two of the three esteemed awards.


Small Size Club – Kingston Yacht Club
Medium Size Club – Royal Victoria Yacht Club
Large Size Club – Victoria Golf Club
The clubs were judged on several key areas including: community involvement, environmental stewardship, hosting an exceptional event, leadership development and their contribution to the CSCM. Each club also had to demonstrate that they achieved exceptional success in at least one of the ten club management core competencies including, but not limited to, Club Governance, Membership & Marketing, Facilities Management and Golf, Sports & Recreation Management.

Although the reasoning behind why each club won their award will not be revealed until the awards ceremony in October, the Club is very honoured to be recognized throughout Canada.

"We are thrilled to be celebrating the Club's 125th Anniversary this year and this award is the icing on the cake", said General Manager, Simon Gatrell. "As the oldest Yacht Club on the West Coast, RVYC has been focussed on ensuring that the Club is a vibrant and welcoming place for its members and their families.

< enviro 4.jpg> Recent replacements of both Marinas in Cadboro Bay and Tsehum to strict environmental standards, as well as a water treatment plant, has enabled RVYC to receive the Clean Marine BC Four Anchor rating, demonstrating the Club's commitment to protection of the environment.


Purple martin banding

RVYC is one of two marinas on Vancouver Island with the highest rating. Three of our members participated in the 2016 Rio Paralympics with two bringing home silver medals and winning the Sail Canada "Rolex Sailor of the Year" award; and our sailing coach won the Sail Canada "Coach of the Year" award. Commodore Gordon Wilkinson, says, "I am proud of how the Club has continued to evolve and improve in response to the members' desires and needs, guided by the Long Range Plan".

The Club of the Year awards will be presented at the 2017 National Conference in Gatineau, Quebec.