Dec 6, 2018
Steve Daigle built his business fabricating custom high-grade commercial boats. He has taken the strengths inherent in this kind of construction into building recreational boats.

If you have traveled on the waters around Vancouver Island, you may have seen many aluminum vessels going about their business as water taxis, crewboats, and even as inter-island school buses. Commercial operators have known the benefits of aluminum for a long time. Its outstanding qualities in strength, seaworthiness, durability, ease of maintenance and as a long term sound investment have made it the material of choice for those who earn their living on the water.

In 1985 Steve Daigle founded Daigle Welding & Marine Ltd. Steve had been involved in boat building, design, marine and general fabrication in Prince Rupert B. C. since 1976.

In 1985 the move from Prince Rupert to Campbell River on Vancouver Island was undertaken so that he would be closer to what he believed to be a larger market for custom aluminum boat manufacturing, and he wanted to concentrate on just boat construction.


Steve built a welding and separate rigging shop and employed three tradesmen. After three years he outgrew this facility and built a much larger plant with a marine store just north on the Island Highway from the old plant. Over the next 17 years this plant grew and expanded, including moving to a building next door. Daigle Welding & Marine now employed 20 full time people and was short on space with no room for expansion.

In 2004 Daigle Welding & Marine built the current plant and marine store. This plant is much larger, more efficient, has overhead bridge cranes and new modern equipment. The store also has expanded to 4 times the size of the previous one. Daigle Welding & Marine currently employs 34 full time staff consisting of welder/fabricators, mechanic's/rigging technicians, cabinet makers and finishers, painters, sales people, naval architect, office and support staff.
Their boats and designs have changed and improved over the years. In the 1980's They were building mainly sport fishing lodge boats, passenger vessels, work boats and patrol boats. In the 1990's a new market emerged for these well-built, proven commercial boats for pleasure use. Customers liked the idea of owning a commercial quality boat that was built and designed for 3,000 hours a year application for decades of use that could run over logs and be beached without damage to the hull or equipment, was of a proven hull, very safe and could be custom designed and built for an intended purpose. Because these boats do not wear out the work boat and passenger vessel "water taxi/crew boat" market could only use so many boats and the timing was right for a transition in using this same well-built proven hull for recreational use.
Many of Their customers are experienced boaters who have liked certain features offered in different pleasure boats they have seen over the years and would like them brought together in a custom built boat.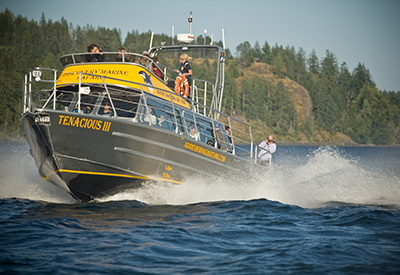 What sets Daigle Welding & Marine apart from the other builders is that Steve and his naval architect will design the boats with these features and provide a full set of plans for them and the customer to review and make changes prior to the start of construction. This, along with the detailed, individual itemized list of options and features makes for a successful build with no surprises and a satisfied customer. During the construction of your boat any change order will be quoted on and handled promptly. At any time during construction our customers know what the bottom line price is. Customers are also sent weekly updates with photos.

In Steve's own words: "Our biggest accomplishment to date is having designed and built over 775 boats. If each one of these boats were put in a line bow to stern the lineup would be approximately 7.5 miles long."

If you are interested in finding out more about Eagle craft boats you can contact Steve directly. Steve would be happy to arrange a tour of the facility and if possible, arrange a sea trial on an EagleCraft boat. Steve Daigle Ph: 1-888-393-6464, e-mail: This email address is being protected from spambots. You need JavaScript enabled to view it.

-BN