By Duart Snow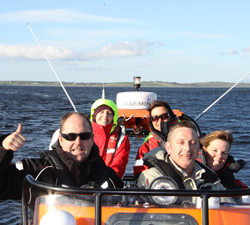 Knowing the inflatable trade spells success for the Keys brothers, in BC and back home in Ireland.

This is a story about two brothers in two countries, and how the booming popularity of inflatable boats on a global scale has changed both of their lives.

The brothers are Brendan and Ronan Keys, born and raised in the port of Drogheda, on the east coast of Ireland just north of Dublin. Today, Brendan's home is Vancouver, where he is a partner in GA Checkpoint Yamaha, one of BC's leading inflatable and outboard dealers, while Ronan operates Inland Inflatable Services, Ireland's leading inflatable sales and service firm, in Sligo, on the country's west coast. As newcomers to Canada in the late '80s, they found work repairing and selling inflatables just as the boom in rubber boats began, and they've never really looked back.


Upholstery Skills

Brendan, now 43, and Ronan, 42, share the outgoing charm and sly wit you expect of the Irish. The eldest of eight children, they say they knew nothing about boats at home but grew up tinkering with cars in their parents' barn. When they came to Ontario in 1988, Ronan answered an ad for a "mechanically-minded person with upholstery skills" and found himself working at then Inland Inflatable Boats and Services (now Inland Liferaft and Marine of Etobicoke), then North America's largest Zodiac dealer.


"The upholstery skills meant fixing inflatable boats," says Ronan. Not long after he started, he was asked if he knew anyone else looking for work – and Brendan got his start as well. While Ronan returned to Ireland in 1990, Brendan stayed at Inland for five years, learning both services and sales, as well as establishing a long-term relationship with Yamaha outboards when Inland became a dealer. He relocated to Vancouver in 1992 to be near his wife Birgit's family, and joined Adventure Marine Inflatables, selling, rigging and servicing boats for the Zodiac, Zeppelin and Yamaha dealer.

In 1998 he joined Yamaha as district sales manager for marine products, building the manufacturer's business with marine dealers as well as the West Coast's proliferation of fishing camps and lodges: "We definitely grew Yamaha's market share in BC at that time. It was 35 percent when I started and over 50 percent when I left."

Brendan concluded his time at Yamaha as Western Canada regional sales manager from 2004 to 2010, then joined GA Checkpoint as a partner with the goal of growing the motorsport dealer's marine business. The challenge "is a larger nut to crack," says Brendan but the dealership has so far expanded its outboard business, added more lines of inflatables and aluminum fishing boats, and is about to open a second location in suburban Abbotsford.

With his own hand-on experience in all facets of the inflatable game, he's proud of the fact that GA Checkpoint is the only Lower Mainland dealer set up to sell, rig, service and repair inflatables. And his timing could be no better: "The inflatable boat business is going through the roof."


Over the Pond


For his part, Ronan returned to find little work in a much smaller marine industry in Ireland: "There was one company back home that repaired inflatables…badly!" He qualified as a motor mechanic but put his inflatable skills to work fixing boats in his spare time "because there was no one else doing it."

Meanwhile, rigid-hull inflatables were fast becoming a big business in nearby Britain. After moving to Sligo in 1999 as a vehicle inspector, Ronan started his own business servicing and repairing inflatables and RIBs in 2002, and quickly found himself building boats as well. He delivered six rugged 9-metre RIBs powered by inboard Yanmar diesels to a Dublin Bay eco-tourism operator ("whale-watching…without the whales," as he puts it) and expanded his service business with dive clubs, police marine units, the Irish airport rescue service and the British military, regularly flying to Scotland to carry out emergency repair jobs.

He moved to larger premises in 2004, becoming a Zodiac and Yamaha dealer, then bought a still-larger facility with a showroom in 2012. His company's work now includes service, major overhauls and new construction for clients such as the Irish Coast Guard and the Dublin Fire Brigade and other fire services. Inland is Ireland's largest Yamaha dealer, and the Irish distributor for Sidney, BC-built Shockwave high-performance shock-mitigating marine seats, now fitted in all of the country's coast guard vessels (see sidebar).

"The mainstay of the business now is RIBs, for the coast guard, fire service, civil defense. We are the only RIB service centre in Ireland. And we overhaul not just the boats but all systems, engines, electrics, instruments, AIS and seats."


Tricky Business

It's clear that learning their way around inflatable boats at exactly the moment when the rugged, versatile craft began to take over a wide range of markets, from yacht tenders to tourism, military and commercial uses, has been a boon for the Keys brothers.

"This is a tricky business, an interesting business," says Brendan. "It's very specialized. You have to have guys who understand the products and how to sell and service them. That's why it's difficult for anyone to set up as an inflatable business and succeed.

"Twenty-five years in the business and we both still get up every day and look forward to getting into work – it's always different."

And the trade hasn't stopped with the two eldest Keys. Brother Hugh operates a mobile marine service, and brother Eoin a chandlery. ("They're in the business because we dragged them into it!") And a second generation has entered the trade. Ronan's son Gerard works for Brendan at GA Checkpoint, as does Brendan's daughter Krysta.

Ronan says the boat business has simply treated he and Brendan well: "The amazing thing about the marine industry is that you can make a name for yourself starting from sweeping the floor!"

Not bad for a couple of Irishmen with upholstery skills.

Duart Snow is editor of Canadian Yachting West.


Easing the Shock

Shockwave Seats, a Sidney, BC company, has established itself as a global leader in high-tech shock-mitigating seating for professional mariners in big, rough water. With a long history in chassis and suspension design, including roots in NASCAR racing, company president David Smith saw a need for a marine seating suspension system that would prevent fatigue and injury during long hours at the helm in rough conditions.

Shockwave employs a robust and adjustable shock-absorbing suspension system, energy-absorbing foam padding and simple but rugged frame construction in a wide variety of seat systems that are compact and light in weight. Most recently, it has combined seating and helm consoles in modules known as the Integrated Control Environment that mitigate shock in three axes; ICE modules have been fitted in new Canadian Coast Guard and Royal Canadian Marine SAR vessels.

Shockwave supplies customers in military and enforcement, patrol and rescue, racing, commercial transport and tourism, and cruising and sport fishing. While its products are built to military specs, they can be finished with custom paint or upholstery to suit pleasure craft applications.

www.shockwaveseats.com


Photo Captions:
Photo 1 - Off Sligo, Ireland, the brothers and crew try out a fast 7.9-metre RIB built for the Irish Coast Guard.
Photo 2 - Inside Inland Inflatable Services Sligo shop.
Photo 3 - A second Keys generation has followed the brothers into the marine business: Brendan's daughters Nadine (left) and Krysta (centre), and Ronan's son Gerard (right).