Mar 22, 2017
Report from beautiful George Town
After ten weeks in George Town, aka Adult Summer Camp, we have left the harbour and started north. George Town is the place to be in the winter if you want temperatures in the mid to high 70's, a place to provision, good anchorages and plenty of activities to keep you occupied. There is an amazing sense of community in the harbour that you realize after you have been there a short time.
The mornings start early: 6:30 am is when Chris Parker will give the weather report for the Bahamas on the ham radio network. Then at 8 am there is a cruisers' net on channel 72. [I should mention that the hailing channel in George Town is channel 68, channel 16 is used by the local businesses.] The net is a controlled net meaning there is a person who manages the traffic and the schedule. He will give the tides and weather, call out for anyone who needs information or help, then a "buy, sell or trade" section, then new arrivals and departures. It is fun to listen to and if there is anything you need help with, you just put out the word and wait for the responses on channel 68 when the net is over. One fellow asked for help to get his jammed roller furling main fixed. Immediately seven dinghies converged on his boat. One unfortunate family hit a reef on their way into the harbour and broke their rudder. A fleet of dinghies went over to help tow him in and get him anchored. Then he had all the help he needed to rebuild his rudder, with donations of time, cloth, epoxy, paint and a number of guys to help reinstall the new one. You can never repay that kind of help, and instead you will pay it forward. He ended up being the photographer for a friend's wedding on the beach.


In the mornings, you can choose to do yoga or water aerobics. Pat and I chose water aerobics. I will admit that there were some mornings when I reluctantly got into my wetsuit, as the thought of getting wet at that hour wasn't appealing to me! But we really enjoyed the classes and faithfully attended most mornings. After exercise class you can choose to attend painting lessons on the beach, where you can learn to paint inside a coconut shell. You can also learn to weave baskets, though those classes are hit and miss. After lunch you can go back to the beach to play Mexican Train, Rummy Cube, volleyball, bocce ball, or just laze in the sun. Sunday mornings there is Beach Church with a fellowship hour after.


Afternoons are when the dinghy sailors, paddle boarders, and snorkelers come out. If you don't have a piece of equipment, there are places to rent them, and instructors and guides if you need them. At least twice a week there is a dance somewhere in the harbour, alternating between great dance music and the local "rake and scrape" which to my untrained ear is awful! Really, really awful!!! But, some people like it as the bars are usually full of cruisers on "rake and scrape" nights.... or maybe they just need a few drinks in them in order to like that music!
On the daily routine side are the laundry and shopping days. George Town has two Canadian banks, Scotiabank and Royal Bank. There is one grocery store, about 2,500 square feet in size, a laundromat, a liquor store, and numerous restaurants/bars and gift shops. You need to time getting to the grocery store so that you get there within a couple hours of the supply ship coming in. Most days they are out of bread and veggies. We have learned to freeze extra loaves of bread and resort to canned veggies. Just outside of town there is a butcher shop, a building center, a Napa store and a pharmacy if you are willing to pay $30 for a taxi to get to them, or you can just hitch-hike, which is what the guys did.
The anchorages in Elizabeth Harbour are on the west side of Stocking Island, about two miles from George Town. Depending on the day, it can be a pleasant ride into town, or a wet one. Most often it's a wet one! The wind is generally from the east so going over is usually not bad. Coming back over to the anchorage is another story. I rate our trips to town by how many eggs made it back to the boat without breaking! There is a small round lake called Lake Victoria right in the center of town. It can be reached by going under a stone bridge, just wide enough for one dinghy at a time. If the wind and tide are opposing, getting back into the main harbour is a very wet ride! At all times, clean laundry and groceries are covered with tarps or garbage bags in an attempt to get them back on board the mother ship reasonably dry. Adamant 1 doesn't have a water maker, so when we start running low on water [we use about 100 gallons every 3 weeks and we have 200 gallons capacity on board], we will take Adamant into the only marina in the harbour to fill up. They charge $.40 a gallon, which is not a bad price considering they have to make that water on the island.
One thing that has greatly improved since our last trip here in 2008-2010 – communications. I invested in a Bahamian phone and put a data plan on it. Getting all that done is a blog in itself. Sufficient to say it was a learning experience for me and the Bahamians. For instance - they sell a 7GB per month plan, but have no way to upload it to your phone. I tried, they tried, they called Nassau, they tried! You have to upload 4 GB and when that runs out you can then upload 3 GB. If you try to do both the same day, you cancel out the first one you did. I learned that the very hard way! But the data plan gives us the ability to call home using Facebook messenger or Skype. The only time we could do that on our first trip was in a marina, which we rarely went to. There have been only a few times that we were out of range of a Batelco tower, which was not a big deal.


This year was the 37th year for the George Town Cruisers Regatta, a weeklong event held every year at the beginning of March. There are all sorts of activities planned every day and you can get involved to whatever extent you want. This year Pat and I sold regatta t-shirts one day. That was great fun as Pat hauled in every person who went by the booth and coaxed them into buying something. He also crewed for Triad, a super light and super fast trimaran for the in-harbour race and the round-the-island race. They lost the first race by mere seconds on corrected time, but came first in their class and first overall in the round-the-island race, coming in a full 59 minutes before the next boat in their class. The race committee had set up boats all around the course and on board were the reporters on the vhf radio. Listening to the relay of comments was a hoot. The reporters were so full of one liners and jokes; it was an event of its own! There was also a talent show, which was awesome. There are a lot of talented cruisers around.
As for the weather here, you pay for what you get! There is a pattern of 4-5 days of lovely temperatures, light trade winds and lots of sunshine. Then there are 3-4 days of high winds, maybe the odd squall. Three times we had winds up to 30 knots for 3 days straight. And though the winds are well forecasted, inevitably, as soon as they blow in, there are those who start to drag, mostly because where they were anchored, the sand below wasn't deep enough to dig in properly. Here is where the cruisers helping cruisers come in. There are always well anchored boats whose skippers will run out in their dinghies to help the ones in need. Most times, the ones who dragged will relocate to the center of the harbour and ride out the storm there. They will bounce around a lot, but at least there is good holding there. Storms like that are unnerving, as you never know if your anchor will let go, sending you through the fleet.

During the last blow, there were over 300 boats anchored in a three mile long stretch of beach. That's a lot of boats swinging about. Add to that three or four 200' yachts and you get an idea of the chaos that ensues. I have spent more than my share of nights dozing in the cockpit, scanning the area every 10 minutes or so to make sure we are still holding. I may be getting too old for this as it takes me two days to get over those nights!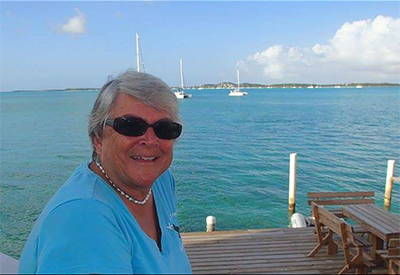 Well, it has been a great ten weeks and we will be back next year for more of the same. We spent a lot of time reading, Pat has taken up his acrylic paints again and I do cross-stitch. A truly wonderful way to spend a winter. We are now making our way up chain in the Exumas, heading for Eleuthera Island then the Abacos. Until next time..........
Longtime CY staffer Lynn Lortie and her husband Pat left Midland this summer to make their way into the Great Loop and head out on a three year sailing odyssey. Follow their progress right here in CYOB