The "Must Do" Restaurant Experience at the Fort Lauderdale International Boat Show

The Fort Lauderdale International Boat Show is one of my favourite events each year but I'm never really sure if it's the show itself or the fact that we always book a dinner at the 15th Street Fisheries when we are there.

Next October, or anytime for that matter, if you're planning a trip to Fort Lauderdale, lovers of fine fish and seafood need to schedule a visit to the 15th Street Fisheries.

One of the attractions at the 15th Street Fisheries restaurant is that kitchen scraps are carefully fed to wild fish that come up to the docks outside. It's entertaining for the restaurant visitors, especially children, and it's good environmental stewardship at the same time.

We arrived the Saturday of the boat show, possibly their busiest night of the year! Gary was our server and Ernie was his partner in serving us that night. The anticipation mounted and we were totally ready to launch into the experience.


As soon as we sat down, we were offered some rolls and baked goods including a wonderful rum and raisin bread that's really more like cake. Absolutely delicious!

A seafood treat that is rarely available outside of Florida is stone crab claws. The restaurant offered both large and jumbo claws the night we were there. The jumbo claws offer more meat per pound (because their shells are very thick and hard as stone) so we ordered those. With care and good management, Florida stone crabs are a sustainable fishery. Fishermen trap the stone crabs in relatively shallow water and will usually check their traps from a small boat.

They haul up the trap, grab the stone crab and carefully remove one of its claws, then put the live crab back in the water. In time, that stone crab regenerates the claw; they can survive with just one. Stone crabs eat conch and other shellfish and can grow to be very large in size.

John Armstrong and I split a jumbo order as our appetizer.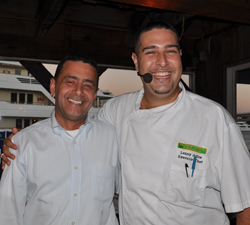 Gary suggested a 2011 Marlboro region Sauvignon Blanc from New Harbor Vineyards, a New Zealand winery. It had a lemony citrus flavour with overtones of grass and green pepper. It was crisp and fresh, and a great choice yet it was quite affordable. Good recommendation.

The Sauvignon Blanc was wonderful with our jumbo stone crab claws. They're cooked, then served cold with fresh lemon and a mayonnaise-based sauce.

The menu is quite extensive and makes for good reading! John settled on the Key West snapper with sun-dried tomato and bacon Israeli couscous, sautéed green beans and Peruvian huancaina sauce.

Andy ordered the pan-roasted black grouper with red and golden quinoa, wild mushrooms and baby clam meat in a lobster sherry cream sauce. It featured wonderful flavours and also contrasting textures with the crispy golden quinoa. As you would hope, the fish was firm, perfectly cooked and delightful on the palate.


Adding to the atmosphere, throughout our meal, the restaurant was piping in classic Sinatra tunes.

No wonder it's John Armstrong's favourite fish restaurant anywhere. He first discovered 15th Street Fisheries on a vacation with his wife, Linda, in 1981. To this day, no trip to Fort Lauderdale would be complete without an evening there.

We arrived in daylight and as the sun set, the lights on the bay and on the many boats and yachts gently passing by made a relaxing backdrop to a fine meal. Of course the boats you see in Fort Lauderdale are sometimes exceptional. While we were there, we saw a classic 1930s varnished Art Deco commuter that had to be 60 feet long and a huge 1920s style mahogany GarWood launch glide past in the ever-changing variety of yachts, fishing boats and commercial vessels. The boat watching is spectacular.

The fabulous cuisine would have been enough but Gary also did a brilliant job of explaining the history of the screw cap on the wine we ordered. The most known brand of wine screw caps is Stelvin, a brand developed by Rio Tinto Alcan.


Originally we thought a screw cap was déclassé, but Gary said the truth is, the Stelvin cap may be better than a cork — the cork can sometimes admit oxygen or drop microorganisms into the wine over time. You can imagine how the 15th Street Fisheries goes through an amazing quantity of wine every year and Gary, who has had a lengthy career at the restaurant, told us that the failure rate for corked wine was between 1% and 3%.

On the other hand, he said he had yet to find his first bad bottle of wine sealed by a Stelvin. Time will tell if they work as well for serious vintage wines that need to be cellared, but it looks like the Stelvin screw cap is here to stay.

Another tradition with Galley Guy John Armstrong, dating back to the time when his family lived in Florida, is that he is a connoisseur of Key Lime pie. It was his mother's specialty and he always orders it when it's on the menu. He prepared to put the 15th Street Fisheries Key Lime pie to the test when restaurant manager, Carlos Rives, and Lenny Judice, Executive Chef, surprised us. The restaurant's pastry chef Jessica Urrut appeared at the table with a memorable dessert sampler that included a banana crème caramel that was simply fabulous (reminiscent of Bananas Foster), two perfect Profiteroles, a Bailey's and orange ice cream and a very inventive herbed sorbet with parsley, mint and cilantro flavours — what an amazing combination! Rounding out the sampler were delicious bits of nut brittle — simply out of this world.

The best way to get there is to arrive by boat but if that's not an option, grab a cab and relax. Either way, the 15th Street Fisheries will become one of your favourite spots for sure!

Photo Captions:
Photo 1 - Galley Guys Andy Adams [left] and John Armstrong arrive on the pier at the 15th St. Fisheries in Fort Lauderdale.
Photo 2 - The combination of flavors and textures in the pan-roasted black grouper with red and golden quinoa, wild mushrooms and baby clam meat in a lobster sherry cream sauce was sensational.
Photo 3 - Restaurant manager, Carlos Rives [left] and Lenny Judice, Executive Chef, took a moment to greet us in person.
Photo 4 - Topping off our special evening was a dessert sampler made by pastry chef Jessica Urrut. Incredible!
Photo 5 - John Armstrong is not keen on posing for this photo while his amazing dinner goes cold!


By Galley Guys Andy Adams and John Armstrong