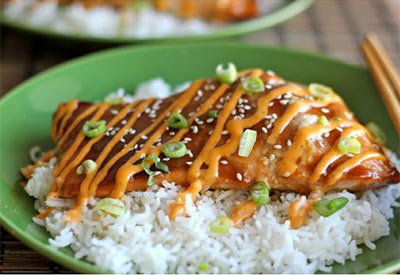 An easy salmon dish with homemade teriyaki sauce and a Sriracha cream sauce that will knock your socks off!

Ingredients

    1 tablespoon cornstarch
    1/4 cup soy sauce
    1/4 cup brown sugar, packed
    1/2 teaspoon ground ginger
    1/4 teaspoon garlic powder
    2 tablespoons honey
    2 salmon filets
    For the Sriracha cream sauce
    1/2 cup mayonnaise
    2-3 tablespoons Sriracha*
    1 1/2 tablespoons sweetened condensed milk

Instructions

    To make the Sriracha cream sauce, whisk together mayonnaise, 2 tablespoons Sriracha and condensed milk in a small bowl; set aside.
    In a small bowl, whisk together cornstarch and 1/4 cup water; set aside.
    In a small saucepan over medium heat, add soy sauce, brown sugar, ginger, garlic powder, honey and 1 cup water; bring to a simmer. Stir in cornstarch mixture until thickened enough to coat the back of a spoon, about 2 minutes; let cool to room temperature.
    In a gallon size Ziploc bag or large bowl, combine teriyaki marinade and salmon filets; marinate for at least 30 minutes to overnight, turning the bag occasionally.
    Preheat oven to 400 degrees F. Lightly coat an 8×8 baking dish with nonstick spray.
    Place salmon filets along with the marinade onto prepared baking dish and bake until the fish flakes easily with a fork, about 20 minutes.
    Serve salmon immediately with Sriracha cream sauce.
View more CY Entertaining Onboard Recipes here

Notes
*Sriracha is an Asian-style hot chili sauce and can be found in the Asian section of your local grocery store.
Recipe courtesy of http://damndelicious.net