Dec 15, 2020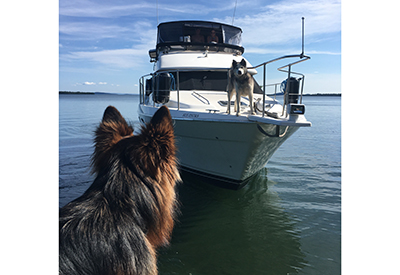 Good morning CYOB

Ours is the 'yacht dog', his name is Siku (which means ice in Inuit we are told - as he has blue eyes) and the 'dock dog' is Murphy. The dogs are old friends!

Murphy's parents own an island and we were coming to visit. They were previously sailors, now landlubbers, for which we forgive them for ... lol.

Lake Superior is our haunt, Thunder Bay. Our boat - Doldrums - is her name, a 47' Bayliner Yacht.

The picture was taken this summer by Murphy's mom, Bev Perigord.

Waiting for the ice to melt and spring to come.....

Denette and Greg
That brings us to you and the Photo of the Week feature. With time on your hands, what could be more fun than going through your boating photos from last season. We'd love to see them too – pets, kids, funny stuff, beauty shots, holidays aboard and Christmas lights? It's all good for sharing.

Just send your photo to This email address is being protected from spambots. You need JavaScript enabled to view it. and please add POTW in the subject line.