Aug 22, 2019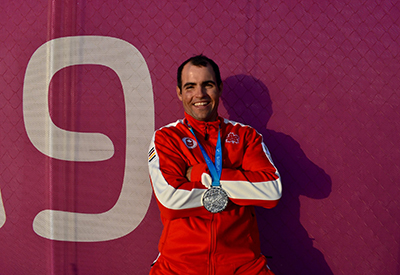 Luke Ramsay, Sunfish Silver Medal. Photos by Sail Canada

Sailing at the 2019 Pan American games wrapped up on August 10 in Paracas, Peru. The event saw an array of conditions that made for a challenging event for our Canadian sailors. With the final medal race of the event in the Sunfish, Canada added another medal for a total of three.

Pan Am veteran, Luke Ramsay, took to the water on the final day fighting for gold. In a event long battle with Brazil, this Sunfish sailor comments: "it was a tight race, we were neck and neck most of the way. In the last upwind my goal was to round with him and put a boat in between us in the downwind. I rounded right with him but I wasn't able to get overlap which would have allowed me to have taken him out."


While Luke was unable to pass him, he still managed to find a spot on the podium bringing home silver for Canada. "Re-joining the Canadian team was such a blast.

Sarah Douglas had already won Canada's lone gold. Coming straight from Japan, Sarah wasted no time to get out on the water to show us what she here came to do, win.
Finishing 3rd overall, the team of Alexander Heinzemann and Justin Barnes not only brings home a bronze medal for Canada, but they also secure the country a spot in the 49er for Tokyo 2020.


Here are the final results of the 2019 Pan American Games:

Laser - Robert Davis - 6th

Laser Radial - Sarah Douglas - 1st

Sunfish - Luke Ramsay - 2nd

RS:X Women - Olivia Mew - 6th

Kiteboarding - Michael Brodeur - 5th

49er - Alexander Heinzemann and Justin Barnes - 3rd

49er FX - Ali Ten Hove and Mariah Millen - 4th

Nacra 17 - Allie Surette and Max Flinn - 9th

Lightning - Richard Walsh, Alex Cox, and Nikka Stoger - 7th