By Andy Adams
While the Osborne-Killey steam engine is a wonderful thing to see, we especially wanted to let you know that the steam launch Phoebe is on display there too. Built in 1914, the Phoebe is located under a timber frame structure built in 2008 by high school students and their teacher. 
The Phoebe is a 48-foot historic steam launch built in Kingston in 1914 by the Davis Dry Dock Company for the world renowned astronomer, inventor and instrument maker, Dr. John Brashear. John named the boat after his wife Phoebe Stewart. John was from an early age on, interested in astronomy but he trained as a mechanic. John and Phoebe married young and both contributed immensely to the sciences in the late 1800s, the Gilded Age in North America. 
Pump House Steam Museum, Kingston with Historic Steam Yacht Phoebe
Museum open year round. Check website for hours.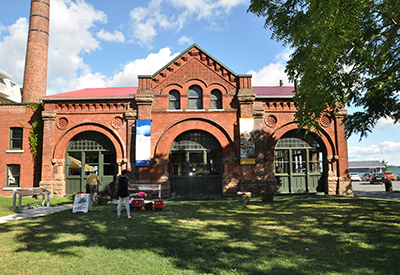 More Photo Tours:
ACBS Toronto, Summer Boat Show, Gravenhurst, Ontario
Canadian Canoe Museum, Peterborough, Ontario
Marine Museum of the Great Lakes at Kingston, Ontario
Gananoque, Ontario, Thousand Islands – Boldt Castle Yacht House
Antique Boat Museum, Clayton, New York
Vancouver Wooden Boat Festival, Granville Island, Vancouver, B.C.