By Andrew McDonald
For most of us, the thrill of being aboard is associated with the motion of the water, wind in our hair, the laughter of friends, the speed and fresh air. It's primal and sensory. It excites us in ways that are tough to describe. That excitement vastly overshadows any of the cumbersome aspects of boating.
The excitement of the overnights on the dock is worth the energy spent in hauling bags of ice. The thrill of a weekend cruising vastly outweighs the areas that we dread: corralling children and pets, a storm front rolling in, and raucous neighbors at an unfamiliar marina.
With aging populations and accelerating climate change, there is one area in the boating lifestyle that is sure to throw a wrench in a summer weekend; the August sun beating down on us. SPF numbers become more of a concern than wind speed. The quantity (and quality) of sunscreen applications are monitored more closely than water depth and wave height.
The Makefast shade is featured on the Cruisers Yachts 60 Cantius and brings welcome shade and added comfort to the bow seating area.
Bolstered by the need to enjoy time on the water in every conceivable comfort, humans have always found a way to find shelter from the sun. Decades ago, the boom tent served the dual purpose of sheltering wood and varnish from damage, but also served as a place to hide from the noon sun.
In an effort to stretch beyond these confines, the dodger, Bimini and full enclosures have become a staple – serving to protect from bugs, weather, spray and sun. These covers and enclosures are custom fitted to the vessel that they are installed on – they can be patterned to match production boats, or they can be fitted to meet an owner's particular wants and needs; with respect to head-room, support size and location, snaps, zippers, and access points.
With an inventive spirit, these types of shades, tops, covers and enclosures have begun to incorporate stylized mouldings and caps, sleek lines, and ease of set-up and removal. The materials used have made major advances over time – today's canvas enclosures are hardly canvas. They are made of modern materials that can incorporate UV protection, ease of cleaning, fade resistance, mould/mildew resistance and breathability. Acrylic windows have anti-fog and anti-scratch elements, as well as resistance to dirt, and suitability in a range of temperatures. Zippers and snaps have become more robust, and modern designs have flaps, folds and Velcro incorporated to ensure that the enclosure is secure and water-tight.
Here is another Makefast shade on a CruisersYachts 37GLS South Beach.
An entire industry has developed around the creation of templates, and the lofting of enclosure sections. Hardware has become standardized, and repairs and upgrades are easier today than ever before, with many companies across the country offering services to create, repair and re-tool enclosures.
But moving beyond the traditional dodger/Bimini and canvas enclosure, a number of manufacturer's have been hard at work to maximize your boating enjoyment. The trend in these designs appears to be to allow boaters to have sun protection, but without the 'enclosure' closing boaters off from the nature that is to be enjoyed. Here are a few ways that you can begin taking advantage of the market's space-age materials and 12-volt technology to take sun protection aboard to the next level.
The ShadeFin by Taco marine is easily deployed shade when you need it.
Taco Marine (www.tacomarine.com), a leader in the marine accessories market, has introduced a game-changer for the sport fishing industry; The Shade Fin. Imagine a world where the limited space on board a sport fishing boat becomes dual purpose, allowing comfort to be forefront in a compact area that is designed to be purely functional. They've created a sunshade that is designed to be supported by a rod holder and can be configured to fit in any area of the boat utilizing a fixed or adjustable base, that fits into any T-top rod holder, (or into a gunwhale rod holder by using an adaptor). The ocean-inspired design is meant to be compact and versatile, and when expanded will cover an area of 5'x6'. The sun protection is available in either black or white and is rated to offer 50+ UPF (Ultraviolet Protection Factor). It is available for purchase directly through Taco Marine, or through their dealer network.
T-Top Boat Covers (ttopcustomcovers.com), has tackled the same problem using space-age materials and prefabricated kits to match popular boat models and configurations. Their shades are made of Resilience – a product that looks, feels and stretches like Spandex, and is designed with a reflective coating that will reflect up to 75% of UV heat, and blocks out UV rays. Their website ordering page is prepopulated with boat models, and allows customers to select coverage/shade areas, and shade colour. These shades are designed to work alongside vessels with a T-top or a hard-top aboard a centre console boat. Kits come with telescoping poles, storage bags and accessories to secure the shade appropriately.
Another example of a SureShade installation.
SureShade (www.sureshade.com) has taken sun protection to the next level, by incorporating a shade into a motorized (12V or 24V) and fully self-supported awning. The SureShade is mounted on a retractable roller, so that at first glance, the boat appears to have no shade or Bimini at all. However, at the push of a button (wall mounted or remote controlled), the internal motor allows the support structure and shade to extend, offering a customized solution (up to 7'x12' shade coverage), with no external supporting poles or straps to rig, and a clean, elegant look.
SureShade has partnered with a number of manufacturers to build their system into the hard-tops of luxury craft, meaning that the shade, supports, actuator and rollers can be built into a vessel's hard-top during production. These designs have been fully customized and built into the curves, lines and structure of the vessel. They've taken things a step further by preparing directions for after-market installations on vessels with existing hard-tops, allowing units to be mounted on the top, or underside of the hard-top and offering varying widths to accommodate vessel shape and owner preferences.
Clearly, gone is the day of hoisting and tying off a tarp to offer protection from the elements. Today's weather protection systems offer the materials that are best suited to protect from wind, rain and sun, but they are particularly suited to address the modern boater's need for ease and comfort in order to maximize their experience aboard. Space-age materials make modern covers and shades compact and durable, while offering superior UV protection. Manufacturers, like Taco, T-Top Boat Covers and Sure Shade have recognized the priority that modern boaters have placed on sun-protection and have met that need with options that also have the stylistic elements to appease the most discerning eye.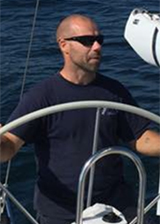 Andrew McDonald is the owner of Lakeside Marine Services – a boat repair/maintenance firm based in Toronto. Andrew has worked in the marine industry for 12 years and is a graduate of the Georgian College 'Mechanical Techniques - Marine Engine Mechanic' program.
Questions or comments for Andrew? Email him directly via: This email address is being protected from spambots. You need JavaScript enabled to view it.