This time of year, great deals abound. That boat with the 'for sale' sign looks quite attractive. The asking price is less than expected – the paint and varnish look great, with a bit of a polish and clean you can already feel the wind in your hair as you make way down the lake.
For less than US$2,500, Jim Leshaw, a lawyer who lives and works in Key Biscayne, Florida, installed an onboard wireless network that allows him to work from many remote locations.
A propeller is only as effective as the rest of the drive system. This is a bold statement; but the two experts I talked with while researching...
This article is the first of 2 parts. Part 1 deals propellers for displacement boats and Part 2 will cover the rest of the drive train...






Absolutely and without a doubt, the biggest advance in boating in recent memory has been the introduction of joystick docking. With these new systems, first pioneered in recreational boating by Volvo Penta in their IPS pod drive systems, docking a large boat in tight quarters, windy conditions, or in strong current was transformed from a task that would challenge the most experienced captain to something a child could do. Children took to it almost immediately because joystick docking was so similar to their videogame controls and so intuitive to use; point the joystick in the direction you want the boat to go and it responds.
There are two kinds of people; those who have thrusters and those who want them! Recently, I was having a conversation with Jon Moles from Toronto Yacht Services and he mentioned how much consumer interest there was around installing bow or stern thrusters. He added that there are often attractive deals at the winter boat shows for smart shoppers who want to save a little money and also be ready to go at the start of the season. So, we set up a time when I could interview Jon and ask what consumers have been looking for from his perspective as the man who actually installs thruster systems.
Investing in a reusable winter cover is a sound environmental choice and a practical way to facilitate winter maintenance on your boat. Over the past few decades, more and more boats in Canada have been put away for the winter under shrink wrap. Properly applied, shrink wrap seals the boat from water and intrusion by creatures, its slippery surface sheds snow (when we get it), and it resists wind and sun all winter. Shrink wrap can also be recycled quite effectively, and some shrink wrap suppliers have created programs to gather used wrap to ensure that it's recycled and not disposed of in a landfill site.
We all know what a fresh coat of paint can do for a room. The same holds true for the interiors of boats except instead of paint, you can introduce a new swatch of fabric that can do amazing things to a dining area, the salon and even a sleeping cabin. Not everyone can buy a new boat, but a relatively small investment and some taste can provide a fresh new look and feel…and it's not that hard to do.
Read more: Is It Time to Give Your Boat's Interior a Fresh...
In keeping with our 'extending the season' theme for the September issue of Canadian Yachting magazine, we wanted to suggest "Upgrading to Satellite TV" systems for your boat.
It is perfect timing. The new TV season is starting, lots of great new shows will premiere and the days will start getting shorter; a perfect excuse for getting cozy in the cabin and watching TV, especially if you have a heating system! (See How To and DIY, Electrical).
We thought this was a good time to remind our readers that there are a number of highly effective heating systems that you could have onboard to extend your cruising season, but without needing shore power, or running a generator.
I know it's tough to beat the comfort and efficiency of a reverse cycle system that provides heat, dehumidification and air conditioning for year-round comfort, but almost all of these systems need either shore power, or a big load of 110 V AC from a generator system.
Read more: Extend Your Season With A Non-Electric Heating...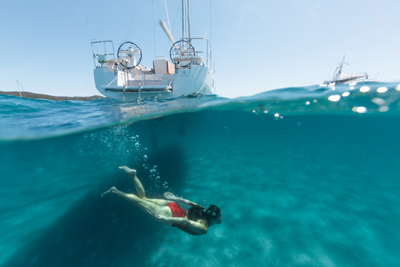 Katherine Stone
all the fun and no hassles without ownership.

There's nothing like owning your own boat – a dream come true for many boating enthusiasts! But along with the joys of boat ownership come the headaches, frustrations, time-consuming repairs and maintenance, and a constant outflow of cash.
Someone once told me that owning a boat was like having a hole in the water into which you poured money – an accurate description if ever I heard one!
Read more about Boating Without Boat Ownership......
The Canadian market has always been a tough nut for yacht designers to figure out. Summer days get really hot; other days are downright cold. There is always the chance things could change in the blink of an eye and let's be honest, who among us hasn't stepped off the boat wearing shorts, flip flops and a warm jacket? Canadian yachting has always been a world of contradictions, which is why designing cruising yachts for this market has never been easy. It's not like Florida or the Med, where weather is dependable throughout the year.
Read more about the Grand Banks 60 Skylounge............
Austin, Texas, USA (25 April 2019) – In the wake of last month's termination of its contract with its European builder, the International Laser Class Association (ILCA) announced today that, from 25 April 2019, all new, class-approved boats will be sold and raced under the "ILCA Dinghy" name. This change will have no impact on existing ILCA-authorized boats and equipment, which will be able to race alongside ILCA Dinghies in all class sanctioned events.

"It's a big change for a racing class that hasn't seen anything like this in our almost 50- year history," said Class President Tracy Usher.
Read More about the ILCA Dinghy............
By Katherine Stone
Docks are well-lit and wide to accommodate dock carts.
Steeped in tradition that goes back to one of the oldest towns in Canada west of Quebec City, is Penetanguishene. This bilingual community of 9,000 is located in the middle of Huronia on the southeasterly tip of Georgian Bay in Simcoe Country, Ontario. The name is believed to have been derived from Algonquin (also believed to have come from the Wendat, Abenaki and Ojibwe tribes) meaning "place of the white rolling sands".
Read more about the Hindson Marina..........
Mercury Marine is pleased to announce the launch of the new MerCruiser V8 6.2L 370hp Jet Ready inboard engine. The new Jet Power Inboard uses MerCruiser's 6.2L small block V8 powerplant in an inboard configuration and has a tailstock in place of a transmission to allow for an easy connection to a jet pump via a jackshaft.
"This engine provides boat builders, dealers and consumers with a Mercury inboard jet option that provides easy integration with a jet pump, a full warranty on jet applications and enables consumers to leverage Mercury's best-in-class dealer network for service,",,,
Read more about the Mercruiser V8 Inboard Engine............
After developing the Figaro Beneteau 3, the first production foiling sailing yacht, Groupe Beneteau has launched a new innovation, unveiling its concept foiling motor yacht.
DEMS Sarrazin Design, Noval and SEAir brought on board a range of design, technical and mechanical skills, alongside the innovation, naval architecture and product design experts from Groupe Beneteau.
Read more about Beneteau's Motor Foiler............