July 23, 2020


By John Gullick, Canadian Power and Sail Squadrons, Manager of Government and Special Programs

Much of this information was taken from Transport Canada's Safe Boating Guide as recently re-published.

The marine rules of the road are set out in Canada's Collision Regulations, Schedule 1, Section I – Conduct of vessels in any condition of visibility and Section II - Conduct of vessels in sight of one another. These regulations can be found by going to: www.tc.gc.ca/eng/marinesafety/tp-tp14070-3590.htm

Obeying the "Rules of the road" on Canadian waters helps all boaters on the water avoid collisions by telling you what you should do to avoid hitting or being hit bay another boat. Following these rules is not just a matter of being courteous or polite, it is the law. These rules apply to all boaters whether they are paddling a canoe or operating a 20 + meter cruiser or sailboat. There are some specific rules for sailboats when they are under sail only. When a sailboat is using auxiliary power, whether the sails are up or not, they are considered a power boat and must follow the same rule as a power boat.

Before identifying some of the specific rules it must be made clear that all vessel operators have a duty to keep a constant watch for others on the water. It is both common sense and the law. Do not assume that others will obey the rules or even know them. The rule of thumb is that boats with the least ability to maneuver have the right of way. So, paddle boats, canoes and kayaks have right of way over powered boats as do sail boats when under sail only. Large commercial boats like tankers, tugs and fishing boats that are working are far less maneuverable than power boats, sail boats and most paddle boats so keep clear. Some small boats may not even be visible to large boats until it is too late. Stay clear of shipping lanes and try to travel in groups so you will be more visible. A large boat giving five or more short blasts on their horn is clearly telling you to get out of the way immediately as you are in danger.

Give plenty of room to tugs or any boat that is towing anything or anyone. Often the tow line is below the water level and cannot be seen. Do not attempt to go between a tug and what it is towing and give both the tug and its tow a lot of room in every direction. Boats that are towing or being towed must display specific lights. Sidelights, a stern light, a yellow towing light similar to a stern light, two mast head lights one above the other (three if the tow is longer than 200 meters) and a diamond shape that is easy to see. The boat or barge being towed must display sidelights, a stern light and a diamond shape if it is over 200 meters.

Marine rules of the road are based on common sense. They are easy to understand if you know the marine terminology for "left" and "right". When you are facing forward in your boat the "left" side is the "Port" side and the "right" side is the "Starboard" side. At night when looking at a boat that is coming toward you the red light is on the "left" or "Port" side and the green light is on the "right" or "Starboard" side.

Memory aid: Left – Port – Red which go together are all shorter words than Right – Starboard – Green which go together.

The arc of light displayed by a red light shows an approaching boat that you have the right of way. The other boat must keep clear. If another boat sees your green arc of light it has the right of way and you must take steps to keep clear but, always remember that the other boat operator may not be aware of your lights, understand the rules or even know them. It is your responsibility to be aware of other boats, what they are doing and take avoiding action if necessary.


- Arc of lights: Arriere – Back or Stern, Babord - Port and Tribord – Starboard
Some other common sense rules:
• Never boat close to or try to spray other boats (sail, power or paddle) and swimmers.
• Don't cut in front of or try to jump the wake of other boats.
Some of the worst boating incidents occur when speed and/or distance is misjudged.
• Operate your boat at a safe speed.
• Be extra careful when visibility is poor.

• Keep your distance from other boats and the shore line when you boat is creating a high wake (the waves that spread out behind your boat when you ate moving forward). You are legally responsible for any damage caused to other boats, property or shore line by your boats wake.

• Reduce your engine noise. Every marine engine must have noise reduction systems that direct the exhaust below the water line and/or have a muffler(s) if it is operated within 5 nautical miles of shore.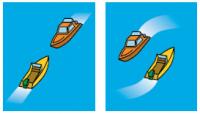 • When towing someone with you boat (skiing, wake boarding, tubing, knee boarding) there must be a spotter on board to keep an eye on the person(s) being towed and there must be an empty seat on board for every person being towed in case they need to come on board.

• Only personal water craft made to carry three or more people may be used for towing activities.

• If anyone being towed is not wearing a PFD or lifejacket then there must be one on board for them.

• No towing is allowed when visibility is poor or from one hour after sunset to sunrise.

• A towing boat cannot be remotely controlled.

• Keep your distance from divers below the surface. Diving is a very popular water sport so know what "diver down" and "Code A" diving boat flags look like.
a "diver down" and "Code A" flags

Diving boats must display the international "Code A" blue and white flag. A red flag with white diagonal stripe indicates a diver down and should be displayed on the boat or a buoy with 100 meters of the diver(s).

• Watch out for seaplanes that may be taking off or landing.

• Be careful near dams or weirs where undertows can be very dangerous. It is against the law to jump, dive, scuba dive, swim or bathe within 40 meters of a dam.
When traveling on one of Canada's historic canals make sure you have good lines and fenders. Reaching poles and a cheap set of cotton work gloves are also a good idea. Some rules for water activities in a canal are:

• No excessive noise between 11 pm and 6 am.

• No fishing within 10 meters of a lock, approach wall or from a bridge that pases over a navigation channel.

• No diving, jumping, scuba diving or swimming in a navigation channel or within 40 meters of a lock gate or dam.

• No waterskiing or any other towing activity in a navigation channel or within 100 meters of a lock.

• No tying up to a navigation aid.

• Obey posted speed limits.

• Keep your boats wake down and obey "no wake" and speed limit signs.

• Keep clear of the channel near the lock gates so other vessels can come and goe safely.

• The blue line on the mooring wall shows where to wait for the next lock through.

• Follow all instructions given by the lockmaster and swing bridge operators. A green traffic light is your signal to proceed. Red means do not proceed.

• Enter locks slowly at idle speed and have people at your bow and stern ready with mooring lines.

• If the lock has drop cables, loop your mooring line once around them once the boat is safely positioned. Do not tie up to them.

• Watch your lines carefully during the lockage and never leave lines unattended. Wearing work gloves will greatly help with grip, help avoid rope burns and keep you hands clean when pushing on lock walls or holding slimy cables.

• Switch off the engine(s) and generator when in the lock. No smoking or open flames.

• The bilge blower must be operating when you are in the lock.

• When lock gates open wait for the lock staff to tell you to start your engine and leave the lock. Make sure all you lines are clear and exit the lock slowly paying attention to any wind, currents or other boats.
Meet John Gullick

John is currently Manager of Government and Special Programmes, Canadian Power and Sail Squadrons responsible for government relations and the management of two national programmes mandated by Transport Canada, Office of Boating Safety and Industry Canada, special projects and staff supervision.

John writes "Just Ask John for the CPS' Port Hole. This article and others are "Second Time Around"

His many achievements in the boating field include:

• Past Chair Canadian Safe Boating Council, 1999 –

• Co Chairman, Recreational Boating Advisory Committee to the National Canadian Marine Advisory Council, 2007 -

• Management of the Pleasure Craft Operator Card and the Restricted Operator Certificate (Maritime) programmes provided through 150 Squadrons, 400 independent Recognized Providers/Examiners and a number of Provincial Partner Organizations.

• Past Chair of the Peterborough Dragon Boat Festival. Considered to be one of the world's largest single day community event of its kind now in its 20th year.