By Andy Adams

Here is a 2002 Doral 330 which was offered at $73,000. This boat has experienced very little depreciation recently and Rob commented that many models have risen in value due to demand.

Get the boat you want and avoid problems and disappointments
Last summer there was tremendous interest in buying a boat to have fun in the restricted world ofCOVID19. People hauled boats to the end of their driveways with "For Sale" signs. Sailboats and cabin cruisers appeared in Kijiji and Craigs List and it sounds like most were sold to new boaters. But, are they happy owners now?

Last fall we interviewed Rob Hopkins, General Manager at Bayshore Yacht Sales. Bayshore operates at six Georgian Bay marinas and are partnered with Maple Leaf Marinas LP.
Rob was quick to agree that web sites like Kijiji can work for boat buyers, especially at the lower price levels for private sellers and buyers looking for a deal.

While people can buy and sell on their own, Rob noted that it's surprising how much time and risk can be involved. In the summer of 2020, the market was hot, sellers often had to do multiple showings which can be very time consuming. Working with a broker will save time and headaches. If you're working with a broker who's on site at the marina you're dealing with, or where the boat is located, they will often have a mechanic, a list of surveyors, or resources to estimate repair costs.

For more expensive purchases, the broker can often help with financing. Private sellers generally cannot.

TRADE INS, INSURANCE AND CONFIDENCE


Some of the boats Rob Hopkins showed us were quite impressive, like this 2016 Meridian with
only 65 hours on it; $439,900 and it looked simply grand.

What if you have a trade-in? Private sellers rarely want to take a trade-in, but brokers can facilitate that.

Another thing that brokers can offer is a lien search. It's essential that the buyer knows the boat is free and clear. Rob shared the story of one client who did not complete a lien search during their purchase, only to find out that the boat was stolen, and a bank had a registered lien on it.

A knowledgeable broker can provide a lot of hand holding and confidence in a deal involving a significant amount of money. You don't want to have to use your house as collateral for bridge financing. That is just not a good idea.

Expect that a good broker will be familiar with all the ship's systems and can review them with the potential buyer. Rob is even able to set up a professional captain to help the buyer feel comfortable and confident at the helm, or in some cases move the boat to its new home in Canada or the U.S.

Given the comparatively huge size of the U.S. market, some buyers will find the boat of their dreams in the U.S. A professional broker can best handle the complexities of a cross-border deal.

CONTRACTS

The contracts and paperwork are very important too. In Canada and the U.S. there is the Certified Professional Yacht Broker (CPYB) program.


Another boat that we went on board was a 1991 Sea Ray 380 Aft Cabin model for only $79,900. This high-quality boat sleeps six and had diesel engines as well.

In addition to specific education and training, CPYB brokers use proper, legally correct forms and paperwork to secure the deal. If you plan to finance the purchase, expect this to be required by the lender.

Depending on the boat's, age, value and your credit, it is possible to buy a boat with 0% down but can range from 10% to 25%. Rob's partnership with the Maple Leaf Marinas group gives him lots of resources beyond the obvious. For example, the Maple Leaf Marinas hold events such as rendezvous trips where boaters follow the leader and gain the experience of anchoring, rafting out and meeting other people who may also be new boaters. It's a great way to get more comfort-able and confident with your own boat.

The boat is a lifestyle investment. It is not like It is not like going on a one-time vacation. Boating can become a lifestyle and the other boat owners in the marina often become friends that you spend time with every year.

Rob also pointed out that life changes over time and if you have a good relationship with a professional broker, they can help you change boats to best meet your family's changing needs. Rob said that typically, things change every three to five years for some of his clients and every seven to 10 years for others. Right now, it may be just you and your spouse, but later you may have young children, or teens. You may want to change your boat and that may mean going smaller as much as going larger.


This handsome late-model Sea Ray Sundancer is a good example of the type of boats Bayshore Yacht Sales had last year.

Some people only want to buy a new boat and that is certainly understandable. These days though, more and more people are looking for a brokerage boat. First, you can afford a much larger brokerage boat on the same budget. The sweet spot last summer seemed to be boats averaging about 13 years of age. Something to con-sider is that you could upgrade, or modify a used boat by adding thrusters, the latest navigation equipment, faux-teak decks, custom paint jobs and other personal touches while keeping the budget down.

A high-quality boat can be expected to last longer and perhaps one of the best reasons for using an experienced broker is that they know the makes and models that have proven to be durable and to hold their value.

Also, you don't need a new boat to get many of the latest features. We were on board a 2011 Sea Ray 390 that has a lot of new technology including the MerCruiser Axius joystick docking system, a very good electronics package and other desirable features.

We should circle back to the issue of the surveyor though. Rob mentioned an example of a one owner used boat that had always been kept clean and looked very good, but the insurance company required a survey from a reputable surveyor before they would provide coverage. It turned out that the boat had significant structural issues in the transom and engine stringers and also had a wet deck. The great looking 25-year-old boat for sale for $60,000, needed $30,000 in repairs.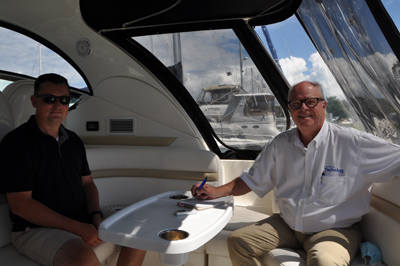 To stay socially distanced, Rob Hopkins (left) and Andy Adams met for our interview in the cockpit of a Sea Ray express cruiser.

Professional brokers will usually provide you with a list of surveyors from which you can choose. They generally don't recommend any particular one but do know the right ones to use and others to avoid.

Boats are great, but they're large and complex. Not every owner is able to get top quality service work. Plan to survey your own boat occasionally just to keep a close watch on its condition. Armed with good information, you can decide to maintain, repair, upgrade or trade.

COVID-19 made last summer a booming market for people buying boats as a cottage replacement. For many, cottages are simply too expensive. A boat can be a valuable asset to your family and provide a lot of fun and stress relief as well as memories that will last a lifetime.

A final reason for working with a professional yacht broker; often the really nice boats are never advertised because the brokers are already aware of them and good boats quickly change hands without anyone knowing.

Rob says if you find a boat you just love then buy it when you find it. It was a really hot market last year and we expect that's going to continue.