Aug 22, 2017
Since the initial article of this series we have looked at the iPad and its use as a marine navigation instrument. We have discussed its functionality, available apps, relevant hardware and compared it to traditional charplotters. This focus on iPad led one of our readers to an interesting question that we have yet to address.
Question: Why has the focus been solely on the use of iPads for marine navigation rather than Android devices?
Answer: The question is a valid one and will receive the full attention of this installment. First and foremost, and for full disclosure, I must admit that I myself prefer Apple devices rather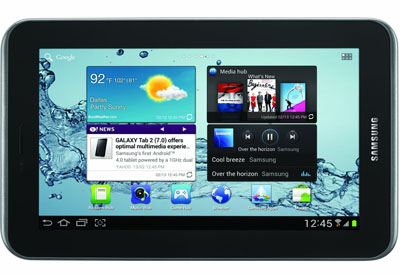 than Android. I have used Android devices but through experience have come to prefer the operating system and layout provided by Apple devices, as well as the connections offered when the majority of your friends and family are also Apple users. But that is just my preference, and like when we compared iPad to standard chartplotters, in the end the question of iPad vs Android really is about preference, but let's see just how the tech holds up when we look a little deeper.
Before even delving into the depths of use for marine navigation we can look at how standard tech reviews rank iPad and Android tablets. In June of this year techradar published an article titled "The 10 best tablets you can buy in 2017." Of the top ten tablets available in 2017 5 different iPad models made the list, and when we look at the top 5 identified by techradar they are in order: 1) 2017 iPad, 2) iPad Pro 10.5, 3) Samsung Galaxy Tab S3, 4) iPad Pro 9.7, 5) iPad Mini 4.
After looking at similar tech reviews iPad quite consistently scores at the top, although a number of Android tablets including the Samsung Galaxy received positive reviews. iPad however does dominate the tablet market in terms of popularity and units sold. In 2016, it was reported that Apple shipped 42.6 million iPads, totalling 24.4% of the market. Samsung Galaxy came in second with 26.6 million tablets for 15.2% of the market.
If we compare standard iPad specs with the Samsung Galaxy there are minor differences but overall both certainly possess the ability to operate marine navigation apps.
However, we have previously identified how essential built in satellite navigation systems are for marine navigation to be functional at sea. The built-in system in iPad only has the ability to connect to GPS
(American) and GLONASS (Russian) satellite navigation systems but the Samsung Galaxy can connect to GPS, GLONASS and BDS (Chinese) satellite navigation systems. However, an external satellite navigation receiver is recommended for both tablets for assured connectivity.
Both have the ability to download and run sophisticated apps, although every app downloaded from iTunes has been tested by Apple for potential malware while Google Play doesn't provide such assured protection. Another feature unique to Android is that a number of Android devices have the added benefit of direct USB connection and external memory ports.
When considering their use in marine navigation we need to review all the factors that make a tablet a viable as a marine navigation instrument. There are a number of products that offer the same sort of protection and mounting for Android tablets that we previously identified for iPad, although there is a much wider range of options available for iPad.
As we made apparent with an earlier article the right navigation app for your intended use is essential and there are a number of marine navigation apps available for each tablet, although apps like iNavX and Garmin Bluechart Mobile are only available on iOS devices. iNavX does however mention in the FAQ section that they have
plans to design the iNavX app for Android devices, although no timeframe is given.
However, those with Android devices can get Navionics, Transas iSailor, Garmin Helm and MX Mariner to name a few. A number of CY readers have written me to share their positive experiences using the Navionics app on iPad and Android tablets.
Although there are marine navigation apps available for both iPad does have the advantage of supporting a wider range of apps, and that in itself is a reflection of the popularity of iOS devices for marine navigation as several popular apps are highly successful yet only available on Apple devices.
So, to return to the original question. iPad has been the focus of this column not due to my preference but is the result of iPads being the most popular and widely used tablet, and although I have received responses from Android users the vast majority of respondents are using iPads to run their marine navigation apps. Apps bring us to the next point. Android tablets are limited in the marine navigation apps available, and for someone like myself who prefers the iNavX app an iOS device is essential. Although we should note for those who do prefer Navionics that iNavx now supports Navionics+ charts.
In the end, we again reach a point of personal preference as both iPad and Android are feasible navigation devices. But ask yourself before heading to the store what features you want and look closely at the navigation app that is right for you and be sure that whichever device you select supports the app you plan to trust before you toss your lines!
Canadian Yachting recommends all mariners carry and are knowledgeable in the use of hard copy marine charts in the event of technical failure.
Sources:
https://9to5mac.com/2017/02/02/apple-tops-tablet-market-ipad-sales-samsung/
https://play.google.com/store/apps/details?id=com.garmin.android.apps.helm&hl=en
http://www.gsmarena.com/samsung_galaxy_tab_s_10_5_lte-6235.php
https://www.apple.com/ca/ipad-9.7/specs/
http://www.techradar.com/news/mobile-computing/tablets/10-best-tablet-pcs-in-the-world-today-1113985
https://play.google.com/store/search?q=marine%20navigation&hl=en
Image sources in order of appearance:
https://francis-fustier.fr/inavx.html
https://www.amazon.com/Samsung-Galaxy-7-Inch-Wi-Fi-Model/dp/B007P4VOWC
http://www.fugawi.com/web/newsletters/20100512_x-traverse_news.htm
https://www.navionics.com/usa/apps/navionics-boating (x2)
https://www.waterwayguide.com/inside
About the author:
Owen was born and raised in Midland, Ontario on the shores of Georgian Bay. He has been boating and navigating ever since and has experience as a paddling instructor, rescue boat operator, and a passenger vessel operator for Parks Canada. He is also an avid fisherman. He obtained his Master's degree from McMaster University and holds SVOP and MedA3 certificates from Transport Canada.