Oct 12, 2017
If you walk the aisles at a boat show, visit a marine store, or stop in at a repair shop, you'll likely be inundated with digital displays, vivid touch-screens, NMEA compatible devices, and Bluetooth connectivity. Every facet of marine electronics seems to be making major advances – we couldn't have imagined many of the electronics found on today's boats, 20 years ago.

Except in shore power.
Sure – there have been new products: new pigtail adaptors, cords with LED lights and increased amperage for modern demands on today's vessels. But the same 'twist and lock' plug is being used that was introduced decades ago. Walk the docks at any marina or yacht club and you'll find 15, 30 and 50A 3-wire twist-lock plugs. Marine store shelves are stocked with the same or similar cords and adaptors found for years. We shrug our shoulders and say - why re-invent the wheel? Those twist-and-lock plugs work great, don't they?


Theoretically – yes. The twist-and-lock action is designed to withstand vibration, protect from harsh weather conditions and prevent the cord from being pulled out of its socket. But unless both plug and socket are used correctly - and maintained appropriately - there is potential for electrical shorts, overheating, and even fire.
A standard wist-and-lock plug cord charred from overloading

Then I heard about SmartPlug. Recognizing the shortcomings of the twist-and-lock plug, they've come up with a multi-point locking system, while matching the durability of their competitor's products. I was intrigued. And then I was asked to install two different set-ups on two different boats and write a product review. My interest turned to excitement as I got to dive in and test their claims first hand.
I was able to test out two packages from SmartPlug:


SmartPlug Inlet and Cordset. The SmartPlug Inlet is the female receptacle on the boat-side. The cordset has a male SmartPlug connector for the boat-side, and a standard twist-and-lock style 30Amp connector on the other, for the shore-side.
SmartPlug inlet and connector kit
SmartPlug Inlet and Connector – The inlet is identical to the first package. The Connector allows for an existing shore-power plug to be modified, by cutting off the twist-and-lock end (boat side), and replacing it with a SmartPlug Connector.

Installations were amazingly straightforward. Here are a few highlights:


I installed each package on two different boats: one was a fiberglass Beneteau 36.7 racing yacht. The other, a 1960 steel-hulled cruising yawl.

I had basic tools ready: phillips screwdriver, flat-head screwdriver, wire crimpers, wire cutters, wire strippers and allen keys. I only needed the phillips screwdriver to remove the 4 screws

Existing Twist-and-lock Inlet

replacing the original inlet with the SmartPlug inlet. The packaging included the only other tool needed: an allen key

No cutting was necessary: The SmartPlug inlet matches the surface area and shape of the existing inlet.

No caulking, tape or glue: gasket material is included, pre-cut.
Installing package # 1 was most straightforward - total time, from opening the package to final testing: 17 minutes.


Installing package #2 required a bit more care and skill – wires had to be cut, stripped and fed – but the folks at SmartPlug have made this as simple and straightforward as possible, by including clear directions, and an additional guide-tool to aid in the necessary connections.
SmartPlug Inlet wired and ready for install

Here are some highlights of the final results:
The SmartPlug advertising indicates that the pins have increased contact area vs competitors – this certainly seems to be correct when comparing the two styles of plugs

More SmartPlug literature shows ambient temperatures of the plug connection of the twist-and-lock style are much higher than those of the SmartPlug design (This equates to a poor connection between plug and inlet, which further equates to voltage drop and potential risk of arcing or fire). I tested the temperature of the connection with a laser-style temperature reading. The temperature of the SmartPlug connection was 1.4 degrees F less than that of the twist-and-lock connection (after being plugged into shore power for 1 hour, with the boat's equipment drawing 5Amps, with the same weather conditions in each test).


This seems to back-up SmartPlugs claims I've always fumbled and had to double (sometimes triple!) check my twist-and-lock connection. The SmartPlug connection offers a satisfying and audible 'click' as it seats securely. It made me feel a lot more confident walking away, after plugging in.
SmartPlug Cord set
The lock is strong. I tripped, pulled, yanked and kicked at the cord and connection. It wouldn't come free. Until I wanted it to, and then I was able to unseat the connection smoothly with one hand.

The orange colour of the inlet and cordset is a nice change from the common yellow.

A clear snap-on weather-resistant cover is available for the boat-side plug.

The SmartPlugcordset has a blue LED light on the boat-side that shows when the shore-end is providing power – another safety and confidence feature

After browsing a local marine store, I found SmartPlug packages available (Inlet, Connector, Cordset and Plug Cover), and priced higher than existing twist-and-lock plugs, cordsets and adaptors. While not an unreasonable difference, this may be a deciding factor for some.

SmartPlug doesn't produce any pigtail adaptors – which may mean using a combination of products in order to achieve the desired end result


Measuring the temperature of the Connector after installation of the changeover option

In summary: SmartPlug has produced a product and product set that fills an identified short-coming in existing shore-power products: specifically the concerns around safety with existing twist-and-lock products. They've managed to retain all the positive attributes of existing products (durability and resistance to weather and vibration), while providing increased confidence, in a product that is simple and straightforward to install. I was excited to see the next evolution of shore power, first hand. I'm sure you will be too.

For more information about SmartPlug and their products, check out: www.Smartplug.com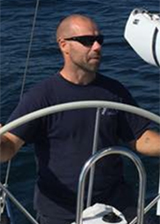 Andrew McDonald is the owner of Lakeside Marine Services – a boat repair/maintenance firm based in Toronto. Andrew has worked in the marine industry for 12 years and is a graduate of the Georgian College 'Mechanical Techniques - Marine Engine Mechanic' program.
Questions or comments for Andrew? Email him directly via: This email address is being protected from spambots. You need JavaScript enabled to view it.