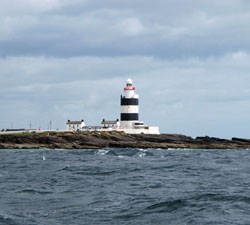 Paul and I both have roots in the British Isles so this past summer we decided to spend a season sailing from England to Ireland and Scotland to visit the homeland of our grandparents and catch up with relatives still living there. And since Scotland is not that far from Norway – a 25-hour passage across the North Sea - we worked that in to our itinerary too.
This story begins with our return to England last spring and Leg One of the 2011 cruise – the voyage from England to Ireland along the coast of the Celtic and Irish Seas.
Paul and I flew back to England from Toronto during a snowstorm. We landed in London Gatwick the next morning where there was a heat wave; everyone was in shorts and T-shirts.
Admittedly, the weather was unusually warm in England at the time – perfect for boat maintenance and passage preparations, street parties and weddings. Little did we know at the time that it would be the best weather of our entire
summer cruise. We had not seen the last of our heavy jackets. But we were under no delusions. You don't go to the British Isles or Norway "for the weather". One of the reasons we wanted to explore this part of the world was to expand our cruising experience and ability to sail comfortably in cooler climates after 20 years sailing in tropical and semi-tropical cruising destinations.
On May 4, we said our farewells and the next morning were up at 0500 hours to catch a favourable tide and current past The Needles, a distinctive group of chalky stacks lying off the west end of the Isle of Wight. From here we entered the English Channel, busy with shipping, and headed west. The glorious weather was still with us and we had a fabulous downwind sail for 92 nm along England's south coast all the way to Dartmouth in the county of Devon, a picturesque deep-water port used in days-gone-by as a base for privateers, a sailing point for the Crusades, and home of the British navy from the reign of Edward III, to name a few. We stopped there for two reasons: gourmet fish and chips at the famous waterfront restaurant, RockFish Seafood & Chips; and, a good night's sleep before making a daysail to Falmouth on England's Cornish coast.
Falmouth, the world's third largest natural deep water harbour and the start or finish point for many record-breaking round-the-world sailing voyages, was our point of departure to cross the Celtic Sea. Before leaving, we spent almost a week there at the Falmouth Visitors' Yacht Haven which is within walking distance of excellent chandleries, hardware stores, grocery stores, bookstores, boutiques, restaurants and pubs – a great place to meet up with family and do a few more preparations for our passage.
We were also watching the weather that for days and days into the forecast had headwinds blowing straight from Cork, Ireland's sailing capital on the south coast, our first planned destination on the Emerald Isle. We finally said, "sod it", bought a dozen fresh-baked Cornish pasties (crescent-shaped meat pies made famous by Cornish miners) which are easy to eat on watch, hugged our cousins and cast off, changing our course to Waterford on the southeast coast of Ireland which we could lay with a close-reach.
We sailed out of Falmouth Harbour at 1000 on May 11, rounded The Lizard at 1330 and Land's End by 1700. Pinching the course we pointed the bows for Waterford across the Celtic Sea. It was a rough night with apparent winds reaching 25-30 knots during our night watches, 2100-midnight and midnight to 0300. We reefed down the main and partly furled our small self-tacking jib and Distant Shores II sliced through the head seas at 8-8.5 knots. At 0945 Paul called "Land Ho!" and soon Hook Light, one of the world's oldest lighthouses, came into view marking the entrance to Waterford Harbour and estuary, our first cruising ground in Ireland.
Waterford Harbour has been a working port since the 9th century when the Vikings established a base here. You may have heard of Waterford since world famous Waterford Crystal has been made here for over 200 years. Waterford City is on the River Suir, one of three rivers that branch off the estuary. The other two are the River Nore and the River Barrow. Together they are known as the Three Sisters and together with the ports around the estuary make a lovely protected cruising ground. New Ross, at the mouth of the River Barrow is 20 nm up from Hook Light and has a brand new marina so we
headed up there to do some exploring and to visit the replica of the tall ship, Dunbrody. The original ship was built in Montreal, Canada in 1845 and during the Great Potato Famine in the mid-1800s delivered many people from starvation to begin new lives in Canada and the US. New Ross has a very active boat club whose members welcome all visitors to join in events including a memorable traditional music night at the clubhouse. M
usic nights, we were to discover, are a popular and delightful social activity in clubs, pubs and people's homes all across Ireland.
New Ross is also the gateway to Ireland's Inland Waterways. You can travel through the whole country right up to Shannon and all the way through Northern Ireland. The bridges are too low for our boat but a local powerboater, Marty Murphy, invited us to join him on a day trip down the Barrow Navigation back to New Ross through five locks starting at the village of Craignamanagh. It was a great day with a new friend travelling inland through small historic towns surrounded by lush green hillsides. The hills are green for a reason – lots of rain! You always have to dress for the weather in Ireland.
May 18 we finally tore ourselves away from the estuary and continued northwards up the coast stopping for a night at the fishing village of Kilmore Quay. At Carnsore Point we left the Celtic Sea behind and entered the Irish Sea, and with an out-of-season gale predicted in the weather forecast, we headed straight for Dublin Bay, and the protection of the excellent Dun Laoghaire Marina. When we checked in we were fingerprinted and to open the gates to get into the marina there was a machine that scanned your fingerprints. This was a new one! No worries about forgetting your gate card!
While gale winds howled we hopped the commuter train into downtown Dublin. A few days earlier, Queen Elizabeth had paid an historic visit and today was Obama's day in town. Not much was open and the city was filled with out-of-town police brought in for security but it was a big street party and we heard Obama speak inspiring words to the crowds. We returned the next day when things were back to normal and visited the Guinness Storehouse and Brewery where Paul learned "the proper way to pour a Guinness", Ireland's famous dark beer; he earned a certificate to hang on our bulkhead.
A week later the winds subsided and we continued on to another dramatic cruising ground, Carlingford Lough, which is a sea inlet or fjord off the Irish Sea. The border of the Republic of Ireland and Northern Ireland runs down the middle and local sailors had stories to tell of the naval patrols that went on here during times of conflict. You can sail and travel freely back and forth between the two. Just remember that the currency in the north is British Pounds Sterling and the road signs are in miles instead of kilometres.
Once again we received a warm welcome from boaters at the Carlingford Marina and Carlingford Sailing Club and had an enjoyable few days of boat trips, club dinners, and pub-hopping for which Carlingford has an excellent reputation. In fact, it is the prime destination for Hen Parties and Stags in Ireland due to the variety of restaurants and pubs and it's only an hour from the two major cities of Dublin and Belfast.
Belfast in Northern Ireland was our next port-of-call on our voyage where we again had a family get-together with cousins on my mother's side. We kept the boat at Bangor Marina close to Belfast and visited the Titanic Exhibition. The ship, Titanic, that tragically sank on April 14, 1912, almost 100 years ago, was built in the Belfast shipyard of Harland and Wolff and, as the Irish like to say, "It was all right when it left here!" Many of the required safety practices that we carry out today, such as maintaining a radio watch, are a result of this tragedy.
We've come a long way in 100 years and felt very blessed that as recreational boaters we can travel safely to the world's great destinations across many seas.
Story and Photos by Sheryl and Paul Shard