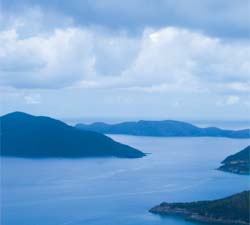 In Tortola's far eastern reaches a causeway crosses a strait etched by the Caribbean. It leads to Beef Island, one member of the forty-island archipelago called the British Virgin Islands. Two hundred years ago cattle grazed here. Today it is home to the airport.
Two categories of lines inside the concourse greet deplaning passengers: one for the rest of us, one for "Belongers". You had to have been born here to queue up in that line.
But survive each of these five rites of passage and, at least in your heart, you'll become a "belonger."
Rounding the tip of Great Camanoe Island, Toronto businessman Brian Curtis turns the wheel to port and lets out the sails. The Horizon Yacht Charters boat gallops across the water like a thoroughbred racehorse.
Tortola's peaks offer an ever-changing vista as they glide off the port beam, shaded and striated when bruised cumulus clouds hide the sun, emerald and avocado when the sun breaks out.
Whitby resident Heather Boisson sunbathes on the foredeck but she sits up every once in a while and smiles toward the cockpit. "You see one of the most beautiful views in the world," she says, remembering. "Then you look around ten minutes later and it's even more beautiful."
Curtis grasps the stainless steel steering wheel. "You have to sail the BVI's at least once in your life," he says. He knows how to sail so he can "bareboat" here.
"But you don't need to be an expert," says Horizon Yacht Charters' Nicola Massey. "We can provide a skipper and a cook if you need it. You can ship a skipper for a day or two; we'll even provision the boat for you."
She looks through the window at their Nanny Cay base – at the boats lashed to the dock, toward Norman Island. "The only way to really get these islands is to sail to them."
The British Virgin Islands boast an intriguing cast of characters, both true and honorary 'belongers.' Richard Branson owns a private island here, Morgan Freeman keeps his boat on Virgin Gorda.
Then there's Foxy Callwood, proprietor of one the best-known bars in the Caribbean.
"Best fun I had was the night we danced at Foxy's," says Boisson. "Something so cool about dancing in the sand. Great band, great company – and I got to dance with Foxy."
Scintillating white Christmas lights glitter from the rafters of this beach bar all year long on Jost Van Dyke. Fishing nets are strung along the rafters, weighted down with license plates and club burgees and t-shirts and a million and one business cards. Great long wooden tables are lined up across the sand, nautical charts affixed to their surfaces.
Four guys in matching t-shirts – the crew from a racing sloop – sit across from you. A middle-aged man stands forlorn at the nearby dinghy dock. "Looking for my daughter," he says, "she's sixteen."
Dancers – weaving to reggae, gyrating to soca – churn up the sand in front of the six-piece band.
Roughly three hundred people live on Jost Van Dyke. There are two hundred people here tonight.
Dancing the night away at Foxy's may be one of your best BVI memories…assuming you remember the night at all.
Clear plastic bags full of water dangle from the rafters of the Soggy Dollar Bar on Jost Van Dyke's White Bay. "My boss thinks they keep the flies away," says Shaneek the bartender. "Humour her, please."
Early cruisers anchored their boats inside the reef and swam ashore to imbibe the Painkiller, the most famous drink in the islands. "They paid with soggy dollars," says Shaneek, putting a glass on the bar before you.
Take a portion of Pusser's Rum. Stir in orange juice, pineapple juice and coconut and sprinkle it with nutmeg. "Can't tell you the proportions," says Shaneek.
Back on Tortola, you prowl the supermarkets; you acquire rum. You just may uncover the secret of the Painkiller.
But beware. According to Boisson, "Painkillers go down way too easily." They are to BVI what Appleton's Rum is to Jamaica – available everywhere.
But here, at Soggy Dollar, is where it all began.
Chris Doyle, author of the Cruising Guide to the Virgin Islands, calls Cane Garden Bay "one of the most beautiful anchorages in the islands."
Nice sunsets too.
From your balcony at Lighthouse Villas overlooking the beach you watch the sun begin to fall. It bathes the water in fluorescent orange and fire engine red. The masts of a multitude of boats sway gently here as if in synchronicity with the sound track provided by the band down at Quito Rhymer's bar.
Malcia Rhymer, Quito's sister, and co-proprietor of Lighthouse, hosts a sundown cocktail party on the terrace. People chat in a desultory fashion as the light changes, now sending the hulls of those boats into stark relief, now gleaming through their portholes.
The sky grows violet, the other islands grow indigo.
This is your last night on the islands and nature itself has joined your farewell celebration.
People on the deck fall silent. It is a long time before anyone says anything.
Then one person sums up the feeling, succinctly and eloquently.
"Wow."
The only other sound is the whisper of the surf.
You can see forever from flagstone outside the bar at the Top of the Baths on Virgin Gorda.
A guy named Bucky, who flew from San Juan on the same plane, stretches out in a chair beneath a teal umbrella. He indicates an empty chair across the table.
Islands are scattered across the surface of Drake Passage like priceless gems.
Down below great caverns sprout from the end of a tiny beach. Inside one cavern the water goes up to your knees. The sun streams in as if through the stained glass windows of a granite cathedral. "Just how God made it," says Curtis.
Bucky waves at the waiter, points at the Red Stripe beer in front of him, and nods toward you. A kilometer from shore the waters are royal blue. Just beyond a bunch of bobbing dinghies lashed to great floating orange mooring balls they are aquamarine. The waiter brings your beer.  Bucky raises his beer in a toast and stares out over Drake Passage.
"Nice spot."
You nod laconically but you don't say anything because you don't have to. Bucky is obviously an honorary belonger.
And, now, so are you.
FAST FACTS
For more tips on becoming a belonger log on to www.bvitourism.com
Horizon Yacht Charters is a friendly company that will make your trip a memorable experience. Check out www.horizonyachtcharters.com
Bareboat sailing began in the BVI's so both major charter companies have bases here. Go to www.sunsail.com or www.moorings.com for more information on chartering for a huge selection of monohulls and catamarans.
Go to www.travel-watch.com/lighthouse for information on rates, reservations and amenities at Lighthouse Villas.
For a great suite away from it all, beside another gorgeous beach - Brewer's Bay, log on to www.icisvillas.com