Story and photos by John Armstrong
As I left Toronto to join our flotilla in Tortola I must admit I had some sympathy, (not much mind you) at having to leave behind the other two Galley Guys, Andy Adams and Greg Nicoll whom both had other commitments.
The first leg of the trip took us from Toronto to Miami and then on to St. Thomas  where we were met by Elvis our taxi driver who took us to Red Hook Marina where Captain Camille of Dolphin Water Taxis shuttled us over to Tortola.
We arrived at the Sunsail base around 8PM; met the rest of the 37 Members of our Canadian Flotilla which was comprised of a number of SailTime GTA (a division of True North Yachts) Members and various other families from the GTA.
Our first stop enroute to Bitter End was Norman Island and the infamous "Willy T's", I cannot elaborate on what happens there, but WOW !!!
Day 2 we headed for Jost Van Dyke and spent the night in Great Harbour,  and tendered in to " Foxy's " for another great meal and party party !!
Day 3 was Cane Garden Bay and then Trellis Bay for day 4.
Day 5 we headed for Bitter End with a stop at the Baths.
We arrived at the Bitter End Yacht Club mid afternoon where we were met by Carine Locher who is the Quarterdeck Marina Manager for the Bitter End Yacht Club. Carine is of Swiss descent and her operation runs as smoothly as a Swiss Watch, Carine and her Staff were wonderful to us and made us feel like true Bitter Enders.
While the rest of the Flotilla basked in the pool I spent most of the afternoon acquainting myself with this incredible facility and the incredible Staff Members.
There are a number of boutique shops which carry everything that you would normally find in a high end mall.
I wandered into Winston's Bakery where Executive Chef Baker Winston Butler creates his to die for desserts as well as many different pastries and breads.
On my way back to the boat I stopped in at " The Crawl Pub " for a cold popsy where I met Baccus the head bartender, he was kind enough to make me his signature cocktail called a Sunrise, and if one was to consume too many of these you would never see another sunrise.
Marielle Arneaud, the Bitter End Food & Beverage Manager organized 5 tables for us in the Clubhouse Grill, where we all met for dinner.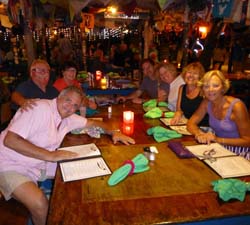 Dining Room Manager Romell Beazer along with servers Savi and Elizabeth spoiled us in every which way with both wine and main course suggestions followed by sumptuous desserts.
The Head Chef was away on leave but the Sous Chef prepared 2 signature dishes, Lobster and Snapper, for a Galley Guys treat, and that it was.
Not to be outdone the Pastry Chef then arrived on the scene with Key Lime Tarts which was a perfect ending to a perfect meal.
After our dinner we retreated back to the docks and still managed to party- party the night away.
We left the next morning for Copper Island where our good friend Marni Hill had already made dinner reservations for the group, and again another great meal.
We departed Copper Island early on the Saturday morning, with no wind so we motored back to the Sunsail Base and reality, as it was time to head home.
I would like to thank everyone in the group who made our Flotilla a very memorable event and would also like to thank Greg Marlow of Yacht Solutions who made our travel arrangements and organized the boats with Sunsail.  
Photo Captions:
Photo 1 - On arrival, we were met by Carine Locher who is the Quarterdeck Marina Manager for the Bitter End Yacht Club and one of her team.
Photo 2 - We loved the name! This is the "Crawl Pub" at Bitter End.
Photo 3 - Baccus is the head bartender at " The Crawl Pub " and he mixed me his signature cocktail called a Sunrise.
Photo 4 - Our floatilla hits Foxy's, a very well known Caribbean nightspot.
Photo 5 - The front of the Bitter End Sailing School open for kids as well as adults.
Photo 6 - Here is part of our group at the Bitter End Yacht Club. This is a great place for couples as well as kids and families.