By: Steven Bull (Host – Water Ways TV)
I start every article, story or TV segment about boating out of the biggest city in Canada the same way. Citing the multiple people who told me I would "quickly get bored of Toronto harbour" or that "there's nothing to do in Lake Ontario" and that it was only a matter of time before I moved marinas to a much more appropriate setting just north of the city.
Smooth sailing in 350-feet of water, 10 nautical miles offshore.
With all due respect to my pals who boat in Georgian Bay, I don't foresee that happening anytime soon. Next year will be my tenth in Toronto Harbour and I love it more each year.
Before you call me crazy, allow me to clarify. Georgian Bay is an absolute geographic gem. The natural beauty of the islands and anchorages blows away the shoreline of western Lake Ontario – with all due respect to the Scarborough Bluffs. But serene solitude and Group of Seven-worthy natural backdrops aren't all there is to boating.
As someone who lives in Toronto, and whose wife works downtown, the ability to get to our boat in 30 minutes from our house is certainly appealing. Friday nights spent on the boat beat fighting traffic.
Getting lost in the solitude of the Toronto Island lagoons.
But there's so much more than convenience that makes me love this region. There is easy access to the Thousand Islands, the southern shore offers New York State destinations and, of course, you have access to the Trent-Severn Waterway. But those are all longer trips. We do take those but usually when we have a week or two of vacation booked.
When we're in weekend-warrior mode we're largely tied to the inside of the Golden Horseshoe; the shoreline that wraps from Toronto westward to Hamilton and loops back eastward along the southern shore to the Niagara Region.
Toronto Harbour itself is a fascinating place that manages to combine city and solitude. The islands were once a peninsula. A storm in 1858 blew open a gap in the strip of land connecting what is now the Port Lands to what became Ward's Island. It was further widened and is now the primary access point for large ships accessing the inner harbour.
The islands themselves have undergone massive change as well that is, arguably, no less dramatic than the effects of a massive storm. By the late 1800s, the islands were a bustling community covered with houses, hotels and shops. But in an act of somewhat surprising foresight, the local government began a process of expropriation to turn the islands into a wide-open park for the whole city.
Sunset of Toronto's Royal Canadian Yacht Club.
This met with stiff opposition from the locals who ultimately, got the bulldozers to stop their path of destruction. Around 260 homes have survived, primarily on Ward's and Algonquin Islands on the eastern reach of the islands, as did the church and public school. But the vast majority is now parkland featuring beaches, a disc golf course, gardens, playgrounds and a hedge maze.
Whether you stay at one of the four yacht clubs on the island – Queen City Yacht Club, Royal Canadian Yacht Club, Harbour City Yacht Club or Island Yacht Club – or at Toronto Island Marina, you have fantastic access to this oasis in the city. This is particularly true if you kayak or canoe and can get into the shallow and quiet lagoons that have been left to nature. Herons, swans, turtles, beavers and even coyotes can be spotted around there.
Heading westward past Billy Bishop Airport on the stretch of island that once housed Maple Leaf Stadium – where a young Babe Ruth reportedly hit his first professional home run as a member of the Providence Grays – you're into Humber Bay.
If you take a 90-degree turn to port and head south, you'll want to stay outside the Keep Out buoys that are intended to keep boats well away from the runways. (Breaching these can come with a $10,000 fine and potentially jail time). The beach that runs along this western edge of the island is Hanlan's Beach, part of which is the only officially clothing-optional beach in the city. But it's also a wildly popular anchorage during the day.
Father and son time in the middle of Lake Ontario
You could spend many hours hopping along the marinas and yacht clubs that dot the shoreline, a personal favourite being Port Credit Yacht Club which dates back to 1936. But in the interest of geographic coverage, I'll leave that aside and trust that I'll run into you on their patio during my annual summer visit!
Another family favourite and one, if I'm being brutally honest that I wouldn't have picked as a weekend destination if not by boat, is Oakville. That's not because there's anything wrong with the city, mind you. It's just too close to home to seem like a destination for me. That all changes when I'm behind the wheel of our 2001 Sea Ray 380 Sundancer, which is in many ways our floating cottage.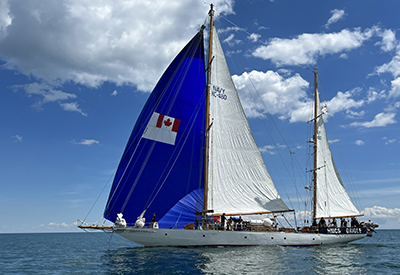 Oakville, as it turns out, is a wildly popular spot for boaters whether it's sail, power or rowing. Sixteen nautical miles west of the islands is the aptly-named, Sixteen Mile Creek. The mouth of this is marked by the small Oakville Lighthouse which dates back to the 1880s. Flanking the mouth are two parks, Lakeside Park with the Oakville museum to the east and Tannery Park which has a public beach and washrooms on the western side.
The flagship of the Royal Canadian Navy, HMCS Oriole, returns to her home port for the first time in decades to celebrate her 101st birthday.
As you work your way upriver, to port is the Oakville Yacht Squadron and directly across the somewhat-narrow channel as you head towards the bridges, is the Oakville Club. Both of these clubs are primarily for sailboats, but on the other side of the bridge is the Oakville Power Boat Club.
Contrary to popular belief, this was not founded as an exclusionary club reacting to the sailors downstream but rather built from the reality that it was on the other side of a bridge that tall masts could not get under. It also has room for larger boats and so this is where we usually end up.
Just around the creek's bend is the Burloak Canoe Club which has pretty serious competitors in its midst including alumnus and Olympic gold medalist, Adam van Koeverden. Keep an eye out for the stand-up paddleboards and swift-moving race canoes and kayaks as they hone their skills. If you're able to bring along kayaks, it's worth the journey up the creek – at a leisurely place mind you. There are stretches where you forget you're smack dab in the middle of a city. You'll want to remember that, though, when you make dinner plans. There are too many great options within walking distance to settle for sandwiches on board!
Apologies to my pals at Bronte Harbour for giving them the same treatment the fine folks at Port Credit got in this piece but again, there are simply too many destinations to include them all!
Toronto Skyline
At the western extreme of Lake Ontario is Hamilton Harbour, accessed by a single channel that is used by pleasure craft and large ships alike. The lift bridge operates on the half-hour for pleasure craft, so long as you've made your way into the channel. You may have to idle here for a bit and keep a keen eye out for freighter traffic and listen to your radio. Whether or not you were there first, you don't want to get into a game of chicken with these behemoths and the turbulent water their massive props churn up.
In low-water years I was able to drop our radio antenna and slide under the lift bridge, but I wouldn't recommend it. If you think there's room, you can radio the bridge operator and ask for the current clearance level but unless it's a sure thing, you're better off waiting.
Hamilton is known as Steeltown to many, and the massive steel plants still dominate the southern shores of the bay. The Hamilton Oshawa Port Authority, HOPA, says the Port of Hamilton is visited by 700 vessels annually and it handles 12 million tons of cargo.
This may be the most overlooked spot on all of Lake Ontario for recreational boats though. Which to me, is a shame. I love it here! The Royal Hamilton Yacht Club can be visited if you're a member of a reciprocal club on the lake and its facilities are truly fantastic. Founded in 1888, it's one of ten clubs in Canada granted a royal designation.
"Worth The Wait" running around in our Toronto 'backyard'.
There are other clubs in here from boat share to smaller yacht clubs around the bay as well. You'll also find Harbour West Marina, a public marina which has undergone massive renovations. In fact, the whole waterfront is in the midst of a reimaging and in the coming years, the city's $140-million plan will have turned this into a real gem of the Lake.
Along the southern shores of Lake Ontario, you'll find Fifty Point, that is, if you know where to look! This may be the best-kept secret simply because you wouldn't know it's here if you were cruising by. Two rocky breakwaters, one with a small lighthouse, mark the entrance to this conservation area surrounded by lush greenery. Back here is a marina with more than 300 slips and the Fifty Point Yacht Club surrounded by the Fifty Point Conservation Area.
Further east is historic Port Dalhousie in St. Catharines. The first important thing to note is how it's pronounced. Unlike Dalhousie University "dal-HOUZ-ee", this is known as "dal-OO-zee".
Some of the best swimming options on the lake are from your boat (Oakville).
The entrance to Port Dalhousie is unmistakable with piers that stretch hundreds of metres into the lake, the western of which is marked with a lighthouse at the farthest reach and another on the mainland. Between Port Dalhousie Pier Marina and Dalhousie Yacht Club, you have hundreds of boats, including many fishing boats and charters that operate out of here. Here too is the home of the Royal Canadian Henley Regatta. It has been going since 1880 and as of 1903, it has found a permanent home on Martindale Pond. If you spend some time here, check out the century-old Lakeside Park Carousel, a Charles Looff hand-carved original, that still charges a nickel-per-ride.
Port Dalhousie was the original Lake Ontario terminus for the Welland Canal's first three iterations. The current one is about three nautical miles further west and an adventure worthy of an entirely new article.
I know I'm biased because it's my boating backyard, but I've got a decade of boating Western Lake Ontario under my belt and I've barely scratched the surface. There are more yacht clubs, marinas, and adventures to be had. Hopefully, I'll be seeing some of you along the way!