Oct 27, 2022


By Dave Norona

The bright summer sun forces its way through magnificent Arbutus trees as I dive off our pop-up-dock finding reprieve in the 80 degree F waters. Sharing the water with a friendly seal as brilliant star fish and oysters cling to the rocky shores of Roscoe Bay. Am I really in British Columbia?

It was last October when I delved into the boating world purchasing a 1999 Maxum Cruiser without telling my wife or daughter, but instead, surprising them the next morning as it sat in the drive-way! I had a vision, and they were ecstatic! I had never boated the coastal waters of BC before but I was eager to learn and pumped to explore! My wife who had spent most of her young life sailing around BC was equally pumped, especially with the faster horsepower than she was accustomed to.

There was work to be done through and I spent the fall getting the boat dialed in. I installed a new aluminum rack which would house a Kahuna stand up board, Stinger surf foil board and our Lift e-foil. I ordered a pop-up dock off the Canadian Board Co web site to increase our square footage and keep our water toys when anchoring.


We did not have a tender, usually an inflatable rubber boat with a 2.9 HP motor that would allow us to sneak to shore or cruise the many harbours when anchored. I was torn at what to buy, as what was available did not excite me. How would a sea-doo be instead? How would I bring it with us?

A little homework and thanks to the boys at GVP (Greater Vancouver Powersports in Langley ) I had a 2016 GTI130 in brilliant blue with only 20 hours on it parked next to the boat. Can you tow a Sea-Doo? You're dam right you can! All you need is a simple shut off valve that stops water from being pushed back into the engine while under tow, I wrapped the key around this valve so when we arrived to use it, I had to open the valve to retrieve the key and we had the ultimate water vehicle to surf foil, get to shore, do sunset cruises with and my daughters favorite, tow the pop up dock around the anchorages while her and her boating friends clung on for dear life, ha ha!

In the spring we launched the boat in Squamish BC for our first Trip - five days in and around Howe Sound! We were hooked and a week later we set off towards Desolation Sound with no schedule, no timeline and no idea what was instore.


Desolation Sound sits roughly 130 miles from our front door in Squamish, BC. It boasts the warmest water north of California and tiny bays where you can anchor or use park anchored buoys to stay for as many nights as you want. Many of these bays have scenic hikes and incredible freshwater lakes a short walk inland from these sheltered bays. There are also little water towns like Pender Harbour, Gorge Harbour and my personal favorite Refuse Cove where you can dock for the night, reload your provisions and of course, get ICE Cream!

We spent our first few days docked with about 30 friends on Keats Island to celebrate one of our good friend's birthdays. It was insanely awesome with kids running and jumping off the docks as the parents sit backed and enjoyed the sun over a few cold ones. We celebrated that night at Smitty's Sea Food Restaurant in Gibsons, one of the best in BC! Prawns, lobster, crab, and fresh oysters to die for was on the menu and we were divulging in all of it!

The next afternoon under a magical sunset we set off North with our good friends Suzanne and Christian and their two kids aboard their Kingfisher Boat up the Coast to Thormanby Island.

Over the next few weeks we explored the magical area of Princess Louisa Sound and its 3000 foot plus waterfalls that fell from the rocky cliffs above us to the white sandy beaches of Thormanby, Lesqueti, Jedediah and Salvary Islands with their clean and warm waters. Christian and Susan had shown us some of their fav spots and taught us a lot but it was time for them to head back, we sure were going to miss waking up to Susan playing her ukulele under the warm morning sunrises and awesome days filled with fun but all good things must end. We said our goodbyes and headed north up Texada Island soon arriving at the entrance to Desolation Sound and the Copeland Islands.


Most people cruise by the Copeland Islands, wanting to spend their short time right in Desolation but we had no timeline, so we stopped and it was so incredible we anchored for three days enjoying the many pods of orcas that cruised by daily and evening surf and e-foil sessions that I still can't believe were true! Once in Desolation Sound everything is quite close and Tenados Bay was our first stop. A beautiful big bay with lots of places to anchor. Stern anchoring a must in Desolation, allows more boats to fit into these bays and chains are drilled into the shore rock to make it easy for boaters to do so. For those not in the know, a stern anchor prevents your boat from spinning on one anchor point.

Basically, you choose your spot, set your anchor, and then run a line to the shore keeping your boat in line under the strong tides and current. This trip was our first time anchoring and I must admit at first I was so scared with our anchor sliding and drifting into another boat, but after a few times we became confident using both our anchor and stern tie system.


I think a lot of people might think boating is a snobby sport and because of that most people won't be helpful or encouraging. I can honestly say after spending 5 weeks and having one of the smallest boat up there that it was the total opposite. Every person we met was super friendly, incredibly helpful and absolutely jazzed at our set up, especially when we popped up our dock and brought out all the toys!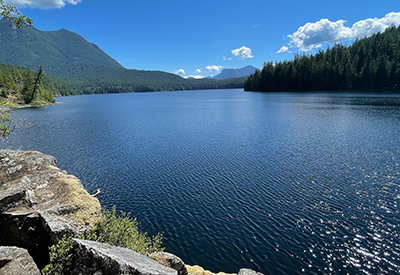 Roscoe Bay was next and my personal favorite due to the narrow entrance that opened up to a beautiful bay, complete with a fresh water source to refill our drinking water and Black Lake the warmest, and most secluded lake we encountered on the trip. We also took our Sea-Doo across to Prideaux Haven, where all the massive yaught's hang out and it was amazing to see all these incredible boats packed into tight quarters. I must have been offered to purchase the sea-doo by 10 people, it was truly one of the most popular things we had. The other was our Lift E-Foil which I have been doing for 5 years. The e-foil is a hydro foil on a small surfboard and allows you to surf above the water and carve and hits speeds of 25 mph, it is one of the coolest things I have experienced and cruising around the bays of desolation was a highlight every day! Another game changer was the pop-up-dock we purchased, as once in a spot I could pump up the 8ft x 8ft dock in about 15 minutes and voila we had the perfect swim platform, chill out area or the perfect place to do dishes from, dishes-YUK! Everyone who saw it wanted one!


Every day I woke up in awe of where we were and what we were doing! However after 5 weeks it was time to head home and spend some time on land. Even though we had experienced so much it was hard to believe that we had only scratched the surface. I can't wait to go back next summer and if there is anything I can offer to those adventurers who dream of travelling on the water, just say YES and DO IT!

Ski-Doo Ambassador Dave Norona loves any adventure whether it be in the snow or on the water! Check him out @davenorona in Instagram, facebook and Youtube