By: Aarin Crawford
Parks Canada welcomes visitors from near and far to come and experience adventure rooted in many generations of tradition. When you voyage the Rideau Canal National Historic Site and begin to feel the true spirit of the waterway, you will see the canal as more than another historic site or cruising route, but rather a boating community that tells a story of struggle, success and changing landscapes.
The story:
Following the War of 1812, a battle that Canada narrowly won against the United States, the boundaries of Upper Canada were held and the British army realized that the St. Lawrence River was no longer safe as a supply route. A more defensible route was needed to bring supplies from Montreal to Kingston and on into other Great Lakes settlements.
This new, more secure route revealed itself through the travel and trade of the Indigenous peoples. Surveyors learned that one of the Indigenous trade routes began at the mouth of the Cataraqui River in Kingston (Canada's first national capital) and connected a series of lakes and rivers all the way through to where the Rideau River meets the Ottawa River in the heart of Bytown (known today as Canada's national capital: the City of Ottawa). Concerned that this route was navigable only in sections and could not be travelled on by any boat larger than a canoe, the construction of a series of locks began between the two key settlements.
Building a canal system that stretched over 202 km of Canadian Shield was not a task for the faint of heart. Construction began in 1826 and was completed in 1832. After that, as the decades passed and the threat of war subsided, the Rideau shifted away from a canal of utility to a canal of recreation.
Jones Falls
The voyage:
Kingston to Ottawa
202 km; 5-7 days
Begin your journey in Kingston and head north. From here, you'll lock through the beautiful southern sector lockstations where Parks Canada greets you with open arms. As you begin your travel through the system, you will have many opportunities to visit quaint historic towns and villages, each offering their own unique flavour and culture. Connect with regional tourism experts and plan a trip of any length. Here are some suggested stops to get you started:
Seeleys Bay
This quaint community makes a great first stop to grab some fresh roasted coffee from the local roastery, or speciality chocolates from the resident chocolatier. After gathering your treats, continue cruising north until you hit Jones Falls.
Jones Falls
After you climb the flight lock, get out and stretch your legs with a beautiful walk around this picturesque site. Visit the historic Blacksmith Shop, see the Sweeny House (one of just 12 remaining defensible lockmaster's houses) and bear witness to the incredible historic engineering of the Jones Falls Arch Dam. At 21.5m in height, built using interlocking tapered vertical stones and extending 107m across the gorge, this keystone arch dam is one of the first of its type in the world and truly a treasure to behold. Bring your camera!
Davis
If Sweeny House left you wondering about life on the locks circa 1800s, then you will love the restored Lockmaster's House at Davis. Now available to the public as a short-term vacation rental, this overnight accommodation has its own unique charm, and carefully combines original construction with modern amenities. Enjoy a rare opportunity to live like a lockmaster atop the hillside overlooking a UNESCO World Heritage site.
No boat? No problem. Rent a vessel from a licensed local operator along the canal (pictured here: LeBoat).
Chaffeys, Newboro, Narrows
Continuing on your route will bring you to the little community of Chaffeys Locks where you can stop for ice cream and take photos of the Opinicon Hotel, or admire the beauty of boathouse reflections on the water. Next up is Newboro, another great stop with plenty of parkland to roam. Also featured here is one of the four original blockhouses on the system and there's a Parks Canada historic home to rent here too (The Canalman's Cottage) if you plan to stick around. Making your way from Newboro to Narrows, experience the stunning splendour of the natural rocky shoreline of the Canadian Shield. If you're fortunate you may even spot some local wildlife.
Westport
Are you a connoisseur of handcraft beers, countryside vineyards, fresh baked goods and art galleries? Then the lovely town of Westport should be your next stop on the Rideau. Westport has a great deal to offer visitors, including live music and hiking trails that lead to spectacular lookouts showing off the splendor of Upper Rideau Lake. After Westport, cruise through the Upper Rideau and into Big Rideau Lake where you can enjoy open air and crystal-clear waters. Take a break and fuel up at the endearing little village of Rideau Ferry before heading to Beveridges for a mini-adventure to the beautiful town of Perth.
The Tay Canal
Don't miss out on one of the Rideau's finest side adventures up the Tay Canal to the historic town of Perth. Lock through the secluded and charming site at Beveridges and connect to a short trip up the Tay and back. No shortage of dining and shopping awaits you in Perth and the cruise takes you past some of the Rideau's most gorgeous natural ecosystems teeming with life. Back at Beveridges, enjoy a relaxing overnight sojourn at the Lockmaster's House, or book one of the oTENTik sites for the night and let the kids' imaginations run wild.
15 minute friendships
Smiths Falls and beyond
Next on the map you will find the heart of the Rideau: the town of Smiths Falls. Here travellers can re-stock supplies, shop at local businesses, and enjoy a night of food and fun. Moving through the central sector of the canal you will start to encounter several delightful historic rural communities such as Kilmarnock, Merrickville, Andrewsville (at Nicholsons lockstation) and Burritts Rapids. These are the perfect places to step off the boat and explore. Find the apple orchard of Kilmarnock and enjoy the rolling rapids of Andrewsville. For the adventurous hiker, check out the Merrickville trails system, or hop on the Tip-to-Tip trail in Burritts Rapids.
Merrickville
Merrickville is often referred to as "the jewel of the Rideau" and for good reason. You will be enchanted by this unique and vibrant Victorian village, full of small-town hospitality and historic beauty. Founded in 1794 by the Mill Wright William Merrick many years before the need of a fortified canal, Merrickville takes pride in being one of the best-preserved 19th century villages in Ontario and their love of celebrating the town's history and culture is felt everywhere you go. Be sure to stop by the Merrickville Blockhouse, a National Historic Site of Canada in its own right and a fascinating museum.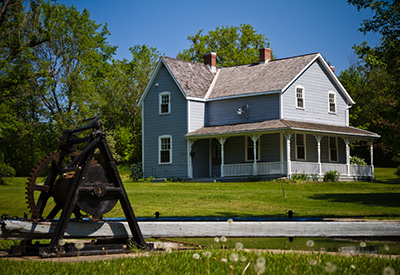 The Nation's Capital
As you travel on into the northern sector of the canal, you will lock through what some may refer to as the "urban" lockstations that stretch across Canada's national capital region. Long Island, Black Rapids, Hogs Back and Hartwells all offer that natural, wild beauty you expect at a Parks Canada site, but with the convenience of being in a large city close to public transit for a visit to Ottawa.
Rent this Lockmaster's House at Lock 33 - Beveridges
Your journey comes to an end as you approach the breathtaking Ottawa Flight Locks and the last lockstation of the Rideau Canal. You'll descend this amazing set of 8 consecutive lock chambers before the final gates open to the mighty Ottawa River. Nestled between Canada's spectacular parliament buildings and the stunning historic Chateau Laurier, you stand here on the stones of the lock wall and you feel the significance of the Rideau Canal.
History awaits you
Today the experience of cruising the canal is every bit as awe-inspiring as it was a century ago and you simply can't ignore its historical significance. As you meander pleasantly along its route, stopping in to visit the many towns and villages that grew up here, you will connect with the hearts, souls and lives that went into building this national treasure, and you too become a part of its ongoing history.
Start planning your trip now:
www.pc.gc.ca/rideau
UNESCO World Heritage
The Rideau Canal enjoys UNESCO World Heritage status as the best-preserved example of a slack water canal in North America. To this day, lock operators still use hand-operated cranks (or "crabs") to manually open the lock gates and sluices that allow water and vessel movement throughout the system. Hand-pushed timber swing bridges, military blockhouses and historic mills you find along the way, all add to the sense of stepping back in time.
Stay the night and meet up with fellow travellers
Know before you go:
Lockage Permits and Passes
Passes are required for boaters transiting the lock system. Purchase passes of various duration upon arrival, or pre-pay for a season pass and cruise on through.
Overnight mooring
Boaters are welcome to moor overnight at any lockstation on the Rideau Canal with the purchase of a mooring permit. Space can not be reserved in advance; first come-first served only. Campsites are also available, book an unforgettable stay in an oTENTik, or upgrade to a historic Lockmasters House at select sites.
Merrickville Blockhouse National Historic Site and Museum
Facilities at locks
All lockstations will have washrooms, picnic tables, and garbage/recycling stations. Some lockstations will have firewood and ice for purchase. Select sites have shower facilities. Visit the Parks Canada website to check individual lockstation information.