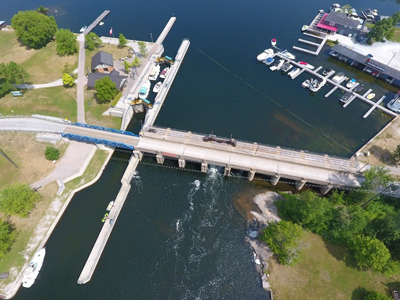 Blake Marchand
"Lock 45 aerial view before construction." – photo credit Parks Canada – Trent Severn Waterway
As the final link between Lake Ontario and Georgian Bay, Port Severn's Lock 45 is the gateway to the beautiful Trent-Severn Waterway. The first and smallest lock to be constructed on the Severn portion, Lock 45 is entrenched in Canadian History and is worth the trip in itself. However, it is the waterway and its idyllic surroundings that will keep you coming back.

The canal connects Lake Ontario and Lake Huron with an eastern terminus in Trenton and a western terminus in Port Severn. Its amazing natural waterways include the Trent River, Otonabee River, The Kawartha Lakes, Lake Simcoe, Lake Couchiching and Severn River.

Being such critical infrastructure, Parks Canada has committed $48-million into improving multiple assets in the community, including Lock 45, two fixed bridges and five dams. Although the two fixed bridges will be closed for the season the waterway and water levels will not be affected. Parks Canada is dedicated to maintaining water levels so that the boating season is not adversely affected, and waterfront properties are safe. Construction will be completed in sequences and managed through dam sluices and temporary bypass structures to ensure waters are still navigable. The construction is expected to be completed in March of 2021. Thus far, the Bayview Dam E and fixed bridge, as well as the blind dam C are "substantively complete," as per Parks Canada.

The overall investment in the Trent-Severn Waterway totals $615-million.

The infrastructure serves a couple of purposes. Mitigating flood risks, protecting heritage structures and landscapes, as well as providing a uniquely Canadian destination for tourism.



Photo credit Parks Canada – Trent Severn Waterway

The importance of the Trent-Severn Waterway is deeply rooted in the history of its surrounding area, providing passage from Lake Ontario to Georgian Bay, while also providing an economic and recreational staple. Toward the end of the 19th century the Severn River supported the lumber industry operating out of Port Severn and Washago, and in 1899 the river was harnessed to produce hydroelectricity at The Big Chute. The economic potential of the area drove both settlement and tourism.

Around the turn of the century there was considerable public support to complete a through waterway. However, determination of the exact route to complete the canal provided some political turbulence. The Liberal government ultimately left the decision to the engineers on the project. E.J. Walsh surveyed three routes from 1904 to 1906, selecting the Severn River was as the preferred route. The other two routes Walsh surveyed consisted of a long artificial channel from Orillia to Matchedash Bay; and a route along the Nottawasaga River from Kempenfelt Bay to Nottawasaga Bay.

Canada's Department of Railways and Canals began developing the Severn section of the canal in 1914, however the construction and development of locks and artificial channels was slowed by the start of the First World War. The construction was tendered in 1913 to York Construction and completed in 1915. The Big Chute, Swift Rapids, and Couchiching locks were completed in 1918, 19', and 20'.

"Just a decade or so earlier, Port Severn had faced an uncertain future," explained local historian Ron Breckbill. The town's only employer, Georgian Bay Lumber Company Mill was struck by lighting, leaving the town without its economic heart.

"As fate and luck would have it, another reason for Port Severn's existence was about to occur and, very likely, saved Port Severn from disappearing off the map," he said, referring to Lock 45. "The old lumber mill town that was, at one time, destined to disappear off the map re-invented itself to become a thriving tourist community and the western entrance to the Trent Severn waterway."

Construction on the first lock along the waterway, Bobcaygeon's Lock #32, began in 1833. Although, it was not initially intended as part of an entire system but to facilitate a commercial endeavor. The lock was not completed with sound engineering and Upper Canada Legislature ultimately commissioned its refurbishment a few years later when work was approved on the Trent Waterway in 1837. Beginning in 1833, a through canal system was not completed until 1920.

Initially purposed for commercial and industrial use – it was even surveyed for military purposes – tourism in the area began to flourish in late 19th Century and early 20th Century. An 1879 brochure titled Picturesque Canada: The Northern Lakes Guide advertised trips to the area: "Proceeding down the Severn River, a splendid fishing trip can be made following the stream through Six Mile Bay and Gloucester Pool to its outlet in Georgian Bay, opposite Waubaushene and Penetanguishene. There are many portages and different rapids. The trip should not be attempted without guides. Canoe and guide will cost about $2.00 per day."


"Coffee Cabin offers a unique setting along with warm beverages, craft beer and quality comfort food." - photo credit Coffee Cabin

As the end of the Trent-Severn Waterway line Lock 45 is the gateway to all that Georgian Bay offers. While in Port Severn the waterfront holds multiple marinas and several upscale resorts and spas, to go along with fantastic dining and a unique collection of local businesses.

A favourite of many is The Severn Mills Trading Post and Coffee Cabin. The owner Anne has been a cottager in the area her entire life. Already an owner of Lavish&Squalor, a coffee and gift shop in Toronto, Anne recognized a need for a unique local business to provide locals, cottagers and boaters traversing the lock system with coffee, craft beers and quality comfort food.

For those that frequent the Georgian Bay and Muskoka area, Port Severn is an absolute gem that affords boaters and cottagers an opportunity to stock up on supplies at its unique blend of locally owned and operated businesses or grab a bite to eat at one of its fantastic restaurants. Rawley Resort's Lighthouse45 Restaurant, The Galley at Driftwood Cove Marine Resort, The Grille at Bush's Marina and Oak Bay Golf Club are popular stops for locals, cottagers, and boaters making their way to Georgian Bay.


"Lock 45 celebrates its Grand Opening in 1915." – photo credit Township of Severn

Severn Lodge and Muskey's Landing provide plenty of opportunities for family vacation fun, from boat, canoe, and kayak rentals to Musky charters into Georgian Bay. Many fishermen in pursuit of some serious Lake Trout, Walleye, Salmon and Bass game use Muskey's Landing as a base for fishing adventures out into Georgian Bay. It is also a great spot to introduce the family to fishing on the calm waters provided by the resort.

Rawley Resort and Christie's Mill Inn and Spa provide a luxurious and relaxing getaway, perfectly complimenting the beautiful natural setting. Rawley's Lighthouse45 Restaurant can be described as "a delight for the eyes and the palate," while the resort's Piano Bar & Lounge offers a perfect spot to unwind after a long day's adventure up the lakes. Rawley Resort and Starport Severn also provide overnight dockage for their guests arriving by boat.


"Beautiful Port Severn is still open for business regardless of the road closure due to the Lock 45 infrastructure project". Photo credit Rawley Resort

You can enjoy the idyllic lifestyle Port Severn offers by taking advantage of their unique local businesses like Yoga with Laura Jane's SUP Yoga. Laura offers private semi-private yoga lessons as well as group lessons for both yoga and stand-up paddle boarding (SUP). Similarly, Lean Fitness and Wellness offers a variety of classes no matter your fitness level, including Bootcamp and TRX, as well as beginner fitness classes that teach proper form and technique.

Julie from Lean Fitness said the majority of her business comes from locals and cottagers but noted that drop-ins are absolutely welcome. They have a variety of classes take place at the Port Severn park pavilion, which is accessible by boat. Their class schedule is posted on the Lean Fitness and Wellness website, making it easy for boaters to drop-in.

However, regardless of the many amenities you can take advantage of while visiting, cottaging or passing through by boat, it's the waterway and natural landscape that is most impressive.


"Patrons can enjoy a spectacular view over lunch or dinner at The Grill." - photo credit RT07 Bruce/Grey/Simcoe & Ontario's Lake Country

Rather than take the opportunity to promote her local business when asked about the best Port Severn has to offer Anne of the Coffee Cabin discussed her relationship with the water and her many memories of life cottaging in the area. In Anne's opinion, the waterway itself is the best feature Port Severn has to offer. The local businesses simply play a supporting role for the boaters that continually return to area by providing supplies, lodging, and recreational activities.

"There's just so much to do," said Julie, "either on the water or in the trails."

That sentiment was echoed by Shan from Rawley Resort. Besides the luxurious respite offered by his establishment, Shan said its ultimately the draw of the waterway and all that cottage country has to offer that brings people to the area. Off the water, along with the fantastic places to stay, shop and dine, there are some great opportunities for hiking and cycling.

Beyond Port Severn on the Georgian Bay side there are many natural attractions for tourists, like Georgian Bay Islands National Park and Awenda Provincial Park. As well as tours like the Midland 30,000 Island Cruise. Midland and Penetanguishene also offer interesting tourist stops on shore. Sainte-Marie Among the Hurons, Martyr's Shrine, Wye Marsh Wildlife Centre in Midland are certainly worth a visit. While Discovery Harbour and Kings Wharf Theatre provide an interesting look at one of Canada's oldest naval establishments, as well as some art and culture. And with respect to the latter, The Midland Cultural Centre downtown Midland regularly hosts concerts, theatre, and various arts and culture events.

Given the tourist boom in the summer months, the local businesses rely on the increased economic activity and the construction provides some uncertainty.

"It's a great thing that's being done," said Councillor Mark Taylor of Severn Township, "we just hope our businesses can survive the two-years because they make the majority of their income in the summertime."

Over the years the area has certainly accumulated many loyal boaters and cottagers that won't be deterred by the construction, for Shan explained their concern is generating the new business Rawley relies on each year. "It's the clients that are going to commute," Shan explained, "they are the ones that are going to have a huge impact."

However, there is no doubt any one of those regular to the area will be quick to mention that adding Port Severn to your boating agenda is always a fantastic plan.

The two-year construction timetable will pose a challenge. Shan said he has adjusted the revenue forecast and labour productivity due to no pedestrian access to and from the Georgian Bay community. Despite his concerns, he noted, "there is no impact to what we offer, on both sides." Shan added it is an opportunity for both townships to work together and appreciate the work done by Parks Canada on the Trent-Severn Waterway.

Anne explained that a major point of focus will be providing additional docking, so boaters have access to businesses. Councillor Taylor confirmed a Township of Severn owned dock at the end of Kellys Road has been made available for public use. The Township will also look into extending the Kellys Road dock.

Increasing available docking, as well as stay-limits would ensure the high level of boat traffic passing through are able to fully experience what Port Severn businesses have to offer.

Businesses like Severn Mills Trading Post & Coffee Cabin that offers gourmet coffee, baked goods, all around great food, as well as a world-famous grilled cheese. Anne also noted this summer will be their first with extended hours (9am-8pm), and they will be serving local craft beer as well as, "classic cottage cocktails with a cabin twist!"

Rawley Resort's Lighthouse45 Restaurant, Lean Fitness, Yoga with Laura Jane, Village General, The Grille at Bush's Marina, Exit 156 Restaurant which offers authentic East Indian cuisine along with its pub-style options, Driftwood Cove Marine Resort, Starport Severn, Icebreaker Ice Cream, and Narrows Marina are all fantastic businesses that will certainly add to a great Port Severn experience.

Regardless, "It's much needed infrastructure," Taylor said, "it had been neglected for a number of years, so you have to give the people that built it in 1915 credit, they did a good job."

"It's a big investment from the Federal Government," he said, and one that doesn't end with Lock 45, the infrastructure all along the canal is being upgraded. The Trent-Severn Waterway runs along the northern side of the Township from Lake Couchiching all the way to Washago, Sparrow Lake to Severn River, and Gloucester Pool.

So, Taylor said, "We certainly appreciate the work of the Federal Government, that they want to spend money on the Trent Canal, because I think it's an excellent asset for our Township."