Aug 22, 2019


Coal Harbour Marina

Vancouver is ranked one of the most liveable cities in the world. You can explore much of the cityscape by water and moor at several marinas. The city offers the marine visitor a panoply of fine dining, waterside pubs, shopping and cultural amenities.

English Bay and False Creek, one of the choice urban boating destinations in North America, bring you into the heart of the city. Good moorage and anchorages are available and there is lots happening both on the water and all along the shoreline.


Granville Island


Three easily accessible areas are particularly popular: Granville Island, Coal Harbour and the Olympic Village. Each offers an array of shops, restaurants and upscale pubs. Granville Island — with its diverse shopping and cultural attractions — and world-renowned Stanley Park make a great pairing.

Click here for guides to Vancouver's neighbourhoods.

For walking access to Granville Island and downtown, we recommend berthing at False Creek Harbour Authority, where there is always fresh seafood for purchase. There is more of the City to see just around the corner, accessible via Burrard Inlet.


False Creek Harbour

For walking access to Stanley Park, Canada Place and downtown, we recommend Coal Harbour Marina. The Seawall Walkway meanders through harbour front parks and passes some very fine restaurants and cafes. You are in the heart of the city here.

The beaches and restaurants of White Rock, south of the city, are best enjoyed from Crescent Beach Marina.

For a quick taste of spectacular scenery and restful boating, sail under the bridges across Burrard Inlet to Deep Cove and Indian Arm. The arms of the Fraser River are navigable and you can pub hop to historic Fort Langley, while observing an urban, then agricultural, landscape going by.

While there are many marinas in the Greater Vancouver Area, only half accept transient craft, and most have limited space. You must have a reservation for a berth in this area.

As soon as you round Point Atkinson, you leave the urban landscape and enter majestic Howe Sound, the southern-most fjord on the North American West Coast. It cuts a steep-sided gash into a coastline that is jammed with islands of curious shapes. With breath-taking mountains as backdrop, humpback whales breach and schools of innumerable Pacific White-sided dolphin festoon the waters.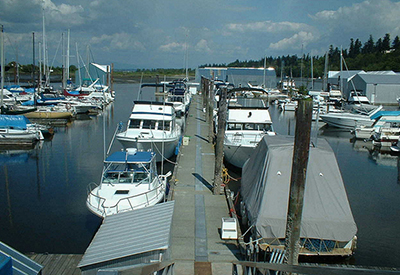 Crescent Bay Marina

The vibrant community on Bowen Island, at the entrance to Howe Sound, has many enjoyable dining experiences and interesting shops in a perfect setting. Union Steamship Marina is your best choice for host. Plumper Cove Marine Park on Keats Island is a popular resting spot, with the delights of Gibsons Landing calling across the narrow channel.

The energetic community of Squamish sits at the head of the Sound. For an unforgettable view of the route you took, park your boat and take the Sea To Sky Gondola to 885 metre high Summit Lodge. Climbers — Squamish is home to The Chief, 600 metres of sheer rock face. The Government Dock and the Squamish Yacht Club offer overnight moorage.


Union Steamship Marina, Bowen Island

You will find many safe anchorages in Howe Sound, or if you prefer you can return to marinas at the mouth of the Sound.