Author: Jennifer Harker
Photography: Jennifer Harker
We're aboard Attigouatan, a Pursuit 2260 that normally lives life as a friend's cottage boat, running back and forth from dock to dock. This will be her longest run in four years, travelling the approximately 120 kilometres (80 miles) northwest from Parry Sound to Killarney, threading our way through the northern reaches of the stunning 30,000 Islands of Georgian Bay's eastern shoreline.
Her name evokes an early indigenous name for Lake Huron – Spirit Lake. And on this July day,Attigouatan has surely summoned those spirits as we head out to the wide-open bay north of Bayfield Inlet. An eerie, dense, and disorienting fog greets us, shrouding our journey, surrounding us in waves of white, creating oddly haunting and distorted sounds. We marvel at the mists and I am reminded for the hundredth time that Georgian Bay never fails to work her mystic magic creating memorable moments every time you venture out.
Despite a malfunctioning compass, thanks to modern electronics and experienced navigation, we have little difficulty finding the marks - the welcoming red appearing as expected out of the fog and on the correct side of the boat.
Sheltered from the wind, there's plenty of space for group anchoring in nearby Covered Portage Cove.

It is an odd day as each offshore run remains cloaked in whirling white while the inner portions of the journey, like Beaverstone Bay and the gorge of Collins Inlet, are basked in brilliant sunshine and blue skies.
It is all part of the fascination for boaters who immerse themselves in the ever-changing beauty of the bay.
Once we clear Collins Inlet we pick our way slowly around numerous kayakers on the foggy four mile run across the top of the bay. It isn't until we're well inside Killarney Channel, past the East Light at Red Rock Point, that the town magically materializes out of the persistent fog.
If it has been awhile since your last visit, you may be surprised by some of the dramatic changes taking shape here, such as the magnificent log conference centre currently under construction.

It's all part of a focused rejuvenation of this popular cruiser destination as Holden Rhodes, owner of several Killarney lodgings, breathes new life into the town with major renovations and expansions to several iconic facilities.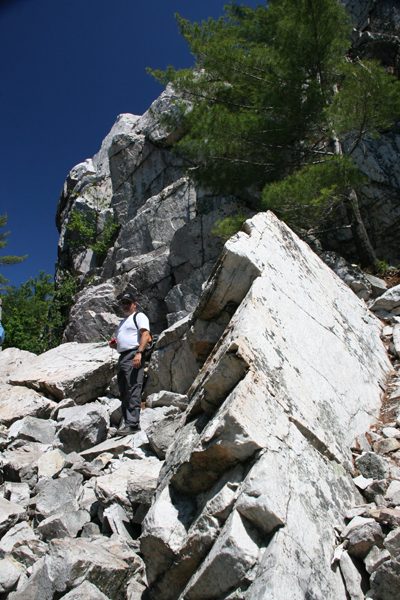 For some serious hiking, head into Killarney Provincial Park. The exceptional view from The Crack is impressive and makes the effort worthwhile

Kelly McAree is the general manager of Killarney Mountain Lodge, The Sportsman's Inn, and Killarney Bay Inn, all now owned by Rhodes, whose roots run deep in the small community.

"Holden still has myriad extended family here. He has fond memories of growing up here and he wanted to invest in the community, to show his appreciation. It really is a labour of love," says McAree.
Rhodes purchased Killarney Mountain Lodge in 2015, and after 60 years it was in need of some tender loving care – and significant investment. The focus for the first year was on modernization and renovation with new beds and updates to food and beverage spaces before turning to expansion. "We're adding 21 more guest suites, bringing the number up to 87, and our eventual goal is upwards of 200 suites," added McAree. Eye catching growth will be a hallmark in 2018.
"Our biggest news is the opening of our new convention centre slated for late September, early October," McAree said. "It is the largest log structure under construction in the world. The conference centre will be at the forefront as you come into the channel. It will blow people away."When completed, the two-floor centre will comprise 34,000 square feet, with the largest room accommodating 300 people. It will also include a steakhouse, expanding on-site offerings. A rotunda will be reminiscent of the shape and feel of the Lodge's legendary Carousel bar, one of the heritage spaces originally constructed in the 1950s.
"From concept to construction, the convention centre is unique in Ontario and Canada," McAree said. "It will really make an impression on people.Killarney is a destination not just for boaters, you can also drive in and enjoy the properties." It's already attracting attention as a wedding destination with bookings into 2021.
With sales teams sharing the vision across Ontario and the U.S. to reach and build a customer base,McAree said it really is a case of 'if you build it, they will come,' as revenue has doubled each year and the Lodge has a full slate of bookings June through October.
Now they are working to re-establish their reputation as a premier cruiser destination with improved facilities for boaters.
Dock space at the Lodge has doubled and high-speed fuel pumps have improved efficiency. The existing sauna building has been renovated to include laundry, showers, change rooms, and a modern sauna. "We want to provide everything our boating clients have asked for each year," said McAree, recognizing the growth opportunities.
Just down the channel, Rhodes purchased The Sportsman's Inn in 2016. Successfully renovated in 2009,it was more of a turn-key investment. "We applied the lessons we learned at Killarney Mountain Lodge to The Sportman's Inn, renovating and reconfiguring areas such as the Captain's suite in the hotel building," McAree said. "Last year we introduced an oyster bar right on the dock." Further plans include converting the former spa space across the channel on George Island into a two-storey family unit.
With five aboard Attigouatan, we had booked a suite in The Sportsman's Inn and thoroughly enjoyed the recently renovated spaces. Our third-floor balcony provided a front row seat to watch the comings and goings at the docks below and offered an ideal spot for afternoon nibbles and drinks. We relaxed under sunny skies, although just beyond both ends of the channel the thick fog bank was still clearly visible.
All new docks have been installed on the George Island side of the Sportsman's property and showers and change rooms were added, providing more boaters' services.
"We recognize one opportunity for growth is with boaters. There have been challenges over the last few years in the industry and with water levels, but it shows steady growth. We have room to grow. We want to attract rendezvous events and we want the boat manufacturers and groups like the Great Lakes Cruising Club back," commented McAree.
Hike to the top of the hills on the north side of Covered Portage Cove for inspiring views.

Customer service is key to ensuring that success. "We are working hard to listen to our boaters and continually improve. We want them to have a great experience each and every time they visit our properties. We take time to interact with customers on a personal level. We like to think we are making a lot of new friends and being successful in recapturing past guests."
McAree said they enjoy a positive relationship with the town and he is pleased to see new homes being built and new vehicles as more locals find employment. "There are new faces and new opportunities."
Rejuvenation on Rhodes' properties is helping drive change elsewhere. The landmark Mister Perch bus sinking into the public dock is long gone now, but fear not, the new Herbert Fisheries restaurant with indoor seating still serves up summer fish dish favourites you know and love. Outdoor seating is also available so diners can watch the world boat by while enjoying fish and chips.
The LCBO, general store and some small shops help restock the galley for boaters whether you're heading south through the 30,000 Islands or treating the village as the gateway to the North Channel.
Originally founded for the fur trade in 1820, the oldest community on the north shore became a busy commercial fishing village focused on the bay's bounty. Set against the backdrop of dazzling white quartzite peaks of La Cloche Mountains and rugged pink graniteshoreline,it wasn't until 1962 that Killarney was accessible by road. It still boasts a year-round population of less than 500 people - although with recent developments that could change.
While it's always been an important provisioning stop for cruisers, Killarney can be a dynamic destination and there's plenty to keep the crews happy for several days.
Take advantage of amenities offered locally such as fishing charters, scenic boat tours, sea kayaking, sailing, canoeing, and other adventures.
Need to stretch the legs after a few days at anchor in the area? Take the water taxi across to George Island and enjoy a 7.5 km loop trail on the island. Or arrange for a ride to Killarney Provincial Park about 10 km away to tackle some serious hiking trails. The views from The Crack rival anything you'll see in glossy international travel magazines – and you don't even need a passport or long plane ride to get here!
It's a rainy day so we don waterproof jackets for a leisurely walk to the lighthouse. Be sure to stop at Curds n' Whey for your daily dose of caffeineand awesome sweets. It's one more amenity mere steps from your boat.
We walk along quiet backroads, packing along our camera in case of photo worthy subjects. Sharp eyes spot a snake that graciously pauses for a photo op. Once we arrive at the rocky shoreline by the lighthouse we watch the waves, trying to time the perfect picture of wild water spraying above the picturesque shoreline. The simple pleasure of finding fascination in nature is part of the beauty of boating, and Georgian Bay is certainly brimming with opportunities for nature lovers, bird watchers, and photographers.
Sit back, relax, and enjoy the views of the channel in Killarney.

Other options for adventure abound in the area. On previous journeys we checked out Covered Portage Cove, which is well protected for anchoring. See if you can spot the Indian Head in the rocky cliffs. In the past we have pulled our dinghy ashore and climbed to the top of the hills ringing the north side to be richly rewarded with breathtaking 360-degreeviews.
For a longer day trip from Killarney,plan to head down Baie Fine. This fiord-like slash boasts random rocks not always noted on the charts, so slow down and enjoy the scenery.Baie Fine ends at The Pool, approximately nine nautical miles from the entrance. This weedy but beautiful bay can make anchoring a challenge, but there are also some suitable dinghy pull-ups along the shore. Beware, we have seen bears here – which isn't unusual anywhere on Georgian Bay – but if everyone uses common sense, there are no issues.Don't forget your bathing suits. Take the trail to the top and enjoy a refreshing swim in the clear waters of Topaz Lake.
Endless adventures await for boaters of all sizes in this awesome area.
Killarney and the spectacular surrounding cruising have always been an unforgettable boating experience. With all the recent renovations and additional amenities now available, give some serious consideration to adding the area to your 2018 ship's log.