Greg Nicoll, our affable Vice President was once quoted "it's hard being us" and on the trip to British Columbia earlier this year, he was right. Thanks to our great friends at Yacht Sales West we got to test the new Bavaria Cruiser. Designed to replace the 49, this new boat will not disappoint in function, feel and it's great (what I call) rugged looks. This boat was built to sail and sail hard. Comfortable, great visibility and the dual wheel steering all add up to a wonderful boat made for those who want to cruise in style. From the moment I took the wheel, the boat was light on the helm and easy to steer. It reacted well to powering up; it tacked effortlessly, though we were a bit slow bringing the large genoa in,; clearly we needed a bit of practice. The boat moved well in the light to medium conditions on our test day reaching 5 knots easily in winds that may have topped 7 knots true. For me, the larger boats are a treat to sail, but this one really felt like it could perform in anything that was thrown at it. I bet this boat could do well in a long distant race too.The nice design elements were not sacrificed for what, in the past, was the default for a big cruising boat. Although it's big, it has looks that will turn any boaters head. From the get go you cannot mistake the large cockpit that could easily handle eight people in style. The view looking forward reinforces the feeling of big, (obviously as a result of the big beam
(4.49m) with large wide decks and foredeck.
The cockpit boasts a folding teak table, Lewmar winches on the gunwales and a pair on the cabin top. The main traveler also resides foreword on the cabin top allowing for easy movement throughout the cockpit. Typically, controls all lead aft with the must have Spinlock jammers. All in all, it is well-rigged and throughout. Electric winches are an option; we would recommend them for not only for the main halyard when the furling mainsail is not use but also for the secondary winches when cruising to get the large genoa sheeted in.
The canvas work on this test boat was well done; it had some great features including leather reinforcements when sheets and halyards where led through the dodger. Never discount a good canvas supplier; they can add comfort, value and even esthetics to your boat. They are hard to find but clearly the Yacht Sales West guys have a great partner here.
As I mentioned earlier the boat has what I referred to as a rugged look but what I feel from this boat is power – from the rig to the sails. Our boat had Elvstrom sails and a fully battened mainsail that added to my feel for power. A Selden
double spreader rig was used. We understand that Selden continues its development of functional roller furling that is also an option, but our bias clearly stays with a conventional or fully battened sail plan.
Below decks, the Bavaria 50 has lots of light – light from its two skylights but also from its light mahogany. It's roomy below and could easily handle multi-couple cruising in style. It's easy to imagine the optional layouts for a 4 or 5 cabin configuration with the extra cabin being placed forward on to starboard. In both layouts, the forward port cabin has bunk beds along with adequate storage, including below the bottom bunk. The optional layouts still share the wonderful main salon with its wraparound settee that faces a large drop leaf table opposite a wonderful two seat bench that's well done and can also double up as a wine locker or galley storage.
We loved the L-shaped galley that's right across from the dining area. There is tons of well thought out storage taking advantage of a bulkhead wall to gain more space. A two-burner stove, a front loading refrigerator, top access
fridge/freezer, oven and double sink are standard here. All in all, there's more than enough space for long passages.
They say the heart of any boat below is the navigation station and the Bavaria 50 has a nice layout with a very comfortable seat and nice U-shaped wraparound console. The tabletop and compartments are large and easily accessible. Wiring modifications and adding instruments will be easy. 

There are three heads on board, two aft and one forward to port. All have nice bright counters and easy to maintain surfaces. All the heads are spacious and easy to move in; all have a shower with sump pumps.
Cruising and the on board life require tons of ventilation; this is easily facilitated through the four opening hatches forward and the two opening ports on each side and in each aft cabin and the bigger opening hatch in the center of the roof top.
Bavaria chose the Volvo Penta D2-75 75 hp with sail drive; the auxiliary power drives the boat easily to reach 5+ knots
under 1,800 rpm. Electronics include the Raymarine's ST60 Tridata and ST 60 Wind.
One of the best parts about this boat is its flexibility. One could easily add a generator, there is a nice compartment accessible through the port cabin, and storage of extra gear is no problem. If I bought this boat for me to truly work remotely, I'd convert one of the extra cabins forward to an on board office and add a high speed internet antenna.
Great value, great design, tons of room, rugged, functional, flexible and great performance are all the key words I would use to summarize the Bavaria 50.
Specifications
Length Overall 15.4m
Beam 4.49m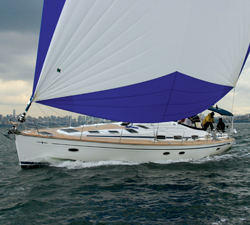 Draft 1.85m
Weight 12,600kg
Fuel 320lt
Water 750lt
Holding Tank 60lt
Engine Volvo D2-75
Type Four cylinder in-line diesel
Displacement 2.2lt
Rated Power 75hp
Prop Three-blade folding
Canadian Dealers
Yacht Sales West Inc.
www.yachtworld.com/yachtsaleswest
South Shore Yachts
Centre du Navigateur
To see if this boat is available, go to http://www.boatcan.com for listings!
By John Kerr