Just when you did not expect it, a surprise comes along that reminds you that underlying yacht design and building, there is a constant evolution. I wasn't sure what to expect when I arrived to sail test the Delphia 37; a new brand and a new builder enter the Canadian market. Now Polish craftsmanship is evident in many boats we see now; the Delphia is a great example of the complete package.
Delphia Boats is a family-owned business with its roots in the "Sportina" trailerable boats and small cruisers. The brothers Piott and Wojciech Kot actively run the facility with a staff of 650 people in Olecko, Poland. Designed by Andrzej Skrzat working with the team's experience (growing up in the Baltic) it's easy to see how well they have matched the need for a solid, reliable boat with a pure performance feel. A point made in favour of the ruggedness of this boat is the use of nine 29 mm stainless keel bolts that mount through channeled backing plates. The hand-laminated hull is built with a structural grid to dissipate high rig loads. The hull is solid fibreglass below the waterline and cored with closed-cell foam above.
It's a wonderful boat and great value for its pricing; the size to price ratio is very favourable. Clearly this boat signals a move by Delphia to join the competition in building a good, solid cruising boat at a reasonable price. Clearly, they appear to be in this for the long run, tooling up and investing in plant and production processes to counter their present labour rate advantage that will no doubt disappear over time.
Our test sail in light to medium air and relatively flat water proved the balance of helm and the easy steering characteristics this boat has (due to its narrow foils). The fin keel and deep spade rudder are responsible for this. In almost 4 knots we easily reached 3 knots of speed; we also found the Delphia responsive and quick when tacking. One could easily see its pedigree shining with more air and bigger seas. We plan to take her out again in more brisk conditions to prove this point. The boat, at 11' 9" on the beam and a high ballast/displacement ratio, is a relatively stiff boat allowing its performance to burn in a range of conditions.
First good impressions were heightened by the sweeping deck lines, the curvy style windows, and a full stern and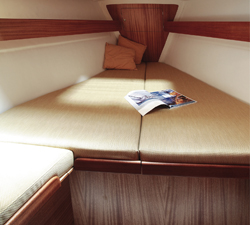 balanced freeboard in what we might collectively consider a conservative design easily compared to the likes of Jeanneau, Hanse and Beneteau.
Above decks, the layout is well done – simple and perfect for whatever type of sailing you wish to tackle. Self-draining and appointed with teak on the floor and seats are nice features too. The cockpit is easy to manoeuvre around and there is tons of space to entertain and enjoy life aboard. The port cockpit locker is very deep and offers up great space; the starboard locker is typically configured to allow easy accessible storage for fenders, etc. Like much of the competition, most of the deck hardware and running rigging were well-known names like Lewmar and Raymarine. The four self-tailing winches are well-located for easy trim in any condition, with the primary winches just aft of the helmsman position; the main is easily trimmed on the coach roof – an easy set up for a couple on any cruise. Easy-to-run reefing and control lines are lead aft to the coach roof complete with rope clutches.
It's easy to manoeuvre above deck; going forward there is a deep anchor locker and windless and remote control pendant.
The 9/10 fractional double spreader rig was what we expected to see. The large, fully battened mainsail and furling jib configuration boast 779 square feet of sail area. Two reefing points in the main are all you need. Visibility is good though, like many cruising boats, it, too, would benefit from a genoa window. The sail fitted the mast well and needed adjustments were very minor with the adjustable backstay and solid rod vang. An optional cruising chute would be at home in this boat. In fact, we would recommend this option every time.
Below decks, it's wonderfully bright and all the elements (head, galley, nav table, etc.) are well-balanced; its 7 opening hatches provide tons of ventilation. Headroom is more than adequate. The furniture and woodworking are in line with one might expect with any production boat though this package as a whole presents well. The options are for either two larger cabins and a smaller v-berth forward or a single aft cabin and larger head and saloon area. The extra cabin configuration will take storage space from the port sail
locker as configured on the boat we sailed. Ask yourself exactly how you're going to use this boat. For us, extended cruising and life aboard is simplified by the two-cabin configuration. Having that larger head and options for onboard air or a generator, for instance, trump the need for the rarely used third cabin.
The saloon boasts a unique drop leaf table that easily sits 6 around the L-shaped settee on starboard, complemented by a bench settee to port. The galley to starboard is well appointed and has adequate storage, a deep stainless steel sink, large refrigerator, Corian®-top and a gimbaled, twin-burner stove/oven. Depending on the configuration, the navigation station will change orientation; in the 3-cabin version, it will face aft. The navigation station is well done; it's easy to access electrical panels and circuitry, when needed.
Sailing this boat reminds us that the evolving performance cruiser might be ready to enter more club racing; clearly this boat and its evolving category could easily participate competitively and no doubt do well. All in all, the Delphia 37 is in the game and a solid option for anyone wishing to buy a solid performance cruiser.
By John Kerr
To see if this boat is available, go to www.boatcan.com to check listings!