We caught up with the Sabre 40Sedan during the 70th Annual Miami International Boat Show. Even among the line up of new yachts at the show, the Sabre display immediately caught our eye.
There is a powerful family resemblance from one Sabre model to another and the 'look' seems most obvious when expressed in the handsome dark coloured hull sides and accents; Sabre offers their boats in white as well as six optional colours. The lines and proportions are strongly similar, all the way from their 34 Express to the 52 Salon Express and all offer special details like varnished teak toe rails, gold cove accents, raked transoms, big cabin windows and cabin roof overhangs.
It's easy to spot a Sabre. The company describes its 'look' as the traditional "Down east style" of yacht. On the other hand, our Sabre 40 Sedan test boat was powered by twin Cummins MerCruiser Zeus pod drives with the 425 hp QSB engines. The performance of this yacht is far beyond what a 'traditional' boat might be expected to deliver, but we'll get to that in a minute.
The designers know their customers well. The most likely purchaser will be a professional couple, perhaps nearing retirement but still active and adventuresome in their future plans. They may still have some family at home, or perhaps grandchildren who visit. The Sabre 40was designed to thoughtfully accommodate guests, but it was primarily laid out around the needs of a cruising couple – a couple who like tradition, who value quality and who are attracted to things elegant and understated.
We especially liked the proportions of this boat and felt that no compromises had been made to fit everything in. Boarding, you can step onto the full width swim platform which is down close to the water, or step onto the very wide side decks, grab the big stainless steel handholds then, step down into the cockpit on molded in stairs. The flat side decks are impressively wide and going forward to set the anchor, or handle dock lines will be safe and easy in this boat.
Of course, there is an electric windlass for the ground tackle. Six big side cleats, chocks in the teak toe rails and cast
steel hawse pipes with inboard-mounted cleats at the stern ensure there is a neat, seaman-like way to secure the boat.
There is a boarding ladder mounted under the swim platform that can be pulled out from the water in the event anyone falls in – a feature we really appreciate. The swim platform is finished with a no slip surface to prevent falls. A proper transom gate on massive stainless steel hinges gives access to the cockpit.
The cockpit has a full width aft bench seat and a beautiful, removable table. Aft facing seats against the bulkhead have storage underneath and all together, make a comfortable social area. Hatches in the sole give service access for the Zeus drives and there is a large lazarette locker.
Up a couple of steps and into the salon you are almost overwhelmed by warm, satin-finished woods: teak and holly sole, American Cherry cabinetry and trim. If you love wood, you are home!
To starboard is a tub chair, cabinets housing a bar and entertainment system with TV on a lift, DVD player and the
impressive electrical panel. Opposite is an L-shaped settee with high/low table, storage under and a great tool drawer with fitted tools. Very thoughtful.
Next, going forward to port is the galley with service hatches in the teak and holly floor; the companionway stairs are done in American cherry with storage under the risers.
The galley is extremely well done with a large, single, stainless steel sink big enough to wash the largest pot you're likely to have on board. The galley also features a built-in coffee maker, convection microwave, Princess Gourmet two burner stove top and we loved the two Vitrifrigo refrigerator drawers that pullout.
Your "stuff' will not all land on the floor after a hard run in rough water! Also, there is an Isotherm pullout freezer drawer. Together you get as much practical refrigerator space as you're likely to have in most homes. The galley is what Sabre calls a mid-galley, meaning that it is neither on the main deck level nor on the lower deck but halfway between. It makes the best use of the space and yet, the chef can be a part of the party.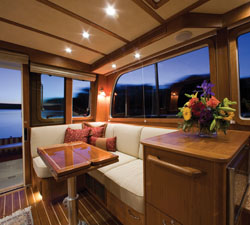 This boat is full of great features. We loved the big pullout rack in the galley that can hold all kinds of boxes and cans in a space that's only six inches wide. There's a cutlery drawer, a trash locker and big bins, plus a sailboat-style under floor storage area with sliding steel racks, a big area for cases of drinks and other bulky provisions plus service access to wiring and other components.
Back on the main deck level to starboard is the helm. The very first thing that would strike you is the pair of Stidd seats. These have a tremendous range of adjustment, arm and foot rests – the works! The custom-made wooden steering wheel is very handsome and Sabre includes the
MerCruiser DTS (digital throttling and shift) system, with Precision Pilot, Skyhook and other features. Of course, the Zeus pod-drive system includes full joystick docking. You can spin the boat and walk it sideways into a fuel dock; it's highly manoeuvrable.
Another great feature is the starboard side sliding cabin door beside the helm. This allows the captain fresh air underway, the ability to quickly get on deck when docking, or to talk to your deckhands.
The sedan helm enjoys large areas of glass with three windshield panels, each with an enormous windshield wiper and all side glass has 'Oceanview' blinds and the glass slides open with screens. You enjoy almost a 360° vision from the helm.
This is a sedan boat with one helm in the main cabin near the air-conditioning systems, galley and so on. If you prefer a flying bridge, that model is also available.
In the sedan model, on the lower deck, Sabre offers an interesting option in place of a second cabin – a pair of pocket doors on tracks that open up to a lower dinette but can still close to make a cabin. This option gives you a beautifully finished inlaid table in American cherry and maple for the four-person dinette that can be used as a desk and office, or folded down to make a double berth. There are two opening portholes, storage and this option makes a terrific games area for grandchildren with a flat screen TV and two different deck hatches for daylight.
The area also has a cedar-lined hanging locker, three drawers and like every drawer onboard the Sabre 40, they are traditional dovetail construction – an example of the excellent joinery work throughout the boat.
The one head has a double-door arrangement to the forward stateroom. It features composite countertop, a stainless steel sink and the handsome and practical shower enclosure has a circular clear acrylic door. The head is a Jabsco and the boat has a shaving mirror that is an example of Sabre's great attention to
detail; the mirror is articulated to adjust to just the right position for applying makeup or shaving.
The master stateroom forward has a shaped queen berth. Again, American cherry adorns the whole area that has four different side lockers as well as a hanging locker, five drawers, two more drawers under the berth and the mattress lifts to reveal an additional storage area.
Considering all the stuff you can take with you, lots of horses are needed!
Back at the helm, Cummins MerCruiser has you covered with twin 425 hp QSB electronic diesel engines with Zeus pod drive sin mild pockets. These run straight ahead, turn the boat very level and include automatic trim tabs to maximize efficiency at all speeds. The joystick docking is video-kid easy.
The boosted steering is light, direct and very responsive letting you turn this yacht like a sport boat. The 32.8 knot (37.8mph) top speed is more than enough and the high speed manoeuvrability is impressive. Most impressive though is that the Sabre 40 Sedan with the CMD Zeus power reaches 0.9 nautical miles per gallon at only 10.5 knots and then stays flat at 0.9nmpg (1.036 mpg) at all speeds up to 2700 rpm and 27.1 knots before the economy starts to decline!
Pick your speed, pick your weather and take all your friends! The Sabre 40 Sedan is an elegant over-achiever in tasteful clothing. What fun!
By Andy Adams
To see if this boat is available, go to www.boatcan.com to check listings!