Astonishing Accommodations!

This new entry to the North American motoryacht market packs an impressive amount of living space into a versatile layout.

Although the Prestige 500S is new for 2012, I first had a first look in Florida in 2011, and I stepped off with a sense of amazement, anxious to stand back and see the whole boat from a distance to figure out where all the space came from.

This is a sedan (or coupe) design that is actually under 50' (49' 1" overall). Yet the designers found room for a full-beam master stateroom with standing headroom that has a private ensuite head including a separate shower stall; a guest stateroom forward; a midships double cabin; a second full head; a very spacious salon; a galley on the main level; a generous cockpit and even a tender garage!


With twin Volvo IPS 600 pod drive engines, the Prestige 500S runs to 34 MPH and accelerates with determination, too.

At their press briefing in Miami in February 2012, Jean-Paul Chapeleau, directeur general for Prestige, told us that their goal was to become one of the world's most recognized yacht brands. The company, part of the giant Groupe Beneteau organization, offers a whole line of new yachts from their 350 model to their 60-footer, most in both sedan and flying bridge versions. A 70-footer was to debut at Cannes and their goal is to be a central player in the North American market.

We travelled to Performance Marine in Saint-Paul-de-l'Île-aux-Noix, south of Montréal on the Richilieu River leading to Lake Champlain. It is a gorgeous area, great for boating and only a short drive from downtown Montréal.

The Prestige 500S is an ideal design for this area. It can be a high-speed getaway boat for a weekday escape after
work or a floating cottage on weekends, and has the size and power to handle the Great Lakes, the St. Lawrence or a run down the Intracoastal Waterway to the Caribbean in winter.

Approaching the Prestige 500S for the first time, you notice the sedan style is lower from the waterline than a flying bridge boat would be (although Prestige does offer a flying bridge version) and the sedan has a single interior helm.

You can simply walk aboard the boat, unlock the glass aft bulkhead door, cast off the lines and take off, without fiddling with canvas and without much regard to the weather. Press a few buttons and the cabin roof slides open electrically, the side glass lowers and, with the aft bulkhead open, it's almost like a huge open boat. But if it's rainy, keep it closed up and run the massive windshield wipers. If it's too hot, run the air conditioning in the windshield defroster vents. Small effort – big rewards.


We like a boat with usable side decks and Prestige has big rails with lifelines and beefy cabin-side handholds. Both side decks are a usable size but the boat is asymmetrical with a comfortably wider deck on the port side. You can securely head forward to the big sun lounge on the bow. This includes a retractable sun awning and adjustable backrests. The 500S also features a big Delta anchor, a Lewmar windlass and a generous anchor locker.

At night, the steps are illuminated for safety. Lights on the cabin overhang also illuminate the cockpit, where a huge bench seat with a high-low teak table provides a delightful outdoor dining area or can be dropped down to convert this into an enormous sun lounge. At the touch of a button, all that lifts to reveal the tender garage that lies below the cockpit but above the engine bay! A great use of space...

Our test boat had glorious and comfortable teak flooring. A great touch from this sailboat builder are the line boxes on the port and starboard sides to keep things neat and tidy. A warping winch is included as well, enabling you to bring the lines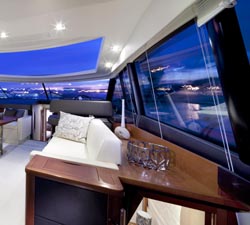 in or let them out in response to tidal changes in water level. Three floor sections here lift for storage access and also for port and starboard-side engine access.

From the cockpit, slide the glass bulkhead open. As you enter, the expanse of side glass catches your eye. This boat has a very bright interior, enhanced by the use of white carpeting, white upholstery and white galley counters, yet I felt it was still comfortable in bright sun thanks to the mirrored side glass – very cool! The glass is also a big help with the air-conditioning load. The test boat had a 69,000-BTU system.

The salon has a portside bench with seating for six or more, but there's no storage under the seats; instead they provide headroom in the master stateroom below. The dining table has leaves with slide-out supports.

The galley is down one step and I'm not sure why. However, it's a really nice arrangement with L-shaped counter areas,
filler sections to give lots of unobstructed counter space for food prep and serving, and the attractive white counter surfaces. The test boat was fitted with a built-in Vitrifrigo refrigerator with freezer, a Cuisinart convection microwave and a Danby dishwasher! We really appreciate the Whirlpool range hood.

We also liked the serving island that incorporates storage inside, including a trash locker, cutlery drawer and bin for pots and pans. It struck us as a good galley overall – and we love the location right against the aft bulkhead with easy access to the cockpit and swim platform for dining and entertaining. By the bulkhead door is the electrical panel and under that is a locker and a pullout bottle rack and glasses rack.

Right there to starboard is the private stairway to one of the most impressive features on the prestige 500S, the full-beam master stateroom. Accommodation like this on a 50-footer is quite amazing to find! There are huge side glass areas in the hull as well as opening portholes port and starboard to make this feel like
an above-decks cabin. It's not just full-beam but it has six feet of standing height, with a 160-by-200-cm king-size bed. There are bedside tables, a combination desk/makeup table on the port side, a flat-screen TV mounted on the bulkhead, hanging locker, starboard-side locker for clothes, plus two more bins under the bed.

The ensuite master head is spacious and nicely equipped but it's broken up into three different floor levels! The MSD is mounted highest and we have to observe that it truly is a throne! There is lots more storage for towels and cosmetics, mirrors for shaving and makeup, and a vessel-type sink as well as a fully enclosed shower stall.

The guest stateroom in the forward vee has a makeup table, two lockers, big side glass hull panels with opening ports and remote audio controls. You can make up this berth as either a double or two singles so it's very versatile. This space has a separate entrance to the day head which is equipped with a vessel sink, big mirrors, opening ports and folding shower enclosure in a clear acrylic.


The midships stateroom is still big enough to be comfortable and is equipped with two singles that can be filled in for a queen berth, a big locker and opening portholes as well as air conditioning. It's a great space for kids, guests or crew.

We can't say much about the performance and seakeeping qualities of the 500S – the water was millpond flat for our test and we were in a sheltered area. Still, the boat accelerates strongly and quickly reaches top speed with impressive smoothness. The twin Volvo Penta IPS 600 engines are mounted a bit forward and drive through jack shafts for optimum weight distribution.

The helm is very complete yet simple and comfortable to use, with a large Raymarine multi-function display, tilt steering, double-wide seat and excellent outward vision to most sectors, even from a sitting position. You can open the roof and stand up to look out all around, while the electric opening side glass admits just the right amount of fresh air.


If you are lucky enough to be shopping in this price bracket, the Prestige 500S deserves to be on your list!

SPECIFICATIONS

Test boat engines: Twin Volvo Penta IPS 600 pod drives, D6 435 diesel engines with 6 cylinders, twin cams, 4 valves per cylinder, turbocharged and aftercooled, 435 hp each. Includes joystick docking.

PERFORMANCE
ENGINE RPM SPEED MPH
1000 7.4
1500 10.3
2000 13.0
2600 19.7
3000 25.0
3500 31.9
3626 33.9

CRUISING SPEED RPM/MPH
3,400 / 28.8

SPECIFICATIONS:
LENGTH OVERALL: 49' 1" / 15.2 m
BEAM: 14' 9" / 4.5
WEIGHT: 29,750 lbs / 13,500 kgs
FUEL CAPACITY: 2 x 175 gal / 2 x 650 L
WATER CAPACITY: 2 x 84 gal / 2 x 318 L
WASTE CAPACITY: 32 gal / 120 L
PRICE: (as tested, base, etc):

Test boat provided by Performance Marine, www.groupeperformancemarine.com

Performance data and price quoted by Prestige Luxury Motor Yachts, www.prestige-yachts.com

By Andy Adams