With its new flagship, Coastal Craft stays true to its successful approach, delivering top-quality construction in a high-performance yacht.

Reviewing new boats is one of the most enjoyable parts of any marine writer's life. Not only do we see the latest designs and goodies from a variety of manufacturers, but we get to play Walter Mitty and dream about owning examples of the boats we test.

When Coastal Craft founder Jeff Rhodes took me out on Vancouver's English Bay aboard the company's new 56' flagship, that very thought was uppermost in my mind. This one might be beyond my budget but I finished the test thinking I might just be able to afford one of its smaller siblings. I was impressed. My notes were full of superlatives and our ride at speed only confirmed my early impressions.


Hull #2 of the Coastal Craft 560 has recently been delivered, but the owners of Hull #1 graciously allow Rhodes to use her for demos and boat shows. I had seen her under construction last winter on a tour of the Gibsons, BC factory. Then, she was all components, bare metal, wiring and a swarm of workers. Now she's a top-line performance yacht and looks the part.

From a distance there is no mistaking her Coastal Craft heritage. The reverse-raked windshield, compound curve of the sheer and deep royal blue hull paint all shout Coastal Craft – with a subtext of "watch me go!"

From closer up I was struck by the vessel's size. Most 50-plus-footers have a third deck in the flying bridge, adding height. But this model's performance at speed makes a permanent bimini impractical, so the 56 has two decks and similar proportions to the rest of the Coastal Craft line, with an open flying bridge. It never looks overly large but once alongside you are aware of her length. The proportions seem just right.


The finish is impeccable. The boat had already gathered a group of admirers by the time I arrived dockside, and they were all surprised to learn it was welded aluminum. The mirror-like finish of the hull looks like premium fiberglass. And the bow has an almost sensual compound-curved flare.

Stepping aboard through the transom door, we passed over the substantial aft deck, teak-covered and easily large enough to seat six or eight around the U-shaped table – and more with portable deck chairs. I was impressed with the quality of all hardware and fittings. All doors closed with a reassuring "thunk" and there were no gaps in any closure.

INTERIOR

The interior is finished in off-white and earth tones, very muted but classy. The paneling is a warm teak that contrasts nicely with the soft fabrics. And the woodwork is all the more attractive because the builders have taken extra care to
match grain on all cabinetry.

The owners of our test boat specified a large dinette because they do a lot of entertaining. The triangular dinette table takes up the port side of the saloon while to starboard is a love seat-sized sofa. The dinette is raised about six inches to allow easy sight lines outside, while the sofa is mounted flush on the sole. The galley is amidships to port, and all appliances and most storage are fitted below counter height. Nothing intrudes into the space above, providing excellent all-round visibility for crew and passengers alike.

As Rhodes walked me through the boat, it was clear that there is a huge amount of storage in the galley and saloon, indeed throughout. Countless drawers and cupboards held everything from provisions to supplies to china and stemware, as well as navigation accessories. With everything tucked away, the interior looked very clean and uncluttered.


The helm is located to starboard opposite the galley and is fitted with twin Stidd chairs. The boat has four control stations: at the main helm, flying bridge and aft deck port and starboard. At the main helm, controls are standard save the addition of the Volvo Penta IPS joystick mounted on the skipper's armrest to starboard.

In front of the helm was space for three full 15" navigation screens, as well as the display for the E-Plex monitoring and control systems. The boat was fitted with a Garmin navigation system that incorporated plotter, radar, depth sounder, three onboard cameras, Flir night vision and engine instruments. Anything that is monitored can be displayed on one of these screens at the helm, and all are repeated at the upper helm.

Access to the below-deck service space is through a hatch at the front of the saloon. Another access hatch is farther aft. Down a short three-step ladder, the entire mechanical and electrical systems are revealed. It's a hands-and-knees space but amazingly comfortable. All key components that need servicing are within easy reach, such as the battery bank,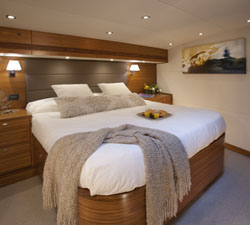 inverters and chargers, Racor fuel filters, and the heating and cooling systems. Everything is properly labeled, and all installations are operating-room tidy.

Most owners won't spend much time below decks, other than for routine maintenance. And even that will be minimized as the batteries are sealed Lithium-Ion, for example, and other systems are designed to need minimum attention. The key is the E-Plex system that allows the skipper to monitor and control all operating systems from the helm.

ACCOMMODATIONS

The 560 is a true twin-stateroom yacht. The guest stateroom is aft with access through a portside companionway at the rear of the saloon. Two generous single berths extend forward under the dinette – they are full-sized but has modest ceiling height over the berth itself. A three-piece head is complete with a full-sized shower. Sliding doorways on the companionway ensure privacy. This stateroom has its own lighting and HVAC controls,
separate from the rest of the boat, so guests will feel comfortable and in control of their own space.

The master stateroom is forward, with access just to port and past the helm and galley. Down three steps is an entry area that hides the full-sized Miele washer and dryer, neatly installed behind paneled access doors. The walk-around master berth is just four inches shy of a full king width, a compromise to maximize sleeping comfort and still allow free access to the built-in drawers and hanging lockers alongside. A full-sized head is forward with a separate shower; countertops are granite. The master head has real marble flooring.

Lighting is Imtra LED throughout, all controlled through the E-Plex system, as is the Bose sound system.

From the aft deck, a stunning open stairway to port – dramatically formed in stainless steel with teak treads – leads to the flying bridge. Sliding companionway doors open onto to an expansive upper deck. There is room here for a good-sized tender with outboard on davits, and generous entertaining space for at least eight guests.

Access to the engine compartment is via a hydraulically-operated hatch in the aft deck. The hatch swings up and aft as the sculpted stair unit splits at mid-height to open wide, showing the twin 900-hp Volvo Penta D13 common-rail diesels. These engines are the largest in the Volvo family, but Coastal Craft will also install their smaller 800-hp siblings. The Volvos are matched to a pair of the largest forward-facing IPS drive units.

This aft compartment is only for the engines. All other systems are housed and accessed separately, ensuring better cleanliness and heat isolation from the rest of the boat.

PERFORMANCE

Once our tour was complete, Rhodes took us out for the highlight of the day, some low-speed maneuvering, then a run at speed. To demonstrate the ultra-maneuverability of the low-speed IPS joystick control, Rhodes snaked us away from the Horseshoe Bay public dock, past rows of marina moorage and out around the breakwater to open water. At idle, the massive Volvos pushed the 65,000-lb hull at over six knots, but if the slow-speed maneuvering feature is engaged this slows to three knots.

As Rhodes opened the throttles gradually and we climbed steadily onto plane, I was impressed that the bow hardly rose at all – we climbed straight up and out. Before there was any sensation of speed, we were doing 25 knots. The hull felt totally at ease, as if it could do this all day. We tried several acceleration runs, each a bit more aggressive, and the boat's demeanor remained straight and true, solid and confidence-inspiring. With just two of us and a light load of fuel and water aboard, we approached maximum cruising speeds in the high 30s. Even at these speeds the boat is very quiet.

An emergency avoidance maneuver was a very tight turn with no need to cut the throttles. The turns were true, with minimal lean and no drama. Our figure-eight demos and a couple of passing ferries created a fair wash, but the 560 handled the chop with grace. Solid and comfortable were the words that came to mind. Oh, yes, and total fun!

There is much more about the 560 and its systems and options than we can describe here. My conclusion was that the highest quality in design and construction is matched by all components and the complete build package. Coastal Craft brings sport yacht performance to an ultra-quality vessel. Rhodes and his Coastal Craft team are perfecting this approach, and their growing order book shows it's exactly what their customers want. I'm just wondering what I can trim out of my personal budget to be able to take one home.

Specifications
LOA                56' 6''
LWL                48' 6"
Beam                16' 6"
Draft                4' 9"
Fuel Capacity            800 US gal/3,028 L
Water Capacity        180 US gal/681 L
Waste Capacity        70 US gal/265 L
Propulsion (standard)    Twin Volvo D13 800-hp diesels with IPS3 drives
Cruising Speed        30 knots
Maximum Speed         38 knots
Loaded Displacement    65,000 lbs
Range (at cruise)        400 miles
Range at 8 knots        1,000 miles

www.coastalcraft.com

Performance

RPM        Speed (knots)        Economy (US GPH)
0600        6.5            3.0    
0800        8.9            8.1
1000        10.9            13.5
1200        12.5            22.2        
1400        17.0            32.4
1600        21.0            42.0         
1700        23.2            44.5
1800        25.3            49.3
1900        27.4            54.5
2000        30.0            60.0
2100        33.0            66.2
2200        34.5            73.3
2300        36.8            82.2
2370        38.2            87.3

Load: 90 percent fuel, 100 percent water, with three passengers.

PHOTO CAPTIONS
Photo 1 - With just two main decks, the 560 has a low-slung, purposeful look that emphasizes its performance pedigree.
Photo 2 & 3 - An expansive upper deck has room for a large tender and generous space for seating and entertaining.
Photo 4 - Saloon with a view: appliances and storage are kept below counter level to preserve all-around visibility.
Photo 5 - The main helm is fitted with twin Stidd chairs and multiple displays for electronics, instruments, and an E-Plex monitor and control system.
Photo 6 - Up forward, the master stateroom offers a large island berth and extensive storage in drawers and hanging lockers.
Photo 7 - The guest stateroom aft extends under the dinette, with its own full head and climate control separate from the rest of the boat.

Story by Robert Buller
Photos by Neil Rabinowitz, © www.neilrabinowitz.com