Oct 8, 2020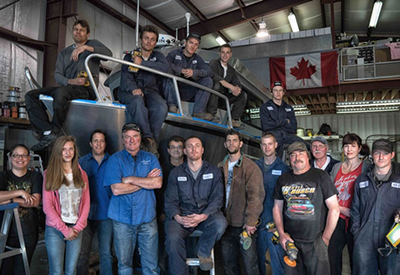 The Silver Streak Boats Team

Silver Streak Boats started from the grass roots in Sooke, BC with its early stages in Andy Barry 's shop after long hours working at the Victoria shipyard. Andy had a vision and quickly began drafting and carving out foam proto-types which would one day become one of Canada's premier welded all-aluminum boats.

In 1987 the first shop was opened after some much, needed renovations. The shop operated with one buzz box welder, a skill saw and some grinders. They outsourced all other cutting and forming. All the original designs Andy drew by hand at night after work.


32ft Sonora Cuddy Cabin

This small double bay shop would suffice for 3 years before the boat's popularity evoked the need for a small crew and more space. The second location was the property of an old gas station only minutes from downtown Sooke. Silver Streak Boats still runs out of this location only now with added shops, office space, a parts department and a crew of 30 employees and various contractors. Nowadays their shop is filled with hydraulic press brakes, shears, programmable equipment, benders, plasma cutters, pulse arc welding machines and their designs are created on the latest version of Solidworks. This 3D modeling software allows for all boats and parts to be cut via a CNC water jet cutting apparatus. They are also a CWB certified welding shop for fusion in aluminum and a member of ABYC since 2004.


30ft Pilot House

They are also proud of all the many people whom have worked for them or still work for the company and the many apprentices that they have trained and certified. Many of these apprentices have gone on to work all over the world because of their training at the Silver Streak facility.

Silver Streak Boats hires local Sooke and surrounding area residents in order to facilitate job creation within their small community, and they pride themselves on using as many local companies and suppliers in keeping with this same policy. They are involved with our community and have been long-time supporters of the Sooke Salmon Derby, Sooke Salmon Enhancement Society and the Royal Canadian Legion.

All these years later and Andy plus his crew still produce an exceptionally well-built boat with style and superior functionality. They have dedicated themselves to promoting all watercraft activities for present and future generations to enjoy.

The men and women of the Silver Streak Team are made up of fishermen, sportsmen, outdoors-men and are proud to be building a top-quality product for those who too appreciate the great outdoors.

Find out more about these high-quality exceptional boats go to: https://www.silverstreakboats.com/