By CY Staff
I was attending the Port Credit Boat show recently, quite frankly expecting nothing new and then I got stopped in my tracks, when I saw this elegant and beautiful boat. Untypical with its red waterlines and tan canvas I was presently surprised to see it came from Hunter. Was it a racing boat or a new performance cruiser?
What struck us too was the new use of a product called Flexiteek. This new composite PVC material has the look and feel of teak without the hassles of maintenance. The new 38 has Flexiteek in the cockpit, cabin, and seats. It's a neat touch that really complements this boat.
The Hunter 38 which was formally launched in May this year (2004) enters the new mid range market between 37- 41 feet. Glenn Henderson had really accomplished his challenge top design a boat that stood out and look fast. There is no question that this boat reflects a change in the style and design. Hunter utilizes the latest 3D CAD/S (computer aided design/simulation) software for its design and simulation. It is amazing how different this looks from its predecessors.
We got a great shake down cruise in winds of 15 -20. The boat performed beautifully and showed just how well built and solid this boat is. Sailing up wind the boat tracked well and held its height beautifully. I was impressed how well it performed here.
The vertical batten system works well holding the sail shape beautifully. We were impressed too how easy it was to furl the main with the battens in.
The 38 features the time proven B&R rig. The shrouds are anchored by composite chainplates directly to the hull widening the base to reduce tension and compression loading. Along with the swept back spreaders the mast pre bend and pumping are well controlled minimizing both wear on the rig and the use of lighter mast sections lowering weight aloft. In the breeze we experienced in our test we were impressed with the lack of pumping and rig integrity.
With this rig Hunter has decided to go with a large mainsail and small headsail. By utilizing the main as the driving sail, it becomes easier for the cruising sailor to tack the main and small headsail rather than struggling with a large genoa. Also as the wind increases, reefing the main, rather than furling a large genoa, lowers the center of effort of the sail plan and increases drive by maintaining more efficient airfoils.
On close inspection we noticed a new hull shape and design and noticed too an extra long rudder profile. On seeing this we knew that Hunter had adopted a new approach of using a larger rudder and smaller keel still maintaining lift and resisting leeway and for sure giving the boat a more responsive feel. The new 38 boasts a durable rack and pinion steering system that creates a tighter, more positive feel from the rudder.
Comfort is the central theme of the cockpit design and right away we noticed the angled seatbacks that insure comfort is maintained at various angles of heel. Hunter made the decision to have wider cockpit allowing for a functional pedestal with a built-in cockpit table. The 38 cockpit includes 3 storage lockers, LPG locker, line stowage wells, a walk-through transom, a cockpit arch as the newest standard for cruising sailboats and plenty of comfortable seating.
All lines are led to the cockpit for short-handed sailing. Also on deck you will find line stowage wells, sheet stoppers, and self-tailing winches; all close at hand.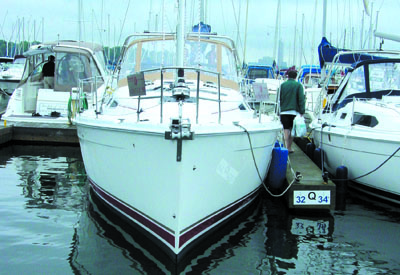 Below decks we noticed the use of lighter materials everywhere in the headline for instance, done to lower the center of gravity and providing even more stable sailing. In this popular mid range size the below deck comfort is critical. as a family boat with a stronger female influence in the purchase Hunter paid attention with the look and feel below decks. The end result is an exceptionally comfortable interior layout that maximizes living space and storage.
The 6'6" headroom really highlights the open and airy interior and framed in an Everwear laminate teak and holly sole. The salon area can easily handle and entertain ten people below, while in its dining configuration easily handle eight. There is tons of storage and an easy conversion also allows two to comfortably sleep. Good flow through ventilation is great made possible by eleven hatches and ports and a Dorade type vent, (one that prevents the rain from coming below and uses a cowl above decks.)
The galley boasts a built in type front opening refrigerator, and standard equipment that includes a microwave, two burner stove with oven, dish drying racks, dual stainless sinks and standard Corian countertops. Typical with the Hunter line tons of storage is near reach.
The built-in navigation station is also provided with plenty of room for electronics.
The stateroom configurations are neat options with a tri cabin version available see the layout options below.
The master aft stateroom features a large berth, built-in lounging seats and shelves, abundant compartment storage, and twin cedar-lined hanging lockers, while the V-berth guest suite includes two cedar-lined hanging lockers with shelves. The head includes both a private entry door from master and a hall entry, standing shower and built-in vanity.

Originally published in Canadian Yachting's October 2004 issue.
Hunter is represented in Canada by:
Specialty Yachts Sales and Service,
102-1676 Duranleau St., Granville Island,
Vancouver, BC,
V6H 3S4, Canada,
Tel 604-689-7491,
Fax 604-681-0553
Sunnybrook Yachts
130 Marina Rd, PO Box 316,
Chester, NS
B0J 1J0, Canada
Tel 902-275-2424
Fax 902-275-2444
Angus Yachts of Toronto
1 Port Street East,
Mississauga, Ontario
L5G 4N1 Canada
Tel 905 274-2968
Fax 905 274-5282
Specifications
Length Overall 11.63 m
Waterline Length 10.57 m
Beam 3.94 m
Draft (shoal & twin) 1.52 m
Draft (deep) 1.98 m
Displacement (shoal) 8,000 kg
Ballast (shoal) 2,680 kg
Headroom 1.98 m
Sail Area 78.1sqm
Water Capacity 284 L
Fuel Capacity 114 L
Holding Tank Cap.132 L