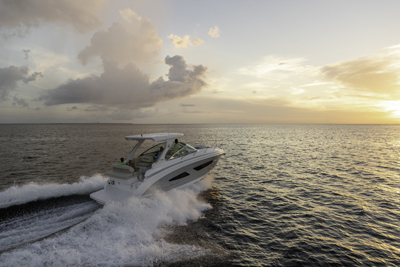 Amazing accommodations for today's lifestyle

By Andy Adams
No wonder this is one of Regal's best-selling boats; the Regal 33 Express offers amazing accommodations for today's boating lifestyle and at a price that seems very competitive.
The Regal 33 Express is a great looking traditional express cruiser with maximum interior space. This is achieved by eliminating the side decks and using the full beam for living space above and below decks. The hardtop is optional and comes with blue LED lighting which looks very sexy and makes night time something special. The hardtop adds so much appeal to the boat that I can't imagine not getting it.
The Regal 33 Express is the have-it-all cruiser prepared for unforgettable adventure, whether it's a day at the beach or a weekend on the water. The expansive swim platform is a key part of the accommodations. A four-step fold down boarding ladder makes re-boarding easy and from the swim platform it is an easy step up into the main deck level.
The helm is as comfortable as it is sporty with well-located controls and great sightlines.

The first and most important feature is one that you can't see just by looking. It's the electric sliding aft bench seat which can move almost a foot, greatly expanding either the swim platform area, or the interior seating. The seat back can adjust to either face forward or aft, or even fold flat to make a big tanning bed and there's a lot of storage underneath for lines fenders and other important accessories.
The design of the Regal 33 Express looks like the new generation of day boats with the emphasis on outdoor living and activities on the water. Stow your SeaBob, snorkel and fins, inflatable SUP or other water toys here and spend the day swimming and relaxing moored by the beach.
The versatile aft seat adjusts electrically.

Reinforcing the style of the day boat, the main deck is all one level which is a very popular feature and convertible furniture combined with clever planning makes this a really great living area.
Continuing up the port side, is more seating with storage under the double-wide companion seat. Again, that has a flip-flop seat back so passengers can face forward when running or face back to join the cockpit party.
This shows the aft seat back folded into the sun lounge position.

On the starboard side our test boat had a refreshment centre that can include a Kenyon electric grill. A refrigerator here keeps your food and drinks cool and near-at-hand. Whip up snacks or grill steaks with everyone together. There's a stainless-steel sink, trash storage, drink holders and a grab rail for safety.

Helm
Ahead of the refreshment bar is the helm. This features a double-wide seat that includes a flip-up bolster, a foot rest that is nicely located, and the test boat had twin Volvo Penta V8 300 Catalyst EVC Joystick, 5.2 litre V8 engines, and Regal has conveniently mounted the joystick docking controls on the side panel armrest near the switches.
Just ahead of the joystick are the trim tabs and then the main controls. There's a tilt steering wheel, Fireboy Xintex fire system and the Fusion stereo. A stylish centre panel is where the multi-function screen mounts directly ahead of the wheel. Select navigation information, engine data, etc. The sightlines from the helm are almost unimpeded 360 degrees, making the boat easy to drive and enjoy. Our test boat also had a Marinco remote control spotlight and two drink holders at the helm.
To access the forward deck with its reclining sun lounger, to hang fenders or to get to the anchor locker, use the steps moulded into the sliding cabin door. Step up and through the swing-open windshield section. Stainless-steel rails provide security. The test boat had an electric Lewmar anchor windlass for convenient anchoring out.
The Regal 33 Express delivers the outdoor living features buyers are looking for, and it also has impressive cabin accommodations.
Cabin
The cabin is down four steps from the main deck level, it is very bright and totally open for maximum living space. The cabin seems simply huge for a 33-footer.
The refreshment centre is certain to be a highlight of the accommodations with Isotherm refrigerator, optional Kenyon grill and more.

The most amazing feature is the aft cabin which can be converted from two single berths to a real king size berth. I can imagine all kinds of people who would think this was simply incredible for a boat of the size. Plus, the test boat had] a proper innerspring mattress, not just a slab of foam. The really delivers home comfort onboard your boat.
Appropriate to that, a diesel generator is available and our test boat had the air conditioning option as well, keeping the cabin cool and dry on our hot test day.
A large mirror adds to the spacious feel in the head.

Also, in the cabin which is full beam and very open, are two huge side bins with shelves. The test boat had a 12-volt Majestic TV. This cabin has sitting headroom and generous hull-side glass windows give a simply great feel. There are clips included to hang a privacy curtain so that if it's just one couple onboard, you can leave everything open, but if you have another couple or perhaps the kids on board, you can easily have that privacy.
The target buyer is a middle-aged couple who appreciates the fact that the boat can be converted from two single berths into one enormous king size and it still has a forward bed so it's very good for a young family, or two couples for that matter.
Regal is experiencing continued growth in this market segment and we're not surprised given how versatile and feature-rich the 33 Express turned out to be.
In the bow area is a clever vee-berth. The cabin features a starboard side settee with storage underneath and it faces the galley. The seatbacks by the vee berth fold out on a support to give a full-length vee berth, but if that is not needed, fold the seat backs down to enjoy more cabin space.
Another thing we really liked was the centre underfloor locker where are you can store really large items. The whole cabin interior was finished in light colours in Regal's Driftwood cabinet finish; very handsome. Adding to the bright and open feel were three deck hatches with screens and blackouts.

This is the cabin interior view from the companionway.
Galley
There's also a galley in the cabin. This included a two-burner stove top plus Mauve microwave oven and nice features like an exhaust fan by the cooking surface and a cover over the stove that converts to be a backsplash. There was also a single stainless-steel sink, Isotherm refrigerator both here and with second unit in the refreshment area on the main deck. Other features included a cutlery drawer and there's a starboard side locker for linens and other items as well as a cedar lined hanging locker.
This is the most amazing feature; the full king-size berth.

Head
To maximize space in the head, Regal chose to go with a wet head rather than a separate shower stall and the result, like the rest of the cabin space, is a big and open head that should be quite comfortable. A full width mirror makes the space seem even larger. There is a vessel sink, porcelain toilet and a big expanse of side glass. That doesn't open, but there is an exhaust fan.
Another interesting feature is the fact that Regal has used Whisper Wall which is a feature that saves weight and reduces noise. Regal is a private family owned third-generation business that has just enjoyed their 50th Anniversary and is on really solid footing as a business. That's an important consideration when you're investing your hard-earned money in one of their products.

The steps up to the forward deck are moulded into the cabin hatch door.
Performance
Our test boat had twin Volvo Penta V8 300 Catalyst EVC Joystick, 5.2 litre V8 engines plus power steering and trim tabs. The boat can also be equipped with a bow thruster system but the joystick docking is effective, intuitive and easy to use.
The hull is a 21-degree deep vee design that delivered a smooth ride with a sport boat responsive helm feel. Tight high-speed turns are accomplished without drama and the power steering and conveniently located engine trim buttons make is easy to get the most out of the smooth-running Volvo Penta V8's.
We recorded a top speed of 46.3 mph at 5,900 rpm. We found the boat was solidly planned off and cruising at 27.2 mph doing 4,000 rpm and we timed it from a standing start to planning speed in 6.6 seconds. That included a full load of fuel and four people on board, so it's pretty quick!
In addition to offering amazing accommodations for today's lifestyle, the Regal 33 Express also delivers a high level of performance and handling, all wrapped up in a stylish package that should hold its value well over time.
SPECIFICATIONS
ENGINES:
Twin Volvo Penta V8 300 Catalyst EVC Joystick, 5.2 litre V8 engines with electronic control, catalyzed exhaust and electronic fuel injection, 300 hp each, Duoprop drives with Joystick docking control.
PERFORMANCE
RPM MPH
1,000 4.7
1,500 7.5
2,000 9.1
2,500 10.6
3,000 14.2
3,500 20.7
4,000 27.2
4,500 32.2
5,000 36.9
5,500 41.5
5,900 46.3
SPECIFICATIONS
Length Overall: 34' 7" / 10.54 M
Beam: 10' 4" / 3.2 M
Deadrise: 21º
Approximate Dry Weight: 12,650 Lbs / 5,738 Kg
Fuel Capacity: 150 gal / 568 L
Water Capacity: 36 gal / 136 L
Waste Capacity: 29 gal / 109 L
Price: $352,205 USD MSRP; Plus Freight, Dealer Prep & Taxes.