A Great Boat for Canada and Mom Approved Too!
By Jill Snider and Andy Adams
Coming from two different directions, Jill Snider and I met up at Crates Lake Country Boats in Orillia, Ontario to run and review a new Pursuit DC 235, a deep vee dual console boat that is an offshore inspired bow rider with strong fishing overtones and a wide range of family features.
It's what I would call a handsome, classically styled boat that I suspect will still look fresh many years into the future. Jill had a different take on it.
She said, "This boat has profound dockside appeal. It screams sexy. I was lured to it the moment I hit the dock."
Jill has joined Canadian Yachting recently but she has a long boating background having run or worked in several marinas and she attended Georgian College for some of her training. She is a life-long boater and she also has a 7-year old son. Together with her husband and son, Jill spends as much time as possible aboard their Boston Whaler in Georgian Bay.
The Pursuit has some of the same aesthetic as her 'Whaler. She had a feeling for the DC 235 right away.

The dual console design is great for Canada's seasonal boating. You can open it up in summer or weatherproof for wind and rain. Our test boat had the optional hard top and it offered great sun protection, an easy place to hang the canvas and it was on a big strong powder coated frame that was soft on the hands and gave a secured grip when you needed to hang on or step in.
In the dual console design, the windshield swings open in the centre. We thought the curved windshield looked great and the opening center section has two clips plus a fitting to secure the glass when it's open. Pursuit has done a better job on that than just about any builder I can think of and the bow area will get lots of use. Jill was especially impressed with the bow and all the interior accommodations.
Shown with the filler cushions in place, the bow area is deep, secure and includes lots of under-seat storage.
She said, "If you are a parent as I am, you probably know that boating changes when you have a little one – safety becomes the first priority. Typically, I'm the First Mate, so I took on that role while we were testing the DC 235 and turned down the opportunity to drive – I wanted the "real-life" simulation."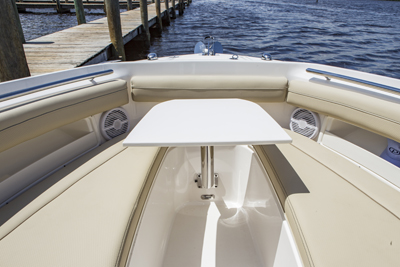 "On boarding, I immediately noticed the depth of the cockpit area. The high freeboard gave me a sense of security. The overall length is 24' 4", however it felt more like 28'. A quick circle check for all of my priorities left me impressed, with the innovative design providing comfort in all areas and functionality for longer day cruising. After safety, the key priority for this mom is the head. On this vessel the head is spacious and even comes standard with a pullout freshwater shower. Again, lots of functional space there as well."

Remove the filler cushions and the bow table becomes a great spot for lunch when moored.




This is a very usable head compartment with a sink, clever storage and a fire extinguisher in the door.

KEY FEATURES

Here is a quick-list of features that I think takes this boat to the top of the list for parents and couples who want an exceptionally practical (and sexy) day cruiser and cottage boat:

• Optional tow bar for fun on the water.

• Single port-side folding, aft-facing lounge. The seat is wide and the upholstery is supple, providing comfort for the spotter for the aforementioned towing fun. This seat would be my Happy Place even when not towing.

• A forward-facing, folding transom bench complements the cockpit creating a wonderful place for conversation – which is easy with the incredibly quiet Yamaha F300 outboard for power.

• Rod holders and live-well make it a cross-functional fishing boat offering another option for entertaining friends or 7-year olds on a day trip.

• The optional hard-top and side curtains offer protection from the elements with ease.

• The entertainment area has a sink with pull-out sprayer and insulated cooler.

• Storage! There is storage designed into every inch of available space.
I took the companion seat first. The boat jumped onto plane effortlessly. The ride was comfortable and enjoyable, but the real test for me was the bow-ride. Typically, the bow is where you really feel every turn and ripple. After some time as a passenger in this space, jarring from wave action can be wearing so I am fairly critical of this. I moved into the bow seat, stretched my legs out and Dan, our captain for the day, completed the speed test. I will tell you, this boat handled far beyond my expectation at top speeds. An unexpected hard turn to port was thrilling from the bow seat!
I did not have to adjust; I was stable, comfortable and smiling from ear-to-ear! The high freeboard offered a sense of security when the boat heeled heavily to port giving the sensation of being nearly sideways. The boat handled crashing through our wake effortlessly and I did not feel the jolting that I was prepared for. The hull sliced through our wave action effortlessly. I envisioned my husband in all his glory at the helm while my son and I giggled profusely as we leaned to port and then to starboard at cruising speed, then taking on our own wake and having such fun…feeling safe and secure."
Clearly Jill was favourably impressed! And, I was too.
The adjustable helm seat swivels and includes armrests and a flip up bolster for standing operation. All the controls are nicely located and easy to use.

INTERIOR AND COCKPIT

The bow is big, deep and secure with inboard mounted handrails, nonskid deck services and pop-up cleats for safety. There is a large anchor locker, inwhale cushions around the perimeter and two seats with room for four or more upfront. Cushions can fill-in the footwell to make a large sun area. I also loved how the seats lift up from the front on articulated hinges for easy access to a huge storage space with drains.
There are cockpit overhead lights on the hardtop as well as footlights for night time use.
To expand on some of the points Jill liked, the cockpit is certainly a nod to the fishermen in the group with a transom top lighted bait well, four rod holders and a big open expanse of cockpit floor. The transom door was very secure and has a magnetic latch; another piece of excellent hardware that Pursuit has used.
With a stainless steel tilt steering wheel and non-reflective finish, the helm area is well laid out.

Also, across the top of the transom is an optional pop-up up ski pylon which is a very cool and useful feature and there were also a pair of drink holders there. Making the most of the cockpit space is the very comfortable forward-facing seat for two people. It can be folded completely out-of-the-way for fishing. Jill especially liked the companion side seat that can flip out to become a sun lounge or aft-facing seat for the water sports watcher.

On the companion side is a forward-facing seat which is big and comfortable and has a foot rest molded into what appears to be the port side dashboard console. There are two drink holders there and surprise! The whole piece swings open for easy entry to a very spacious head compartment. This is quite usable and also has lots of storage in the door for things like toilet rolls, towels and the fire extinguisher.
The head had a pumpout Raritan porcelain bowl and also a small sink with fresh water plus a light on the side. We didn't notice an opening port hole though.
HELM
The driving position was very comfortable with excellent outward vision. The stainless steel wheel tilts are test boat was equipped with lighted Lenco trim tabs, Yamaha digital engine readout and the JL Audio System. There's an optional Garmin GPS screen and there would still be plenty of room to mount other electronics at the helm. We like the fact that there was a secured cubby hole for our cell phones.
PERFORMANCE
The Yamaha F300 starts easily and idles almost without a sound. Acceleration was easily up to planning off riders or a load of friends and the optimum cruising speed of 31.1 mph delivers almost 2.5 mpg. You can almost ignore the trim and tabs because the boat is so nicely balanced but the tabs can level it in a side wind. It's easy to get right. The 21 degree vee hull delivers a soft ride and great seakeeping qualities plus, it really hangs in through a fast turn.
With strong performance, great accommodations and a very versatile design, the Pursuit DC 234 with the Yamaha F 300 would be a simply great choice!
SPECIFICATIONS

ENGINE
Yamaha F300, 300 horse power V6 four stroke V6, 4,169cc / 254.4 cubic inches,
DOHC / 24 valves direct action with variable camshaft timing (VCT), Multi-point electronic fuel injection, 15 ½ x 17 Stainless steel prop
RPM SPEED MPH
1,000 5.1
2,000 8.4
2,500 9.8
3,000 13.7
3,500 19.9
4,000 31.1
4,500 36.6
5,000 40.8
5,500 45.0
5,900 47.4
Length OA: 24' 4" / 7.2m
Beam: 8'6" / 2.6m
Fuel capacity (gasoline): 105 gals / 397 L
Water capacity: 9 gals / 34 L
Waste capacity: 13 gals / 49 L
Average dry weight: 5,350 lbs / 2,426.7 kg
Deadrise: 21 degrees
As tested MSRP price in USD: $139,274 + freight, dealer prep, licence & taxes.
Boat and price supplied by Crates Lake Country Boats, www.cratesboats.com