Story by Andy Adams,
photographs by Peter Richardson.
Only a trawler built in the Orient could have this much teak.
The Oceania Yachts 36 Sedan is new to Canada and so is Donaldson Yacht Sales of Port Credit, Ontario. The big boat market has shown increasing interest in fuel-efficient trawlers lately, and Stewart Donaldson has been watching with anticipation.
His newly-established company is now offering a range of oriental trawlers under the name Oceania Yachts. It's an attractively-priced line of boats, trimmed out as only low priced, Oriental labor will allow.
The Oceania Yachts 36 Sedan is built to a design originating in the US, with specs and sizing keeping roominess in mind. The hull is 35 feet 6 inches on the centre line with a generous beam of 12 feet 2 inches and a 19,000-lb displacement. Our test 36 is the first one imported.
Big boat thinking and careful touches - abound on the 36. One is the teak chaffe rail right below the gunwales to ward off, damage from lines, fenders and piers.
Below that is a partial-length, teak spray rail which is fitted beautifully to the teak swim platform. The platform is supported by four elegant cast-bronze supports in the shape of fish; an oriental, yet nautical bit of functional decoration.
Thankfully (for my tastes) the other oriental-style option was left off the test boat. This is a Chinese tile ceiling with coiled serpents and gilt trim - too much like a Chinese restaurant for most North American yacht buyers. Apart from differences of taste, however, the fit, finish and trim is very good.
The aft deck is all teak strip decking over solid fibreglass and at once leaves an impression of traditional boat building quality. A floor access hatch to belowdecks storage is held by cast-bronze lift ring latches, and a quick inspection revealed that the cockpit drains were bronze and had sea cocks. This is an impressive touch although, offhand, I can't think of an occasion when the cockpit drains should be closed unless you plan to scuttle her.
Perhaps the most attractive feature of the 36 Sedan is the promenade decks. The cabin roof extends out to the transom and gunwales to offer weather protection and a worthwhile measure of walk around security as well. Quite apart from the fact that this "little ship"styling is aesthetically pleasing, it can, keep children and other unbalanced crew members from being cast into the briny deep. The walk around is an average of 15 inches wide, teak-decked and really quite exceptional for this size yacht.
Amidships, there is a step up to the forward deck, where the sturdy stainless steel bow rail takes over. This extends out over the bowsprit and anchor assembly. The deck equipment is handled well and includes a large plough anchor and 260 feet of rode, 60 of it chain. The aft end of the bowsprit attaches to the brass-capped sampson post.
Considerable latitude for owner preference is allowed. For example, the test boat had optional teak on the cabin roof and bridge floor. This is one option I wouldn't include, however - it virtually demands a covered slip, to protect the teak, yet adds little functional value.
The same could be said of the brass portholes. Their natural finish requires regular polishing. Plastic is a no-cost option, and before you suggest I'm lazy, it must be pointed out that the teak trim, bronze and brass are so extensively used that any small intrusion of more utilitarian fittings will not seriously detract from the boat's appeal.
As it is, there are two teak cabin hatches and a beautiful teak skylight with translucent glass and stainless steel guards, plus a teak trim strip and two teak grab handles on the forward cabin roof alone - standard.
One feature I did appreciate was the ladder from the aft deck to the bridge. It runs up through the sliding hatch and
is solid teak with steps about four inches wide and large, rounded handholds in the side rails. The wide steps are easy to climb and are a strong plus for anyone who is not as agile as they once were.
Thanks to the covered promenade deck, the bridge is about 11 feet wide and 15 feet, six inches long. The extremities are surrounded by a teak-capped rail on stainless steel stanchions, which has an aft centre lift section to permit the mast and boom assembly to be lowered for bridges.
The mast and boom aren't just decoration. They could be used to raise a dinghy or take on cargo. There is seating on the bridge for up to eight on two back-to-back fixed benches. Like the other topside surfaces, none of the flooring flexes under one's weight. The ultimate capacity could be 10 or more people when moored.
Full instrumentation, a teak ship's wheel and optional Air Guide compass complete the bridge helm. There is a cavernous storage area under the cowling and more under the seats behind sliding doors made of - what else - teak. The entire superstructure has been carefully thought out to make all parts functional and as safe as possible.
Although the glass layup was very good, there was one area in the topsides showing imperfections. This was not up to the standards of the rest of the boat, which was glossy and, visually, quite fair.
From the standpoint of structural integrity, the boat is made up of only three main moldings and is joined bridge -to-cabin-roof and again at the gunwale where the join is teak capped. Even the scuppers are molded in; very tricky work, but imperative if the boat is never to have small leaks.
With the 12-foot two-inch beam, this truly is a big 36-footer and seems the more so for its functional exterior. Compared to aft-cabin styles (also available) though, it gives away a bit of interior space.
The cabin is entered through either the sliding door to starboard of the interior helm, or the aft door. Large side windows bring in lots of light despite the shade from the promenade decks and the fact that the glass itself is tinted.
In terms of layout, this is a conventional boat, but several details sh6w innovative treatment and clear thinking. Against the aft bulkhead lies a chest of drawers and full-height cupboard for dishes and galley utensils. On the starboard side are a three-burner Optimus Princess electric stove and oven, a large, single stainless steel sink and a 12-volt Norcold refrigerator and freezer.
The interior helm seat has, in the seat base, a liquor trolley on wheels that pulls out and then can be easily pulled anywhere on the 36's main level. It has glasses and bottle racks plus room for an ice bucket.
Ahead of the helm are about three and a half feet of flat dash top. It's ideal for spreading out charts and mounting fancy navigation equipment.
The windshield centre section swings out with a hefty support rail for ventilation. There is the usual twin berth/ convertible dinette with drop-leaf table, and still space for occasional chairs or standing room. Curtains and screens are standard.
The companionway leads to the master stateroom to port with a six-foot two-inch by four-foot-wide berth and lots of drawers and hanging locker space. The latter, however, did not seem to have ventilation and I suggest the doors be given bottom and top vents to ward off mildew from wet gear.
Opposite is the head with manual pump toilet, sink (in the vanity) and, of all things, a six-foot-plus shower stall and sitting tub. Pretty deluxe for a 36. Shore power and two brass portholes complete the very useful head.
Last on the interior tour is the V berth with two singles (narrow but a good length), more hanging space and several drawers, as well as the opening skylight mentioned earlier and two brass portholes.
Headroom throughout is six-foot-plus. All the teak work is fine quality. There were no sharp edges visible and every
thing opened, latched and slid as it should. The 36 sedan will sleep up to six in comfort and certainly has the requisite space and equipment to support that number during extended cruising. The accommodations break down into three sleeping areas, which can all be enclosed by solid doors for privacy, and no area is without standing headroom.
The electrics panel is an efficient piece with clearly marked, fused switches and masters. The builder provides two oversize storage batteries that will run the boat for about a day and a half without charging. A 55-amp alternator on the engine keeps them charged. There was no generator fitted to the test boat so shore power would be required to run the stove and hot water tank.
While on the subject of electrics - why do so few builders fit a three position switch and voltmeter so that an owner can determine when his batteries are being drained below the point where they will start the engine again? This would explain why the amps gauge shows a charge situation, shorts could be detected and, having a dead battery would become a matter of sheer thoughtlessness instead of careful miscalculation. It would be a worthwhile addition to the instrumentation in any boat, and especially one that has the 36 Sedan's 1,000-mile cruising range.
This remarkable cruising range re- suits from twin 150-US gallon tanks, an eight-and-a-half-knot cruise speed at 1,750 rpm and a gal-per-hour figure of two and a half for the 120-hp Ford Lehman diesel. In simpler terms, this is about four miles per gallon - quite respectable for a 19,000-lb cruising boat.
The 120-hp Ford-Lehman is almost a standard power plant for trawlers built in the Orient. It's a four-stroke engine with fuel injection and normal aspiration. Mated to a Paragon hydraulic gearbox with 2:1 reduction drive, the Ford Lehman is an easy running, reasonably quiet, and very dependable power plant. In the 36 the engine is reached by lifting three floor sections out in the saloon, but the engine bay space isn't so low that one can't simply go through the small access hatch to do routine inspections.
Sound level readings were about average in the saloon, with a maximum of 82 dB at full throttle still allowing easy conversation. Past ·experience suggests that by covering the carefully-laid, matched teak parquet flooring with broadloom, the noise level could be cut by about 3 dB.
As far as running is concerned, I'm tempted to say the 36 will be a dry, stable boat, but when we were out the water was like a mill pond, so I'm only judging by design and past experience.
However, our maximum change in running angle from idle to full was only one degree and, at maximum speed in tight cornering , there was no measurable roll. Wide open, the 36 ran along at 12 mph cheerfully and responded well to the Wagner hydraulic steering. The boat seemed to track well, but again the water conditions provided an easy test.
On this particular displacement hull boat, the underwater shape is deep in the forefoot and the hard chines and broad, flat aft sections contribute to the boat's stability. The chine reverses forward to keep spray down and avoid water sheeting up the sides. However, the turbulence at the transom is awesome.
The 120-hp Ford-Lehman is frequently installed successfully in far heavier or larger boats with similar performance, and it seems to me that with a cleaner hull shape, the boat speed would increase slightly without any corresponding engine speed increase, yielding better fuel economy.
However, my only serious complaints are the lack of a generator (easily rectified), and the imperfections in the gelcoat (not structurally significant). The teak decking is a matter of personal taste as are the brass portholes. Carpeting can be added any time.
Particularly for a retired couple with grandchildren, the Oceania Yachts 36 Sedan offers the functional cabin design and conveniences that will make longer voyages comfortable and safe; If they practice their single-engine docking technique for strong crosswinds, they'll have a distinctive and practical cruiser that'll be a pleasure to operate and maintain.
Originally published in Canadian Yachting's September 1980 issue.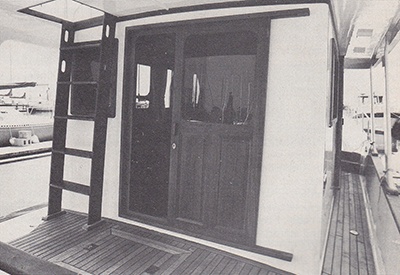 Specifications:
Length - 38.5ft
Beam - 12.5ft
Draft - 3.5ft
Fuel Capacity - 300 gal
Water Capacity - 150 gal
Hot Water - 8 gal
Holding Tank - 40 gal
Engine - Ford-Lehman diesel 120hp fuel injected
Photo Captions:
Photo 1 - Room to move about in comfort has been assured in the design, which originates in the US. There's plenty of headroom.
Photo 2 – Profile.
Photo 3 & 5 -The liquor trolley on wheels and the taller-than-six-feet shower , with a sitting tub. both help ease out the tensions of the day.
Photo 4 - The Chinese ceiling with serpents and gilt is one option for the owner.
Photo 6 – Interior Cabinetry.
Photo 7 - Deck equipment includes 260 feet of rode, 60 of it chain.
Photo 8 - The parquet in the galley is teak, as is much else aboard - from handles and hatches to the ship's wheel and chaffe rail.