Solid, stylish and unsinkable.
By Larry Crawford
With the Ultra Vee, Cruisers Inc. of Oconto, Wisconsin, has produced a combination of sleek styling and spacious, comfortable living space. Note that I said combination, not compromise; both aspects have been achieved with an outstanding design effort.
Nor has the company compromised in construction methods or materials. But perhaps the most outstanding feature of the Ultra Vee comes under the heading of safety. Have you seen the ads in which a 16-foot runabout, cut in half, still floats? While Cruisers says nothing about cutting its boats in half, if it's holed or swamped the company claims this 33-footer will float level with 12 people, all reasonable gear and the largest engine package, with its sheer line above water.

This has been accomplished by placing closed cell foam around the inside of the hull. Don DePouw, vice-president of marketing for Cruisers, stresses that level flotation will not cause the boat to right itself if capsized; it will, however, continue to float.
This outstanding feature produces the only compromise to be found on this boat: the foam takes up space. While this is not noticeable throughout the interior or in the cockpit, the engine compartment is cramped. With the twin 340 MerCruiser engines on the test model, some regular maintenance may be difficult. This trade-off in favor of safety may be remedied by choosing one of the smaller and less powerful engine options.
Cruisers offers seven power options in gas and diesel, enough to satisfy everyone. The hull begins with a layer of chopped fiberglass next to the gel-coat to produce a smooth finish, and is then hand laid with Core Mat sandwiched between layers of fiberglass cloth and woven roving.
The deck is constructed in much the same manner, using an end-grain balsa core. The two molded sections are then joined by a method known as a "shoe box fit" the deck has a lip around its perimeter that extends down over the outside of the hull.

This joint is sealed with silicon; every six inches stainless steel screws are driven through the hull into wooden supports that have been glassed into the hull interior. The joint is finished off with a rubrail bedded in butyl to permit easy removal if damaged. A perfectly acceptable joint, it shows good thinking and structural advantages, although if screws are used instead of bolts, epoxy provides the effective bond.
Another interesting construction feature is the bowsprit. Usually bolted on, Cruisers has included it in the hull and deck molds as an integral part of the boat, thereby accentuating its graceful lines. Just aft of the bowsprit is another useful piece of standard equipment missing from many new production boats-a solid samson post instead of a cleat for anchoring and towing.

There are six other stainless steel cleats around the gunwales, all mounted on the edge of the deck and all eight inches long, strong enough for mooring in any conditions. All hardware is through-bolted with stainless steel bolts; aluminum backing plates are glassed into the underside of the deck. The foredeck is a broad expanse with an opening hatch forward on the centerline and two more ahead of the bridge set further outboard.
Almost the entire deck, including the gunwales and cockpit, is molded in a nonskid check pattern for solid footing. For further protection on deck, the welded stainless bow rail extends from the tip of the bowsprit aft to the forward end of the cockpit. Nine stanchions per side make this rail very solid, and a handrail mounted on either side of the bridge completes the security on deck.

The 10-foot by 10-foot cockpit, large for this size of boat, is made for entertaining. A bench seat runs across the aft end, and the center section opens for access to the boarding ladder and wide transom platform. Here we find another nice touch: behind an inspection port in the transom walk-through is a hideaway hot-and-cold shower, just the thing for warming up after a cool dip and perfect for washing off salt water.
A fold-down seat for two can be found on the aft side of the raised helmsman's bench, near the wet bar with icemaker. The bench seat, boarding ladder, transom platform, shower and wet bar are all factory options. For the helmsman: a bench seat long enough for three and a most complete steering station which features a stainless steel destroyer-style wheel, smooth Morse engine controls and all necessary gauges mounted on a raised, angled panel.
To port is a broad expanse perfect for chart work, something overlooked on many boats. To port of the helm is the companionway leading directly to the main saloon. There are a total of 12 opening ports, hatches and sliding windows, including screened, overhead, ventilating skylights. To starboard in the saloon is a U-shaped shaped galley, complete with a two burner alcohol stove, a 115 / 12-volt refrigerator- freezer, twin stainless sinks, plenty of counter space, two drawers and six lockers over and under the work area.

A 70-U.S.-gallon pressure freshwater system and a 12-gallon, 115-volt hot water system with engine heat exchanger are standard equipment. Across from the galley is a large, convertible settee with a stowaway table for dining. Forward is a double stateroom with a large bunk to starboard and a vanity to port. Stowage is provided by a hanging locker to port, three ample drawers under the bunk and shelves against both sides of the hull.
The highlight of the interior is the master stateroom. Located aft of the galley and partially tucked under the helm platform, this stateroom is, in a word, big. As appointed on the test boat, it is also luxurious. Features include a full-size innerspring mattress, six-foot headroom, a hanging locker and plenty of stowage. Options include a stereo, burled wood locker fronts (as in the rest of the interior) and a mural over the bunk.
Forward of the stateroom on the starboard side is an enclosed head compartment equipped with a head, sink, vanity and hot-water shower. The head can be entered from either the saloon or the cabin. The other facet of this boat is performance. Flat out with a twin 350 Crusader power option turning at 4,250 rpm, the Ultra Vee reaches 38 mph using 45 gph. (The boat has a 250-galIon fuel capacity.)
At a high cruising speed of 26 mph, and 3,000 rpm, it consumes 22.4 gph. At a more modest cruising speed of 21 mph, and 2,500 rpm, it consumes 16 gph. The bottom of the planning range is 12 mph, with 2,000 rpm burning 10.4 gph. (These figures come from the plant in Wisconsin and refer to U.S. gallons.)
The Ultra Vee is a pleasure to handle, tracking precisely and turning hard. With scarcely any sliding or skipping. This maneuverability is due in part to the deep-V hull configuration and in part to the short keel aft. Other features of this Jim Wynne design include wide chines, a double dead-rise configuration and a soft entry for a smooth ride in any chop.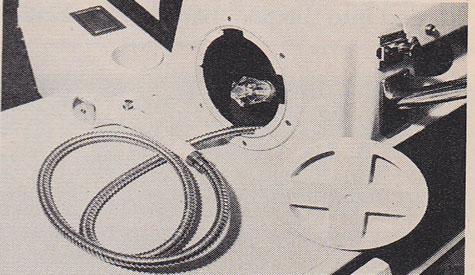 Engine noise at cruising speed seems rather excessive though, making conversation in the cockpit difficult. At maneuvering speeds, the high profile will present a large area to a cross breeze, but the quick responsiveness to controls and the helm more than compensate. This boat would undoubtedly be equally at home in the middle of the Atlantic or in a quiet anchorage on Georgian Bay.
Originally published in Canadian Yachting's June 1984 Issue.

Specifications:
Power
LOA....................36ft 6in
Beam...................11ft 10in
Draft.....................2ft 9in
Fuel Capacity..............................250 U.S. gal
Water Capacity............................82 U.S. gal
Test boat engine..........................Twin 340
MerCruiser inboards
Base Price..................................$105,200
(with testboat engines, factory freight not incl.)
Larry Crawford has 17 years of experience as a boater on Lake Ontario. He is the president of Orion Yacht Services.