By Andy Adams
No matter how you cut it, a boat that has the word Marquis in it better be fit for royalty. The Carver 65 Marquis delivers on all fronts - producing a boat you'd be happy to share with Prince Charles himself.
Now you might expect that a review of a 65-foot Italian-designed motor yacht would focus on the styling and the luxurious amenities, but for us what really sets the Carver 65 Marquis apart is her performance.
Of course, performance has many aspects. Perhaps the most impressive performance we witnessed was bringing her back to dock.
Captain Ernie Minard was instructed to bring the Carver into the most sheltered slip right in front of the Blackfish offices on Vancouver's Granville Island by Greg Hughes, the president of Blackfish Marine. That meant that we needed to back this 100,000 pound yacht with an eighteen-foot beam down to the end of the finger docks with less than two feet to spare on either side.
Mounted on the starboard side in the cockpit, our test boat was equipped with both engine controls and joystick controls for the bow and stern thruster systems. I positioned myself on the star­ board side while Canadian Yachting's Greg Nicoll kept a lookout to port. Ernie's son, Angus, watched over us all.
With Greg Hughes' directions from the dock Ernie deftly backed the Carver into position. Perfect.
You have to be very knowledgeable or very wealthy to do this but the important point is that the Carver 65 Marquis was designed and built to be operated by its owner. Yes, there is a crew cabin onboard, but under many circumstances, a knowledgeable owner and partner could take the Carver pretty well anywhere you would want to go.
You would want to take a long way home too! There is no mistaking the fact that you're piloting a large and heavy vessel. It feels big. It feels like it weighs 100,000 pounds. But that's what makes it so deceptive.
Speed indications on the GPS were a big surprise. The boat was equipped with twin Caterpillar C30 engines and from the bridge, you really can't hear them at all. At 1,000 rpm the Carver is traveling 11.6 mph. Nudging the throttles up to 1,750 rpm increased the speed to 24.7 mph.
From there, if you shove the throttles open, the Carver accelerates hard enough to knock everybody off their feet -she was making 38.3 mph at an effortless rare of 2,360 rpms. The boat runs at family runabout speeds. Bur she responds to the hydraulic steering by gently banking into a turn and tracking right around with no evidence of cavitation. Even crisscrossing our own wake produced little drama.
This is a boat fit for driving - even if you're a mere commoner.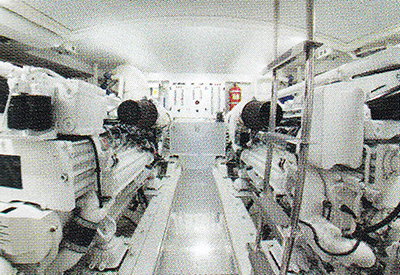 Equipped with the appropriate navi­gation and communications systems you could rapidly get to your favourite cruising grounds up or down the West Coast, out in the Caribbean, through the Great Lakes or just about anywhere you could reasonably want to go. And, you can go as a couple!
At 65 feet [actually 64' 11"] the Carver has the size and scale to make all the amenities work. Even under way, you can walk up the broad flat side decks with a real feeling of security. The deck level is down noticeably from the gunwale height and is topped by a massive stainless steel handrail all the way around. Massive sun pads for tanning top the forward cabin trunk and cleats and anchor systems are secured out of the way or under cover for safety and convenience. A total of four large storage bins for storing lines, fenders and other items are conveniently located in the bow.
The bridge is simply wonderful with an immense, permanently mounted hardtop, three helm and companion seats, a very attractive refreshment center and a curving settee and table that will be the first choice for entertaining. The refreshment center features built-in lighting and a translucent top that glows at night.
For a little more shelter when cruising, spend some time in the cockpit. Our test boat featured teak flooring, a very spacious aft bench seat and removable table. Impressive features include massive horn cleats mounted inboard and port and starboard electric or windlasses for convenience when mooring.
With everything else built to yacht quality, we weren't as keen on the stylized metal and glass transom gates - they seemed rather small - but we assume Carver has included them in the design because they fold easily out of the way and provide excellent access to the huge aft swim platform. Both salt and freshwater washdowns are included along with a handheld shower and ample storage. The engine room access is through a hatch in the cockpit floor.
One amazing piece of hardware is the sliding glass door to the main cabin. It's built by Trend Marine Products and is the largest curved piece of glass I've ever seen. The tracks are very heavily built and the door locks into position.
A yacht this big allows enough room for all the good stuff. The salon features a port side cabinet including an entertainment system and the electrical panel. Our test boat had four tub chairs and a sumptuous leather couch, Russian style blinds and on the starboard side, a huge flat screen television that rises electrically. Both inside and out, you find conveniently located recessed lighting. The Carver will be almost more fun in the dark than it is during the day.
The galley is on the same level as the salon, located to port and our test boat featured a home-sized double sink, a GE Profile trash compactor, Miele dishwasher, GE Profile ceramic top stove, oven with a lighted range hood, Jenn-Aire double-door fridge and freezer, adequate storage lockers and drawers and real granite counters and flooring. You could cook meals fit for a king in this galley.
Carver has included a formal dining room table with six chairs and there is a really impressive spiral staircase with clear, floating steps so that you can more conveniently access the galley from the bridge.
The interior helm station is a "must" on a yacht this big. With a richly upholstered helm seat and elegant wooden steering wheel, it would be no hardship to pilot this boat from the lower station. It places the captain at the front of the salon to be a part of the party; ideal for an owner operator. Huge windshield wipers for the three windshield panels will keep the rain or salt spray off.
The Carver has the size to make its layout simple and straightforward like a house. A curving staircase leads to the cabin areas on the starboard side of the interior helm. The forward stateroom is probably going to be used as guest accommodation. There is a queen-size berth, extensive wood cabinetry, ensuite head, and an entertainment system with flat screen television and abundant storage. You can walk all the way around the berth so it's convenient to make it up in the mornings. An overhead hatch floods this cabin with morning light and it has generous standing headroom throughout.
To port is a quarter berth with two singles, perfect for the kids, featuring cedar-lined hanging lockers, port holes and a private access head finished like the others, in Italian marble.
The Master stateroom is likely to clinch the deal. It runs the full 17'11" beam. There is an elegant double door entranceway, broad expanse of floor space, 6'8" headroom and private his­ and-hers heads adjoining a common tub and shower area. Our test boat had a starboard side built-in dresser and desk. Look behind two large curved wooden doors and you even discover an onboard washer and dryer.
You won't have to leave much at home to cruise on board the Carver 65 Marquis. With 3,100 hp at your finger­tips and the user-friendly new electronic navigation systems, this is a yacht that you can pilot yourself, to just about any exotic destination.
It is, in short, a boat fit for royalty.
Originally printed in Canadian Yachting's April 2006 issue.
Specifications
Twin Caterpillar C3b, V12 diesel, turbocharged and aftercooled,30L / 1,831 ci, 1521 hp each.
Top Speed (GPS) rpm I mph 2,360 rpm 38.3 mph
Cruising Speed rpm I mph 1,61O rpm 20 mpg
2,000 rpm 31.5 mph
Sound Levels At Cruise
(2,000 rpm upper helm) 86 dbA
Length - 64'11" 119.8 M
Beam - 17'11" I 5 5 M
Weight with fuel and water - 47 tons I 43 tonnes Fuel - 1200 gal / 4542.L
Price - Available on request
Boat supplied by: Blackfish Marine Sales
1818 Maritime Mews, Granville Island, Vancouver BC 604-669-8081, www.blackfishmarine.com
Carver Boat Corporation, P.0. Box 1010, 790 Markham Drive, Wisconsin, USA, 54162
902-822-1575
Speed Testing by: GARMIN GPS
Photo Captions:
Photo 1 – The Carver 65 Marquis; A boat fit for royalty.
Photo 2 - The main salon is all on one level and features a spacious living area, formal dining table, interior helm and a simply grand galley with home-size sinks and appliances.
Photo 3 - The twin Caterpillar C30's are V-12's generating 1,521 hp each and amazing performance. Engine room access is via a cockpit hatch.
Photo 4 - This will clinch the deal; a master stateroom that is the full beam width with real king size bed, 6'8" headroom and an impressive ensuite.
Photo 5 - The master stateroom has separate his-and-hers heads with an adjoining tub and shower.