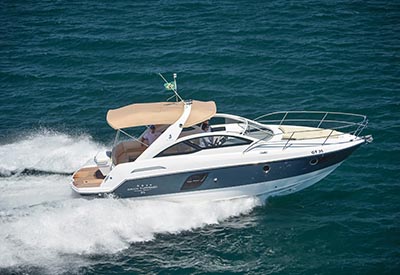 Andy Adams
Great performance in a versatile, modern design
For the Canadian Yachting readers who are not yet familiar with Beneteau's broad range of power boat models, the Gran Turismo 35 may come as a bit of a surprise. Our test boat is a head-on competitor to the North American built express cruisers and the latest day boats that are coming on the market.
The GT35 has the style and amenities to match the best new designs in it's size range, the stern drive power to deliver exhilarating high speed performance plus, it still adds in an overtone of Euro style.
To give some background (and this is just a little taste of the Beneteau heritage) the business was founded by Benjamin Bénéteau more than a century ago on the quays of Croix-de-Vie in Vendée, France. As you might expect, the beginnings were in fishing vessels. From the first sardine boat to their latest models, the shipbuilding tradition still stands as the strongest driving force behind their 2,500 employees.  
Today, more than 100,000 Beneteau yachts have sailed the seas of the world. 
As one of the model lines from this international builder, Beneteau explains that the Gran Turismo concept, borrowed from the world of luxury high-performance cars, is expressed in the design of this all-new range, which embodies the Italian lifestyle in an inspiring combination of glamour, luxury and 'dolce vita'.  And, don't we all need a little more of that?
The Gran Turismo 35 was designed to maximize enjoyment topside, with generous living space in the cockpit, a huge swim platform, open air above and with a cockpit galley to further enhance life aboard. The test boat had real teak strip decking that's luxurious and feels great underfoot. It extends all the way to the end of the swim platform where there is a sink and grill so you can BBQ at dockside. Or away from the dock when running the generator.
The other galley elements are located up by the helm so you can get a cold drink or a snack easily when underway. The double wide helm seat accommodates both standing and seated driving and the dashboard layout is impressive; full analog instruments for the twin Volvo Penta 5.7 Duoprop powerplants as well as a multi-function Simrad display screen in the centre for navigation and a host of other tasks. 
The Volvo Penta controls are well located for comfortable cruising and when it comes time to dock, there is a standard Joystick Docking system. It's a breeze to handle this boat, even in a stiff breeze! On top of that, there was a bow thruster tunnel already molded into the hull for the owner who lives with really challenging docking conditions, but we didn't see a need for thrusters where we were.
This boat is all about taking family and friends out for a great day together and the very accommodating features start with the cockpit seating. A wrap around seat starts at the transom beside the gate and runs up the port side with a big folding table in the centre. Use half for drinks and snacks while keeping the floor space open, or open the table out for dining. 
There is an available Bimini top for protection from sun and weather. The Gran Turismo 35 was intended to be more of an open boat though and the windscreen is very low; the breezes are meant to blow through yet you can sit down out of the wind if you prefer. This is a pretty fast boat, so you may want to sit down too!
The twin Volvo Penta 5.7 Duoprop stern drives are 300 horse power each and give the Gran Turismo 35 a top speed of 40 mph. The most economical cruising speed is 4,000 to 4,500 rpm travelling at between 29 and 35 mph where the boat is getting 1.2 mpg. That's comparatively fast and economical too.
A big part of the performance can be attributed to the patented AirStep hull design that has side vents that bring air into the mid-ships keel area, greatly reducing drag and also improving acceleration. The boat planes off in a mere 4.5 seconds, so getting a big load of passengers moving is no problem. Yes – it can pull skiers or wakeboarders!
It is also worth mentioning that the Volvo Penta 5.7 Duoprop stern drives deliver lots of light efficient power with the low purchase cost of gas compared to diesel engines and thanks to the end-grain balsa cored hull (light and very strong) this boat runs great with 5.7s where other similar size boats likely come with heavier, and more thirsty big block engines. The 5.7s are a great choice for speed and economy in a big boat that will probably not be used for much long-distance cruising.
Notable exterior features include a particularly high and sturdy bow rail. This is important because the designers at Beneteau have maximized the interior space by eliminating the side decks. To anchor, or use the bow sun pad, you walk through the windshield.  There is an anchor locker with electric windlass for easy anchoring.
There is a radar arch that also secures the Bimini and the arch-shaped side glass gives the boat a low, sexy look. This is almost as much a performance boat as a cruiser. It's so good that you almost forget about the accommodations below decks.
Through the companionway and down a few steps you find the lower galley with refrigerator, sink and counter for food prep. It's adequate for those evenings when you want to be indoors and the bow is finished as a large wraparound dining area that can seat a whole gang, or convert to a berth if needed.
Opposite to port side is the enclosed head. This features a vessel sink, handsome design, handheld shower with a curtain and vanity storage space as well as toilet, and there is an opening port for ventilation.
For a performance-oriented day boat, it's a surprise to open the door on the private aft master stateroom. This features standing height as you enter, a queen berth set mid-ships and aligned port – starboard rather than fore and aft and there is a hanging locker and drawers in a starboard side night table. This stateroom also features big side glass in the hull that brings in an impressive amount of light. In fact, with an overhead hatch and several port holes, the end result is an attractively bright cabin space. The GT 35 is certainly comfortable for two, or for a young family to do an extended trip on the Trent Severn, Rideau or through Georgian Bay.
Overall, this is a very likable boat that covers off several market segments with its design and range of features and the pricing reflects the efficiency and buying power of the big international Beneteau organization. Pretty sweet deal!
Specifications:
Engines:
Twin Volvo Penta 5.7 DP, 5.7 litre / 350 ci, 300 horsepower V8 engines with electronic fuel injection driving DuoProp stern drives and with Joystick Docking
Length OA: 37'7'' / 10.58 m
Beam: 11'1'' / 3.38 m
Weight: 11,177 lbs / 5,070 kg
Fuel capacity: 129 gals / 490 L
Fresh water capacity: 42 gals / 160 L
Base price, U.S.: $299,150, as Tested: $346,984
Boat supplied by and price quoted by: Beneteau America, www.beneteauamerica.com 
Photo Captions: 
Photo 1 - With the Bimini top up, your guests are protected from the sun in this spacious open yacht.
Photo 2 - This wide-angle view from the companionway shows the galley unit and the very comfortable looking dining area that can convert to sleeping space.
Photo 3 & 4 - This shows the beautiful teak decking, vast swim platform and the sink and BBQ grill unit.
Photo 5 - The private aft master stateroom has standing height at the entrance, sitting height at the head of the bed and natural light and fresh air coming in through the portholes.
Photo 6 - The private enclosed head is nicely appointed with overhead skylight and hull side porthole. It includes a curtain and hand-held shower.
Photo 7 - The Beneateau Gran Turismo 35 running